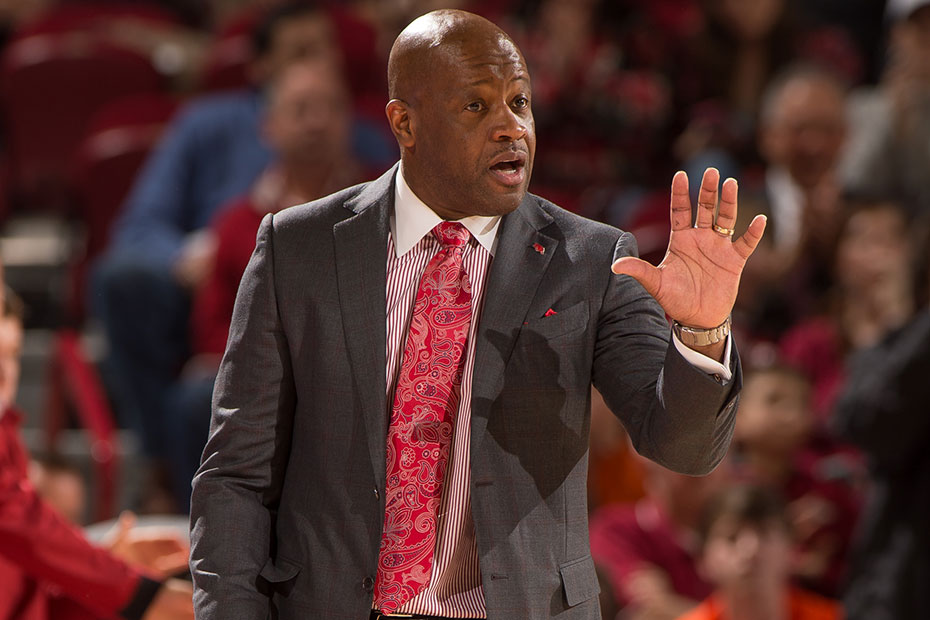 Men's Basketball Shifts Duties in Coaching Staff
FAYETTEVILLE, Ark. – Arkansas men's basketball head coach Mike Anderson announced Wednesday morning that a shift in duties among his staff will put Razorback legend Scotty Thurman in a coaching role for the 2016-17 season.
Thurman has served as the Director of Student-Athlete Development for the last six seasons and will now move into an assistant coach role moving forward. He will assist with recruiting, scouting reports and player development under Anderson. Thurman provided three of the most decorated years in program history as a Razorback, helping the Razorbacks to back-to-back NCAA Final Fours, including the 1994 NCAA Championship, before going overseas and playing professionally for 11 years. Thurman joins the Razorbacks' on-court coaching staff that also includes Associate Head Coach Melvin Watkins and former Razorback guard and Assistant Coach T.J. Cleveland.
"This is an opportunity for us to take full advantage of the strengths we have within in our staff and restructure some duties," Anderson said. "We have talented individuals within our program and I'm looking forward to maximizing their potential moving forward."
Matt Zimmerman, a 20-year basketball coaching veteran at both the high school and collegiate ranks, has been with Anderson for the past 14 seasons. He will now serve as the director of operations, overseeing the day-to-day operations of the program, including the budget, team travel and summer camps. He will also continue to be involved with on-campus recruiting and student-athlete visits.
Jeff Daniels, a veteran of the game and a member of Anderson's staff for 10 years, will assume student-athlete development roles within the program. He will be charged with coordinating programs to enhance personal and career development of the student-athletes, while engaging the players in community service efforts.
For more information on Arkansas men's basketball, follow @RazorbackMBB on Twitter.