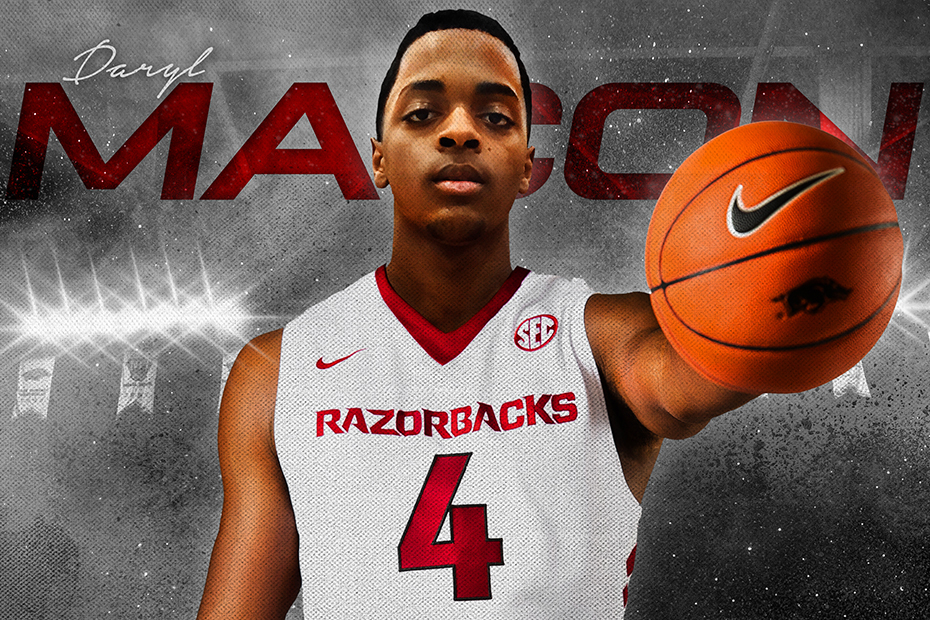 Men's Hoops Lands No. 3 JUCO Player in the Country
FAYETTEVILLE, Ark. – Arkansas men's basketball head coach Mike Anderson announced Thursday that 6-3 guard Daryl Macon has signed a National Letter of Intent (NLI) to join the Razorbacks and will transfer from Holmes Community College for the 2016-17 season. Macon is ranked the No. 3 junior college transfer in the 2016 class, with a 93 percent composite rating by 247Sports.
At Holmes Community College (Miss.), Macon averaged 23 points, 4.1 rebounds and 3.1 assists per game as a freshman. He shot 46.5 percent from the field, 36.9 percent from beyond the arc and 88.5 percent from the foul line, which was fourth in the NJCAA. He had four 30-point efforts, including a career-high 32 three times in the first nine games of the season.
From his strong freshman campaign came a Region XXIII Player of the Year honor, as well as a First Team NJCAA All-American nod. He was one of only two freshmen to be named as an All-American last season in the junior college ranks.
In the last game of the season on March 19 against Hill College, Macon scored 25 points while adding five assists and a career-high 11 rebounds. So far, Macon has used the strong finish to his freshman campaign as momentum to jump start his sophomore year by scoring 27 points in the season opener to lead Holmes to an 82-74 win over Copiah-Lincoln on Nov. 2.
Macon is a Little Rock, Arkansas, native and graduated from Parkview High School in 2014 after averaging 21 points per game as a senior. He is joined by Louisiana prep star Adrio Bailey as the first two signees for the 2016-17 season.
Coach Anderson on Macon
"Daryl has worked extremely hard to become one of the top scoring guards at the junior college level," Anderson said. "Being from Little Rock, Daryl is a true Razorback at heart. He has a knack for scoring, an excellent work ethic and a great amount of toughness. He has incredible basketball IQ, can score off the dribble and light it up from outside. Daryl comes from a terrific family and we are thrilled to welcome him to the Arkansas basketball program. He is a special piece to our signing class that is off to a super start."
For more information on Arkansas men's basketball, follow @RazorbackMBB on Twitter.