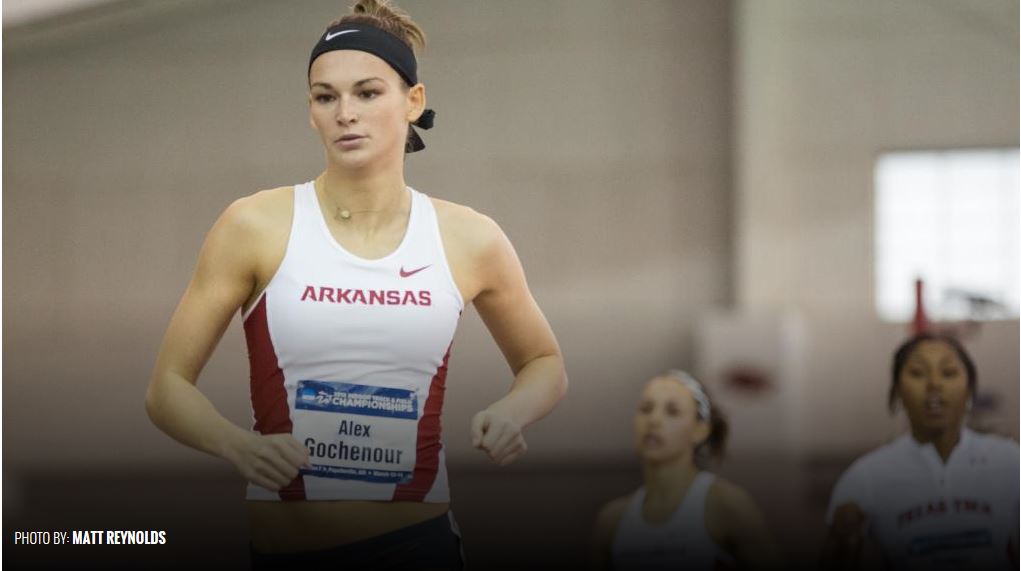 #NCAATF Champions Collect 15 All-Americans
FAYETTEVILLE, Ark. – Based on its individual performances last weekend at the national meet, the NCAA champion University of Arkansas women's track and field team has collected 15 All-Americans as announced Monday afternoon by the USTFCCCA. Overall, the Razorbacks picked up 21 All-America honors including 17 first-team accolades. Arkansas won its first-ever national title with its win at the 2015 NCAA Indoor Championships.
In winning the 2015 NCAA indoor team title, Arkansas scored a program-best 63 points by scoring in all 10 events it had a national qualifier. The Razorbacks' point total is the third-highest in meet history. In celebration of the title, the Razorbacks will be recognized at a pep rally Tuesday, March 17, at 12:30-1 p.m. (CT) at the Arkansas Union Mall. The pep rally is open and free to the public with free pizza and soft drinks for those in attendance.
The Razorbacks' list of All-Americans is headlined by national champions Sandi Morris in the pole vault, Dominique Scott at 3,000 meters and the distance-medley relay team of Scott, Therese Haiss, Jessica Kamilos and Sparkle McKnight. Five Razorbacks also earned multiple All-America accolades with the performances of Scott, McKnight, Taylor Ellis-Watson, Tamara Myers and Chrishuna Williams. McKnight also tallied a Second-Team honor at 400 meters.
2015 USTFCCCA All-Americans
First Team
Taliyah Brooks – pentathlon
Taylor Ellis-Watson – 400m, 4x400m
Alex Gochenour – pentathlon
Therese Haiss – DMR
Daina Harper – 4x400m
Jessica Kamilos – DMR
Sparkle McKnight – 4x400m, DMR
Sandi Morris – pole vault
Tamara Myers – long jump, triple jump
Diane Robison – 5,000m
Dominique Scott – 3,000m, DMR
Chrishuna Williams – 800m, 4x400m
Second Team
Leigha Brown – pentathlon
Desiree Freier – pole vault
Sparkle McKnight – 400m
Ariel Voskamp – pole vault
Finishers first through eighth in each event at the Division I Championships in Fayetteville were designated as First-Team All-America, the rest of the finishers were designated as members of the Second Team while qualifiers who did not finish or were disqualified from their event were designated Honorable Mention.
A tape-delay broadcast of the 2015 NCAA Indoor Championships will air Monday, March 23, starting at 6 p.m. on ESPNU. Dwight Stones and Larry Rawson will handle the play-by-play and commentary duties, respectively, with Jill Montgomery reporting from the track. Replays of day one and two are currently available on ESPN3 and through the WatchESPN app.
For more information on Arkansas track and field including in-meet updates, follow @RazorbackTF on Twitter.