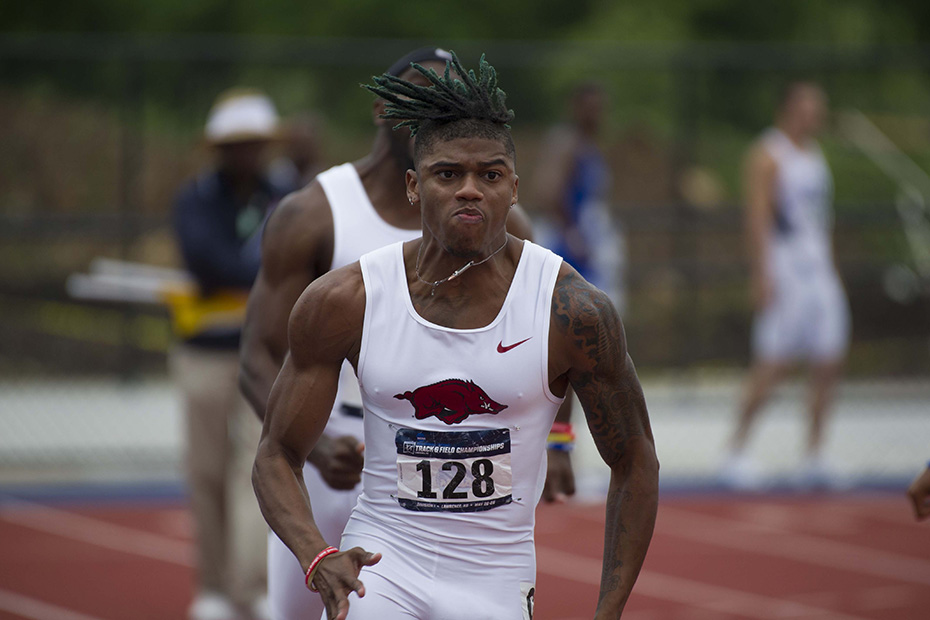 No. 5 Arkansas Collects 20 National Qualifiers
NCAA West Full Results | NCAA Outdoor Meet Schedule
LAWRENCE, Kan. – The No. 5 Arkansas men's track and field team secured an impressive 20 national qualifiers (inclusive of two decathletes) in 13 events during the three-day NCAA West Preliminary, securing the team's reputation as one of the most well-rounded programs in the nation.
Senior captain Jarrion Lawson put on a show for the spectators at Rock Chalk Park gaining three automatic berths to outdoor nationals in the 100-meter dash, the 200 and long jump as well as contributing to the Razorbacks' national qualifying 4-x-100-meter relay team.
Along with Lawson, 2015 4-x-100 NCAA national champions Kenzo Cotton and Marqueze Washington both qualified for the national championship in the 100 and the 200, with Cotton also assisting the Razorbacks' 4-x-100 and 4-x-400 efforts.
Arkansas will travel its large squad to Hayward Field in just over one week in preparation for the 2016 NCAA Outdoor Track and Field Championship on June 8-11.
2016 NCAA Qualifiers – Saturday, May 28
200 Meters
• Carrying over their dominance in the 100 on day two, Cotton, Lawson and Washington proved to be just as formidable in the 200 on the final day of competition. The exceptional trio posted three of the four-best times in the West region led by Lawson's personal best of 20.17 seconds, which ranked the Bowerman Watch List (candidate?) No. 2 on Arkansas' all-time bests list. Cotton also collected a new PR of 20.35 to advance as the fastest non-heat winner while Marqueze Washington cruised to an easy heat win in 20.54.
4-x-100 Relay
• The Arkansas foursome of Cotton, Lawson, Davon Anderson and Josh Washington made quick work of the 400-meter relay crossing the finish line second in heat one to secure the automatic qualifier in the event. The Razorbacks head into the NCAA Outdoor Championship as the defending event champions with a season's best of 38.96.
4-x-400 Relay
• Razorback team members Obi Igbokwe, Cotton, Eric Janise and Jamarco Stephen completed Arkansas' outstanding stead at the regional meet becoming the program's 20th national qualifier with a season's best performance in the 4-x-400 with a time of 3:05.62.
NCAA West Preliminary Results May 26-28
Rock Chalk Park
Lawrence, Kansas
100 Meters
Marqueze Washington (1) – 10.20Q
Kenzo Cotton (5) – 10.25Q
Jarrion Lawson (8) – 10.29Q
Ryan Green (40) – 10.68
200 Meters
Jarrion Lawson (2) – 20.17Q
Kenzo Cotton (3) – 20.35Q
Marqueze Washington (4) – 20.54Q
J. Washington (11) – 20.70
400 Meters
Obi Igbokwe (5) – 46.32Q
800 Meters
Ryan Thomas (11) – 1:48.77Q
Carlton Orange (25) – 1:50.16
Andrew Pisechko (40) – 1:52.89
1,500 Meters
Jack Bruce (11) – 3:44.14
Ethan Moehn (28) – 3:47.70
Austen Dalquist (30) – 3:47.75
Cameron Griffith (41) – 3:53.60
5,000 Meters
Alex George (23) – 14:28.23
10,000 Meters
Gabe Gonzalez (4) – 29:52.76Q
Andrew Ronoh – DNF
110 Meter Hurdles
Davon Anderson (13) – 13.96
400 Meter Hurdles
Larry Donald (7) – 51.17Q
Kemar Mowatt – DNF
3,000 Meter Steeplechase
Frankline Tonui (11) – 8:49.98Q
Cale Wallace (20) – 9:03.53
4-x-100 Relay
Arkansas A: K. Cotton, J. Lawson, D. Anderson, J. Washington (3) – 39.45Q
4-x-400 Relay
Arkansas A: O. Igbokwe, K. Cotton, E, Janise, J. Stephen (9) – 3:05.62Q
High Jump
Ken LeGassey (1) – 2.16m/7-1Q
Long Jump
Jarrion Lawson (1) – 7.92m/26-0Q
Kurt Jenner (6) – 7.59m/24-11Q
Andreas Trajkovski (7) – 7.58m/24-10 1/2Q
Rubin Owens (22) – 7.33m/24-0 3/4
Brandon Workman (27) – 7.27m/23-10 1/4
Triple Jump
Clive Pullen (6) – 16.09m/52-9 1/2Q
Rubin Owens (45) – 13.77m/45-2 1/4
Shot Put
Sam Kempka (23) – 17.88/58-8
Jeff Rogers (39) – 16.93m/55-6 1/2
Discus Throw
Devin Randall – Foul
Q denotes NCAA qualifier.
For more information on Arkansas track and field including in-meet updates, follow @RazorbackTF on Twitter.