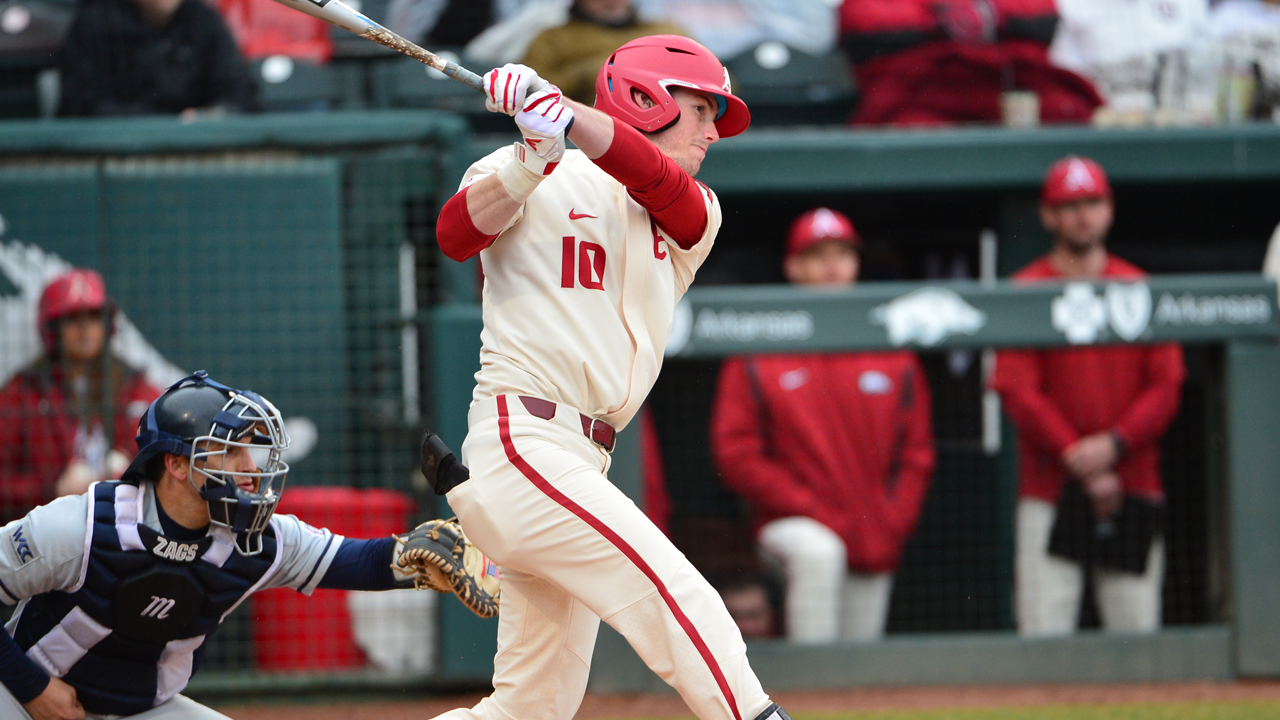 No. 7 Razorbacks Finish Sweep of Gonzaga with 9-5 Win
FAYETTEVILLE, Ark. – The No. 7 Arkansas baseball team completed a four-game sweep of Gonzaga with a 9-5 victory in Sunday's finale at Baum-Walker Stadium.
The Razorbacks (7-0) recorded double-digit hits for the first time in the series and third game of the year, finishing with 14. The Bulldogs (2-6) totaled five runs on 11 hits in the final game of the series, as Arkansas outscored Gonzaga 30-13 over the four-game set with 40 overall hits.
Designated hitter Matt Goodheart paced the squad with three hits on Sunday afternoon. He totaled three RBIs and one run scored, as he was one of four Hogs with multi-hit performances. Outfielder Christian Franklin, infielder Robert Moore and catcher Dominic Tamez all recorded two base hits in the game, with Moore driving in two runs and Franklin & Tamez each scoring twice. Moore finished the series with eight hits, nine RBIs and four runs scored.
Redshirt-sophomore right-handed pitcher Caleb Bolden started Sunday's game, making his first start since April 17, 2018. He went 3.0+ innings, allowing five hits and no runs, striking out one. He gave way to RHP Marshall Denton, who picked up the win after tossing a scoreless fourth frame.
The Hogs once again drew first blood, doing so in all seven games this season. Three-straight one-out singles brought in the first run, as Tamez started the trend, then was moved to third by Cole Austin's knock and finally scored by Moore's hit to center field for 1-0 lead.
In the fourth, Bolden exited with two on and nobody out after a pair of singles to begin the frame. Denton proceeded to strikeout the next three batters, firing everyone wearing cardinal red in Baum-Walker Stadium, including the Arkansas bats.
What ensued were four runs on five hits to put the Hogs up 5-0. Leading off the inning, Franklin rocketed a solo homer over the right field bullpen for Arkansas' second run of the afternoon. It was Franklin's second home run of the year. With Tamez standing on second after a single & a groundout, Moore sent him around the final two bases with a single to right-center field to make it 3-0. It was Moore's ninth RBI of the weekend.
After a two-out single from Braydon Webb and a walk to Heston Kjerstad to load the bases, Matt Goodheart shot a single through the right side of the infield to plate two more to make it 5-0. However, the Zags would answer with three of their own behind an RBI double from Ernie Yake and a two-RBI single from Tyler Rando to bring the Arkansas lead to 5-3.
Casey Martin put his name in the home run column in the fifth inning, sending a solo dinger into the Hog bullpen beyond left field to make it 6-3. Gonzaga got the run back in the top of the sixth after a wild pitch scored Gabriel Hughes after he reached on an error and was moved around to third on a single by Mason Marenco.
The fifth-straight scoring frame came in the bottom of the sixth inning, as Arkansas plated three to push the lead to 9-4. Kjerstad landed on second after his check-swing double was sent perfectly down the third base line, allowing Goodheart to drive him in with a single to left-center field. Franklin made it runners on the corners with two outs after his own knock, then after several pickoff attempts at first, Gonzaga's pitcher made a mistake and threw it away from the defender, sending Franklin around to third and Goodheart home. Then, a Casey Opitz double off the left field wall brought home Franklin to make it 9-4.
In the top of the seventh, the Zags added another run on a sacrifice fly from Tyler Rando, scoring Yake after he and Brett Harris singled in back-to-back at-bats, bringing the score to its final total at 9-5.
The Razorbacks hit the road for the first time this season for the Shriners College Classic on Feb. 28-March 1 at Minute Maid Park in Houston, Texas, taking on Oklahoma, Texas, and Baylor.
For more information on Arkansas Baseball, follow @RazorbackBSB on Twitter.