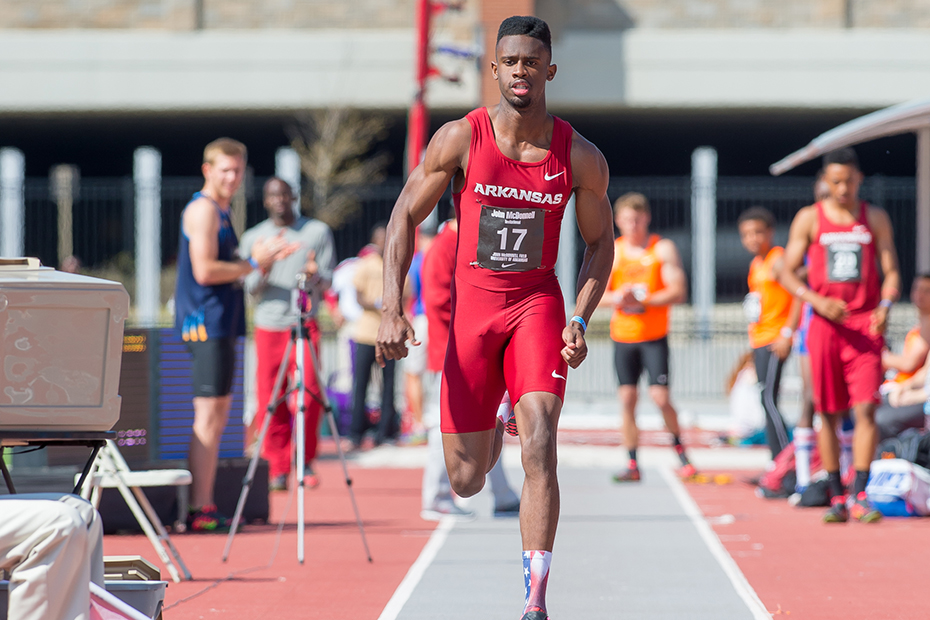 No. 7 Razorbacks Host John McDonnell Invitational
FAYETTEVILLE, Ark. – After several weekend's on the road the seventh-ranked Arkansas men's track and field team returns to action at home in the third best city in the United States. The Razorbacks will host the 2016 John McDonnell Invitational at John McDonnell Field April 20-23.
Teams participating in the four-day competition include: Arkansas Baptist, Kansas State, Memphis, Minnesota, Missouri, No. 17 Oklahoma State and Wisconsin.
Return of the NCAA indoor national champions
• Jarrion Lawson and Clive Pullen will open up in the long jump and triple jump, respectively.
• Lawson has an outdoor personal best in the event of 8.34/27-4 ½ marked at the 2015 NCAA Outdoor Championships and enters the competition with a 2016's best (inclusive of indoor) of 8.17/26-9 ¾.
• Pullen holds an outdoor best of 15.89/52-1 ¾ and enters the competition with a 2016's best (inclusive of indoor) of 16.64/54-7 ¼ marked at the 2016 NCAA Indoor Championships.
• Current NCAA top marks: long jump – 8.10/26-7, triple jump – 16.73/54-10 ¾
100 Meter Dash
The John McDonnell Invitational will feature four of the fastest collegians in the nation with Kenzo Cotton, Jarrion Lawson, John Teeters (OK State) and Markesh Woodson (Missouri). All four athletes qualified for the 2016 NCAA Indoor Championships in the 60 – Teeters, Lawson and Cotton placing 3-5-7, respectively.
The race will also include two-time Olympian, Wallace Spearmon Jr. A three-time national champion during his days as a Razorback, Spearmon Jr. has a career best in the event of 9.96 seconds.
All-American Action At A Glance (earned in event)
• 100 (Jarrion Lawson)
• 400 (Marqueze Washington -indoor)
• 800 (Carlton Orange -indoor)
• 4-x-100 (Arkansas A)
• High Jump (Ken LeGassey)
• Long Jump (Jarrion Lawson and Andreas Trajkovski -indoor)
• Triple Jump (Clive Pullen)
Live results for the meet will be available at flashresults.com.
Tickets are just $5 for adults and youth 17 and under get in free. Visit arkansasrazorbacks.com or call 800-982-HOGS and get your tickets today.
For more information on Arkansas track and field including in-meet updates, follow @RazorbackTF on Twitter.