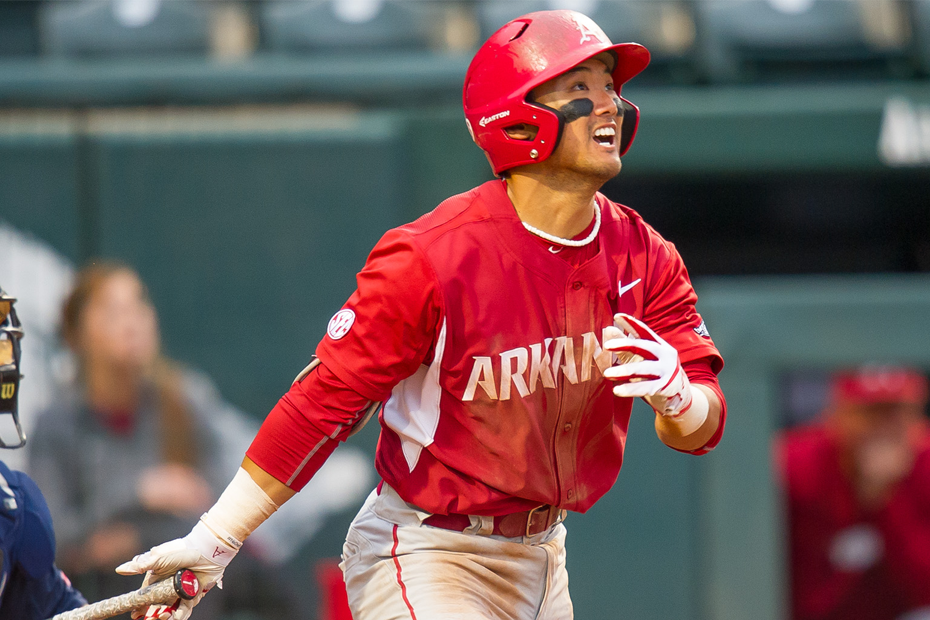 Nomura Continues to Swing But Razorbacks Fall In Finale
BATON ROUGE, La. – The Razorback baseball team came up short in Sunday's series finale with No. 13 LSU, dropping a 7-1 decision to the Tigers at Alex Box Stadium.
Arkansas (26-22, 7-17) only managed 8 hits, the second-lowest total in the last 8 games, but senior Rick Nomura had his second-straight multiple hit game, continuing his strong run over the last two weeks.
Going back to the midweek game against No. 18 Oklahoma State, Nomura has gone 14 for 32 (.438) with 7 runs scored, 3 RBIs and 4 doubles. In Sunday's game against LSU, the Hawaiian native went 2 for 4, marking his 13th multiple hit game this year. In 5 of his last 7 games, Nomura has two or more hits and three of those contests have been 3-hit games.
LSU (31-16, 14-10) scored 2 runs in the second inning off Arkansas starter Keaton McKinney (1-4), who took the loss Sunday after 4 1/3 innings of work. The Tigers scored two more on McKinney in the fifth inning before he was relieved by Weston Rogers.
A 3-run home run off the bat of LSU catcher Jordan Romero in the fifth ended up being the big blow. Even though LSU managed only one run over the final four innings by the bullpen, the Razorback offense only managed 5 hits from the third inning to the end of the game.
The Hogs did scratch a run across in the ninth inning after Austin Catron singled for his second hit of the day and then later brought in to score by a Cullen Gassaway single up the middle.
Caleb Gilbert earned the win for LSU, his fourth of the year after working 5 innings and giving up just 5 hits with 2 strikeouts.
UP NEXT
The Razorbacks will take a break during the next week as it's finals week on the campus of the University of Arkansas. Arkansas will return to the field Friday, May 13 against Alabama to start the final home conference series at Baum Stadium for 2016. Friday's game will be broadcast on SEC Network+ with first pitch at 6:35 p.m. CDT.
For more information on Razorback Baseball, follow @RazorbackBSB on Twitter.