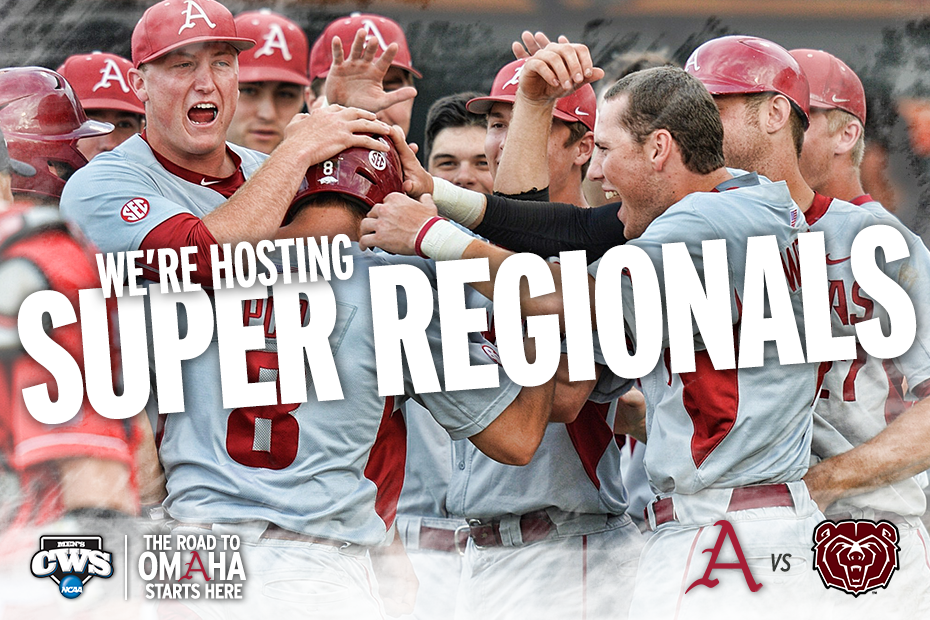 #OmaHogs to HOST NCAA Super Regional
FAYETTEVILLE, Ark. – The No. 2 seed Arkansas baseball team is set to host its second NCAA Super Regional in program history this weekend, welcoming No. 1 seed Missouri State to Baum Stadium for a Friday-Sunday series with the winner advancing to the College World Series. The NCAA will announce game times and television networks Tuesday morning.
The Fayetteville Super Regional is fast approaching a sellout. As of Monday evening, the Razorback Ticket Center is processing 10,000-plus ticket orders from Razorback Foundation members and season ticket holders. If tickets remain, they will be put on sale to the general public on Tuesday.
Arkansas is in the midst of its 28th NCAA Tournament run in program history, including the 14th consecutive. The Razorbacks have won two Super Regionals in the last seven years and six since the NCAA went to the format in 1999.
In the storied history of Arkansas baseball, the Razorbacks have appeared in seven College World Series, advancing to Omaha in 1979, 1985, 1987, 1989, 2004, 2009 and 2012.
Arkansas is coming off a 3-0 performance at the Stillwater Regional, knocking off Oral Roberts, Oklahoma State and St. Johns to sweep its fourth regional in the last eight years.
The Razorbacks are 49-21 all-time against Missouri State, including winning 10 of the last 11 meetings in the series.
Season ticket holders and foundation members are permitted to use their regular season parking passes for Baum Stadium this weekend. No additional NCAA parking passes will be issued or available for purchase.
With the a large crowd anticipated for the Hog Pen area and in an effort to accommodate as many fans as possible, please note cooler entry may be limited and/or stopped as we approach capacity in order to accommodate all ticketed fans.
Per the NCAA, no alcoholic beverages shall be delivered, sold or dispensed for public consumption anywhere in the competition venue, nor shall any such beverages be brought to the site during the championship (i.e., during the period from the time access is available to spectators until all patrons have left the stadium). Coolers and any bags entering the Hog Pen will be searched to ensure compliance with the NCAA's policy.
For more information on Arkansas baseball, follow @RazorbackBSB on Twitter.