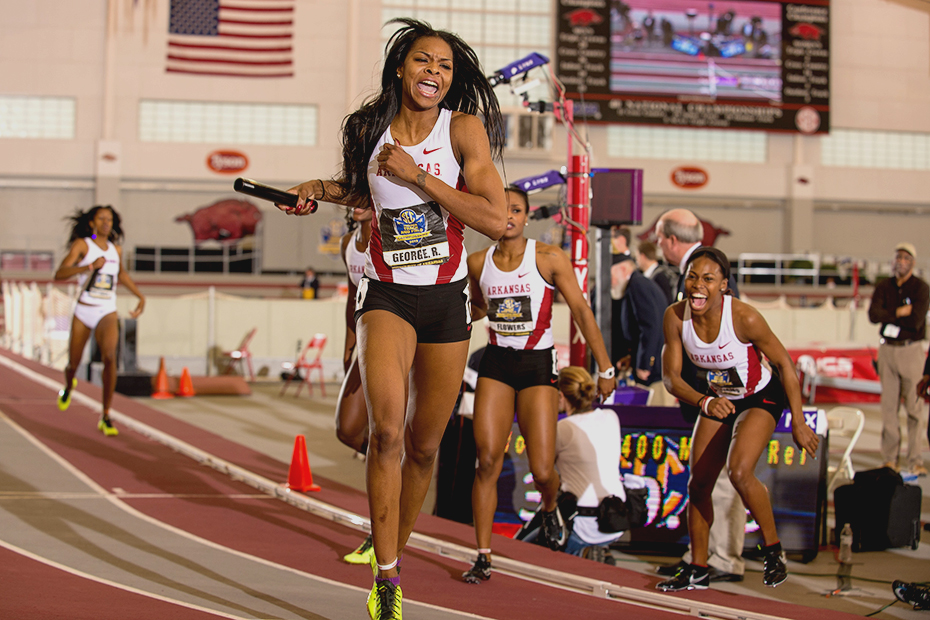 Quarter-Mile Queen Set For Second Olympics
ABUJA, Nigeria – Perennial African sports power Nigeria revealed its list of 35 athletes set to represent the Super Eagles in athletics competition at the 2016 Olympic Games this August in Rio de Janeiro, Brazil.
Included on the Nigerian roster for her second-consecutive Olympic Games is Arkansas indoor quarter-mile record-holder Regina George.
"Making my second Olympic team is something to be grateful about," George said. "Looking back six years ago, I would never have thought I would become a two-time Olympian. It feels great to say I accomplished this. This wouldn't have been possible if I didn't go to Arkansas. It's a blessing to have been a part of the Razorback family. I was blessed with some of the best coaches in the world and I'm thankful. Arkansas made this possible for me."
At Arkansas
During her time as a Razorback, George raced to 16 All-American honors, five NCAA silver medals and won an NCAA national title as one of the most dominant 400-meter runners on Arkansas' formidable 1,600 relay.
She set her still-standing indoor quarter-mile record at her home track in Fayetteville, Arkansas, during the 2013 NCAA Indoor Championship. George narrowly missed a 400 national title that weekend, crossing the finish less than a 1/4 of a second behind former SEC rival Shaunae Miller of Georgia, during the finals of the event.
George earned redemption during the 2013 outdoor season as she anchored the Razorback quartet which included Chrishuna Williams, Sparkle McKnight and Gwendolyn Flowers to Arkansas' first and only NCAA outdoor relay title in the 4-x-400 relay.
As A Professional
Since her departure from Arkansas George has represented Nigeria in several international competitions including three World Championships and the 2012 Olympic Games in London. She will attempt to earn her first Olympic medal this year as a member of Nigeria's 4-x-400 relay in Brazil.
For more information on Arkansas track and field including in-meet updates, follow @RazorbackTF on Twitter.