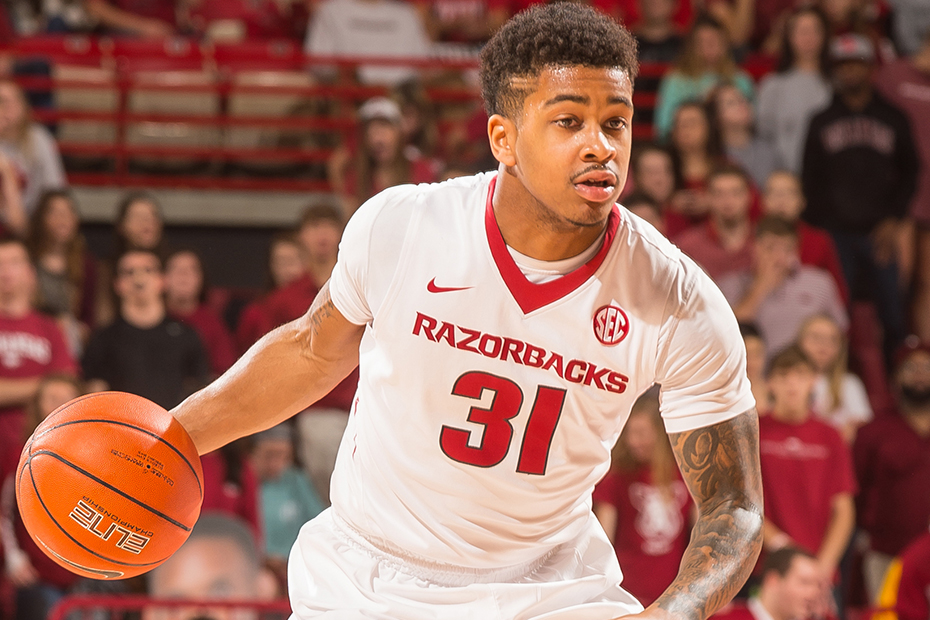 Razorback Basketball Returns To North Little Rock On Saturday
AT A GLANCE
A week after defeating Atlantic 10 foe and 2014 NCAA Elite Eight member Dayton, Arkansas will look to start 8-2 through the first 10 games for the second straight year under head coach MIKE ANDERSON when it hosts Southeast Missouri in its annual game at Verizon Arena.
HISTORY AT VERIZON ARENA
Arkansas owns a 7-8 record at Verizon Arena (formerly Alltell Arena) since it opened in October of 1999. Saturday will mark the 14th straight year the Razorbacks have made the annual trip to North Little Rock while they will look for their first three-game win streak at Verizon Arena. Senior ALANDISE HARRIS is 2-0 in his hometown of Little Rock, winning in 2011 as a sophomore at Houston and last year as a redshirt junior, averaging 14 points and six boards over the two games.
GAMEDAY #RAZORFACTS

GAME

Arkansas (7-2) vs Southeast Missouri (5-5)

DATE | TIME

Saturday, December 20, 2014 | 7:30 P.M. CT

SITE | ARENA

Little Rock, Ark. | Verizon Arena

TV | VIDEO

SEC Network & WatchESPN App

TALENT

Roy Philpott (P-B-P) & Darrin Horn (Analyst)

AUDIO

Razorback/IMG Sports Network

TALENT

Chuck Barrett (P-B-P) & Scotty Thurman (Analyst)

LIVE STATS

www.ArkansasRazorbacks.com

SOCIAL

Twitter | Facebook | Instagram

HASHTAGS

#Fastest40 | #WeHogs

STREAK

W1

LAST 5

3-2

IN LITTLE ROCK/N. LITTLE ROCK

83-25

AT VERIZON ARENA

7-8

STREAK

W2

VS. SOUTHEAST MISSOURI

7-1

NEXT UP

vs. Milwaukee (Dec. 22)
@RAZORBACKMBB FAST BREAK FACTS
• 14th straight year playing a game at Verizon Arena.
• Arkansas is 7-1 all-time against Southeast Missouri and 25-5 vs. current Ohio Valley Conference members.
• First OVC team to play Arkansas in Little Rock since Austin Peay in 1983.
• Own a 22-game home non-conference win streak that includes two games at Verizon Arena.
• Averaging 88.0 points over 22-game home non-conference win streak.
• Rank second in the nation in assists (19.2) and 11th in scoring (83.4).
• Scored 70+ points in 25 of the last 27 non-conference games.
• Held below 40 points in back-to-back halves just once on the year.
• Hold the early lead in the SEC in scoring (83.4), three-pointers per game (8.1), three-point percentage (.420) and assists (19.2).
• Eight different players have reached double figures.
• Three different players have scored 20 points in a game with someone reaching 20 points in six of nine games.
• Out-scored each opponent in bench points and 229-131 for the year.
• Forced its opponents into double-digit turnovers in seven halves.
• Hold the early lead the SEC in steals (8.9) and assist/turnover ratio (1.5).
• Out-scoring opponents 190-126 in points off turnovers.
• Only two opponents have finished with a positive assist/turnover ratio.
• Scored 25+ points off turnovers in four games.
COACHING MATCHUP
@RazorbackMBB
Head Coach: Mike Anderson (Tulsa '82)
Record at Arkansas: 66-41 (4th Season)
Overall Record: 266-139 (13th Season)
Vs. Southeast Missouri: First Meeting
Southeast Missouri
Head Coach: Dickey Nutt (Oklahoma State '82)
Record at Southeast Missouri: 72-96 (6th Season)
Overall Record: 261-283 (19th Season)
Vs. Arkansas: 0-1
THIS DAY IN RAZORBACK HISTORY
Arkansas holds an 11-6 record on December 20, dating back to the start of the 1959-60 campaign. Saturday marks Arkansas' first game on Dec. 20 in Little Rock since 1980 when it defeated Ohio Valley member Eastern Kentucky. In 2000, the Razorbacks scored 115 points in a win over Northwestern State behind 20 points from current Charlotte Hornets guard JANNERO PARGO and 16 points from Brooklyn Nets All-Star JOE JOHNSON.
ONE-TWO PUNCH
Either junior MICHAEL QUALLS or sophomore BOBBY PORTIS has been Arkansas' top scorer in eight of nine games this season. One of the two has reached the 20-point plateau in six games, while they are just one of two duos in the SEC to both rank in the top 11 in scoring. Qualls and Portis don't just get it done on the offensive end, as they rank one and two on the team in rebounding, leading the way on the glass in the seven of the last eight contests. Below is a look at the top scoring duos in the SEC.
Program Points Per Game
Jarell Martin & Jordan Mickey LSU 32.2
Damian Jones & Luke Kornet Vanderbilt 30.8
KT Harrell & Cinmeon Bowers Auburn 30.3
Bobby Portis & Michael Qualls Arkansas 30.1
Levi Randolph & Ricky Tarrant Alabama 29.2
DEMANDING THE ROCK
A Wooden Award Preseason Top 50 and Oscar Robertson Trophy Watch List member, sophomore BOBBY PORTIS has become the focal point of Arkansas' offense and the team leader on and off the court. Portis has reached double figures in 12 of the last 13 games dating back to last year with double-digit field goal attempts in 11 of those contests. Portis, who is seventh in the SEC at 15.8 points per game, has scored 18+ points in three straight games for the first time in his career and five times on the year. Over the first 30 games of his career, Portis scored 18+ points four times and took double figure shots on 10 occasions.
20/20 VISION
Junior MICHAEL QUALLS has scored 20 points in three of the last five games and four times on the year, which equals RASHAD MADDEN'S team-leading total from all of 2013-14. Qualls has scored 20 points in six of his last 18 games dating back to last year compared to just one over his first 55 career contests.
SHARING THE WEALTH
After leading the SEC in assists last season, Arkansas is back at it again. Through their first nine games, the Razorbacks are averaging 19.2 assists, good for second nationally, highlighted by four games of 20+ assists. It marks the first time since 2000-01 that Arkansas has passed out 20+ assists in four of the first nine games, led by senior RASHAD MADDEN who is tied for second in the SEC in helpers per game (5.2). Madden has led the team in assists seven times, while nine different players have passed out three or more assists in a game. Arkansas has assisted on 173 of its 265 made field goals, good for a staggering 65 percent clip.
SCOUTING SOUTHEAST MISSOURI
• Off to a 5-5 start under sixth-year head coach Dickey Nutt.
• Predicted to finish second in the OVC West Division and third overall, picking up two first place votes.
• Arkansas is the second of three games against SEC teams this year.
• Rank second in the OVC in scoring defense (62.4).
• Own a 4-0 record when holding opponents under 60 points.
• Senior Jarekious Bradley was a preseason All-OVC selection and leads the team in scoring at 16.1 points per game.
• Bradley has reached double figures in seven of eight games played this season and 34 of 40 contests at Southeast Missouri.
• Senior forward Nino Johnson is second in the OVC in blocks per game (2.4) and seventh in rebounding (6.9).
ALL-TIME SERIES
Saturday is the ninth meeting between the programs with Arkansas leading the series at 7-1. The Razorbacks have been the home team in the last seven meetings with three games at Barnhill Arena (1978, 82, 83), one in Pine Bluff (1992) and three at Bud Walton Arena (2003, 06, 10). Arkansas has out-scored Southeast Missouri by an average of 20.3 points over the eight meetings and have limited the Redhawks to 72 points or less each game.