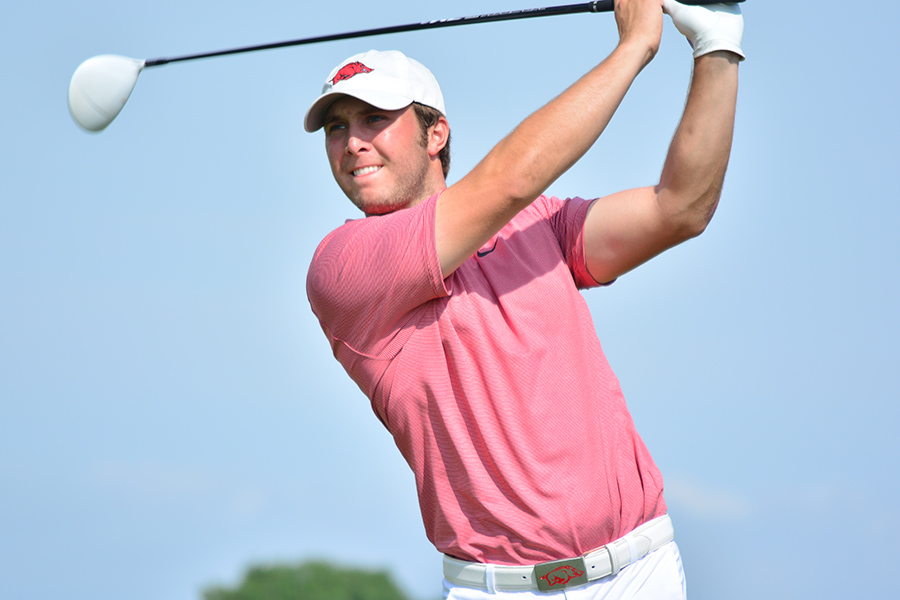 Razorbacks Finish 6th At SEC Championships
ST. SIMONS ISLAND, Ga. – Junior Taylor Moore continued his hot play and redshirt sophomore Zach Coats carded a career-low as both players shot three-under 67 to lead the No. 28 Arkansas men's golf team to a final round even-par 280 for a sixth place finish on Sunday at the SEC Championship held at Sea Island Golf Club.
Arkansas' 280 capped a weekend in which it shot par or lower all three rounds, setting a new program SEC Championships record with a score of 279-275-280/834(-6). Part of a 14-team field that featured 13 teams ranked in the latest Golfweek top 70, Arkansas has now finished in the top six at the SEC Championships seven straight years under head coach Brad McMakin, making it the only program to accomplish that feat.
One of just three teams to shoot even-par in the final round, the Razorbacks finished just one stroke back of fourth place. The sixth place finish runs Arkansas' spring head-to-head record to 64-19-1 while it finishes 23 games over .500 for the year. The Razorbacks will learn their NCAA Regional destination on Tuesday, May 5 when the field is announced.
Moore's three-under 67 on Sunday came on the heels of a four-under 66 in the second round en route to tying for sixth place. Moore is the 15th different Razorback in program history to finish in the top 10, as he moved all the way up from 49th position after round one. The Edmond, Okla. product led the 70-player field that featured 25 in Golfweek's top 100 with 15 birdies over the weekend, carding at least one on 11 of the Seaside Course's 18 holes.
Coats picked a perfect time to deliver his career-low round and it came in bogey-free fashion, as he equaled Moore's 67 to tie for the lowest round of the day with individual champion Matthew NeSmith of South Carolina. Coats' 71-73-67/201 scorecard put him in a tied for 23rd place, a 15-stroke improvement from his performance last year at SEC Championships.
Redshirt junior Kolton Crawford joined Moore in the top 20 in a tie for 17th place (65-66-78/209). Crawford put together a near flawless scorecard through the first two rounds with a bogey-free 65 on Friday and a four-under 66 in the second round to break the program SEC Championships 36-hole record by three strokes.
The final two counting scores of the final round came in the form of 73s by freshman Alvaro Ortiz and junior Nicolas Echavarria. Joining Moore as the only two players to contribute a counting score in all three rounds, Ortiz finished his SEC Championships debut in a tie for 36th place at four-over 214 (70-71-73). Echavarria's 73 was his second straight counting score.
Coach McMakin Post-Round Sound 
"I'm very proud of the way the guys played today in tough conditions and the way they played all week. They've overcome a lot of adversity and are playing their best at the right time."
@RazorbackMGolf Lineup 
T6. Taylor Moore – 73-66-67/206 (-4)
T17. Kolton Crawford – 65-66-78/209
T23. Zach Coats – 71-73-67/211
T36. Alvaro Ortiz – 70-71-73/214
T53. Nicolas Echavarria – 74-72-73/219
SEC Golf Championships Final Standings (Golfweek Ranking)
1. LSU (9) – 274-272-281/827 (-13)
T2. Vanderbilt (4) – 276-274-280/830 (-10)
T2. South Carolina (8) – 275-275-280/830 (-10)
T4. Alabama (21) – 269-274-282/833 (-7)
T4. Auburn (6) – 275-276-282/833 (-7)
6. Arkansas (28) – 279-274-280/834 (-6)
T7. Florida (37) – 282-276-284/842
T7. Georgia (29) – 282-277-283/842
9. Ole Miss (52) – 288-278-283/849
10. Texas A&M (39) – 286-282-287/855
11. Kentucky (62) – 284-284-288/856
12. Tennessee (56) – 284-292-284/860
13. Missouri (69) – 287-283-291/861
14. Mississippi State (127) – 289-297-299/885