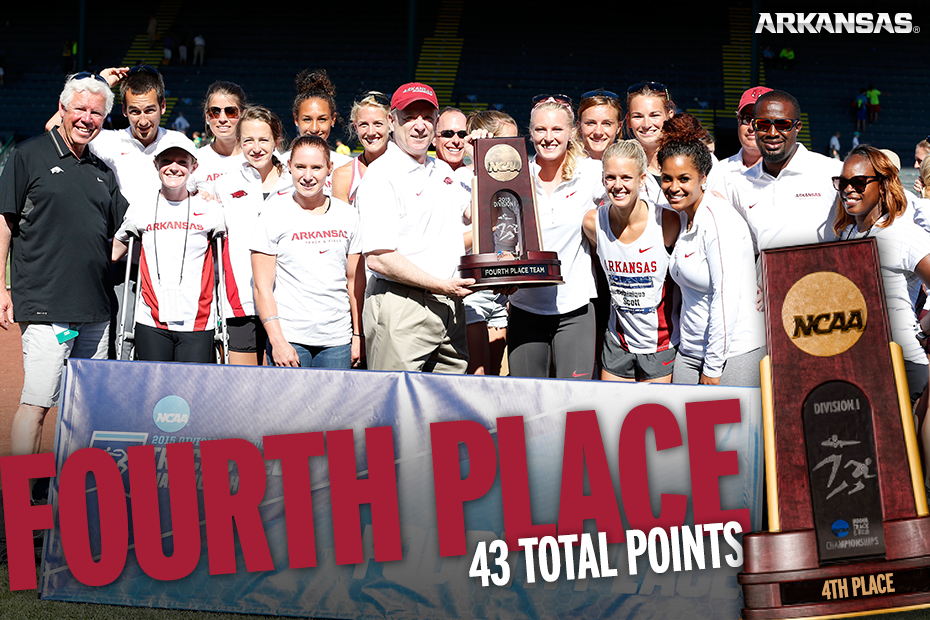 Program-Best Fourth Place at #NCAATF Championships
EUGENE, Ore. – With 11 points over the final two events Saturday, the Razorback women's track and field team posted a fourth-place finish at the 2015 NCAA Outdoor Championships at Hayward Field. Arkansas' team finish represents the best finish in program history at the outdoor national meet, eclipsing the previous high of fifth by the 2005 team. Arkansas now has seven top-10 finishes overall. With Saturday's result, Arkansas is the only program in the NCAA this year with top-five national finishes during the cross country, indoor and outdoor season.
How They Scored | @RazorbackTF Points Breakdown
8 | Dominique Scott – 5,000 Meters
8 | Dominique Scott – 10,000 Meters
8 | Sandi Morris – Pole Vault
5 | Taylor Ellis-Watson – 400 Meters
5 | Chrishuna Williams – 800 Meters
4 | Desiree Freier – Pole Vault
3 | Brianna Swinton, Chrishuna Williams, Regine Williams, Taylor Ellis-Watson – 4x400m Relay
2 | Ariel Voskamp – Pole Vault
Entering the 4×400-meter relay, Arkansas sat in fifth place and needed at least one point to get on the podium. The team of Taylor Ellis-Watson, Chrishuna Williams, Brianna Swinton and Regine Williams responded with a sixth-place result, good for three points to leapfrog Georgia in the team standings. The relay quartet combined for a time of 3:34.27 to clinch the Razorbacks' first outdoor podium finish in program history.
Doubling back from Thursday night's 10,000 meters, Dominique Scott capped her season with a runner-up finish in the championship race at 5,000 meters. She added eight points in the final individual event of the weekend with a time of 15:40.47. With the result, Scott improved on her sixth-place showing in the 5K at last year's national meet. She accounted for 16 points at the NCAA meet with her two second-place performances.
Running out of lane two in the 400-meter final, Taylor Ellis-Watson scored the Razorbacks' first points of the day with a fourth-place finish. Improving on her national finish from last year, she crossed the finish line in a time of 52.01. In the very next race, Chrishuna Williams made it back-to-back fourth-place showings for Arkansas with her effort at 800 meters. She closed in a time of 2:01.67, just .06 off her own school record.
2015 NCAA Outdoor Championships | Day 4
Hayward Field | Eugene, Ore.
Final Team Standings (top 10)
1. Oregon – 59
2. Kentucky – 50
3. Texas A&M – 47
4. ARKANSAS – 43
5. Georgia – 41
6. Florida State – 35
7. USC – 34
8. Florida – 32
9. Kansas State/Texas – 28
400 Meters (final)
4. Taylor Ellis-Watson – 52.01 [5 points]
800 Meters (final)
4. Chrishuna Williams – 2:01.67 [5 points]
5,000 Meters (final)
2. Dominique Scott – 15:40.47 [8 points]
4x400m Relay (final)
6. Swinton/C. Williams/R. Williams/Ellis-Watson – 3:34.27 [3 points]
For more information on Arkansas track and field including in-meet updates, follow @RazorbackTF on Twitter.