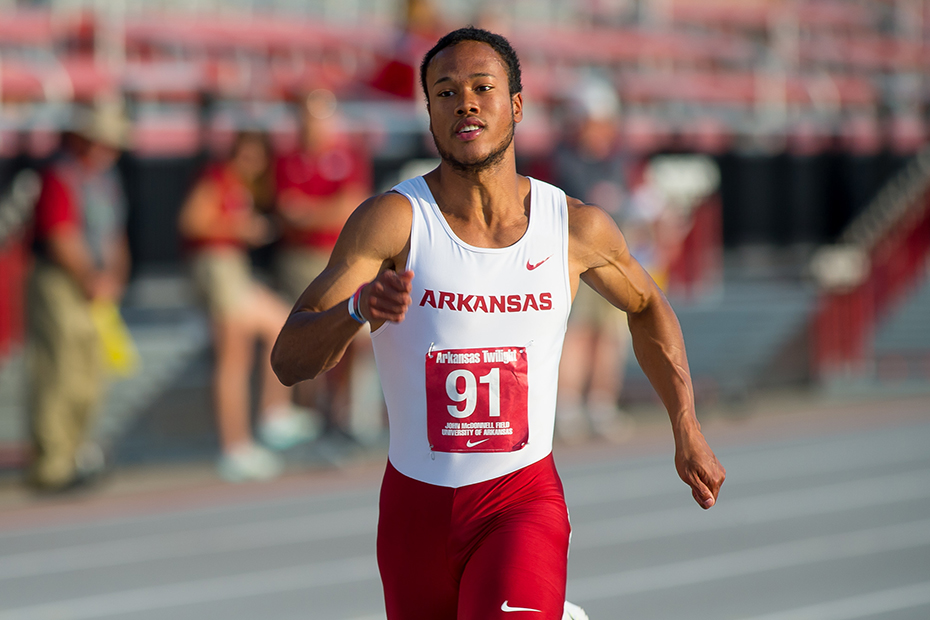 Razorbacks Wrap Up Regular Season At Home
Final Results – Arkansas Twilight
FAYETTEVILLE, Ark. – The No. 4 Arkansas men's track and field team capped its regular season in front of its home crowd at John McDonnell Field at the Arkansas Twilight on Friday evening.
The night produced several Razorback event-winners and was highlighted by a program record-breaking performance at the hands of freshman Erich Sullins in the hammer throw.
Top Performances
Sullins kicked off the day for Arkansas with an improved performance in the hammer throw of 57.03/187-1 eclipsing his previous program record by 9 inches.
Success continued for Arkansas' throwers with senior captain Devin Randall picking up a win the discus throw off a season's best toss of 53.42/175-3.
On the track, Razorback sprinters Marqueze Washington, Jarrion Lawson, Kenzo Cotton, Roy Ejiakuekwu and Davon Anderson swept the 100-meter top-five placing 1-2-3-4-5 to dominate the event.
Arkansas' trio in the 1,500 — Aidan Swain, Kyle Hosting and Stephen Mugeche — all collected new personal bests in the event led by Swain who crossed the finish line in third place as the fastest Razorback represented in 3 minutes, 51.37 seconds.
Other Razorbacks to secure lifetime bests included: Anderson (100) 10.67, Ejiakuekwu (100) 10.53, Noah Findlay (3KSC) 9:28.56, Ryan Green (200) 21.44, Jeff Rogers (shot put) 17.49/57-4 3/4 and Andreas Trajkovski (100) 10.85.
The evening was capped off in outstanding fashion as all three Razorback 4-x-400 relay teams ran NCAA first round qualifying times.
Of the 12 sprinters that made up the three relay teams, 11 ran 46 seconds or better displaying the magnitude of depth Arkansas has in the quarter mile.
Coach Case on the day's events
"First of all, Kenzo [Cotton] had a good day in the 100 and 200. He hit national qualifying marks in both races which is great since he's been out for a while with injuries. With the 4-x-400, that was incredible, to do what we just did. But it was planned. We set it up to do that. We thought we could run three really good relays and that's exactly what we did."
The Razorbacks will journey to Tuscaloosa, Alabama on May 12-14 as the Crimson Tide hosts the 2016 SEC Outdoor Track and Field Championships at Sam Bailey Stadium.
Victorious in SEC competition during the 2015-16 cross country and indoor seasons, Arkansas will look to cap off the final conference meet of the year with a team win resulting in a perfect 3-0 championship record. A triumph next weekend would mark the program's 24th conference Triple Crown.
Results – Arkansas Twilight
100 – M. Washington (1) 10.34, J. Lawson (2) 10.34, K. Cotton (3) 10.42, R. Ejiakuekwu (4) 10.53, D. Anderson (5) 10.67, R. Green (8) 10.72, A. Trajkovski (11) 10.85
200 – K. Cotton (2) 20.90, A. Blakely (3) 21.27, R. Green (5) 21.44, O. Igbokwe (6) 21.46, J. Winn (10) 21.83
400 – John Winn (unattached) (4) 48.42, Noah Arrindell (unattached) (9) 49.39
800 – A. Pisechko (3) 1:49.67
1,500 – A. Swain (3) 3:51.37, K. Hosting (5) 3:51.84, S. Mugeche (7) 3:52.84
3,000 Steeplechase – N. Findlay (2) 9:28.56
4-x-400 – Arkansas A – M. Washington, K. Mowatt, R. Thomas, J. Lawson (1) 3:06.28, Arkansas B – J. Stephen, O. Igbokwe, R. Ejiakuekwu, E. Janise (2) 3:06.30, Arkansas B – D. Anderson, L. Donald, J. Washington, A. Blakely (3) 3:07.68
High Jump – A. Campbell (3) 2.01/6-7
Long Jump – T. Carey (3) 6.56/21-6 1/4
Shot Put – J. Rogers (1) 17.49/57-4 3/4, D. Randall (2) 16.78/55-0 3/4, S. Kempka (3) 16.48/54-1, E. Sullins (4) 15.49/50-10
Discus Throw – D. Randall (1) 53.42/175-3, S. Kempka (2) 47.46/155-8, E. Sullins (3) 45.20/148-3, L. Austell (5) 38.37/125-10, D. Jacobus (6) 37.36/122-7, B. Culp (7) 37.26/122-3
Hammer Throw – E. Sullins (2) 57.03/187-1
For more information on Arkansas track and field including in-meet updates, follow @RazorbackTF on Twitter.