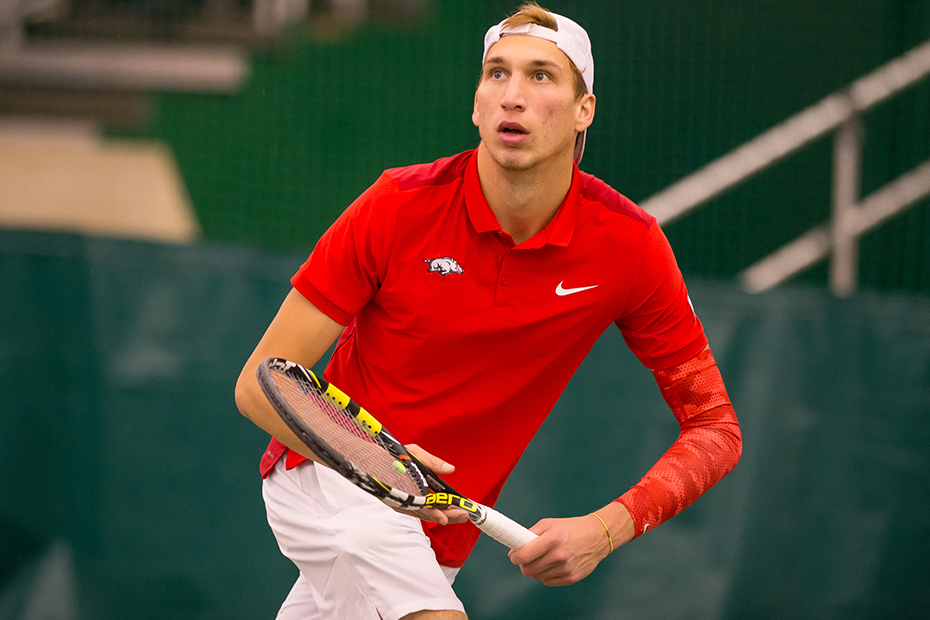 Red Hot Redlicki Earns SEC Accolade
FAYETTEVILLE, Ark. — Following a victory over No. 10 Oklahoma on Sunday, the Arkansas men's tennis team earned conference accolades when Mike Redlicki won SEC Player of the Week on Wednesday afternoon. Redlicki notched two wins against the Sooners, both against nationally-ranked opponents, to help the Razorbacks claim a 5-2 victory.
"It's truly humbling and motivating to receive my first individual accolade as a Razorback, but any personal success is all a result of the team's effort," he said. "Experiencing the victory over a top 10 team in Oklahoma was incredible because we were able to win as a collective unit, and for that I can't be more thankful."
First, Redlicki and doubles partner Giammarco Micolani defeated Oklahoma's No. 35 pair of Alex Ghilea and Andrew Harris by a score of 6-3. Then, he won at the top singles spot against No. 63 Axel Alvarez Llamas – the 2015 ITA National Player of the Year – in straight sets by a score of 6-4, 7-6 (0).
"Michael was outstanding in the team win at Oklahoma; he's very deserving of this honor," head coach Andy Jackson said. "Winning in doubles and then beating the 2015 ITA National Player of the Year was impressive, but even more impressive is how much he cares about this team and his teammates."
The redshirt junior from Chicago now boasts a 6-1 record in singles play at the No. 1 spot and a 5-2 mark at the No. 1 doubles spot alongside Micolani. Among those 11 total victories, four have come against ranked opponents. After starting the spring season unranked, Redlicki has jumped to No. 82 in singles and No. 49 in doubles with Micolani, and he says he owes all of his early success to his coaches and teammates.
"I'm so blessed to be in the situation that I am in now at Arkansas," he explained. "Coach Jackson, Coach Briceno and Coach Parlic have gotten everyone – especially myself – to really trust the process of improvement, and it has made everything about this season that much better and more enjoyable.
"This team is really a close-knit group, and that has been giving us an edge during the crunch time of matches."
Coming in at No. 27 in the most recent ITA rankings, the Razorbacks claimed their highest national ranking since reaching the No. 32 spot on March 20, 2012. The team now moves on to SEC play with two conference road matches this weekend. First, Arkansas plays No. 22 Kentucky in Lexington on Friday, March 4, then Tennessee in Knoxville on Sunday, March 6.
For more information on Razorback men's tennis, please follow @RazorbackMTEN on Twitter.