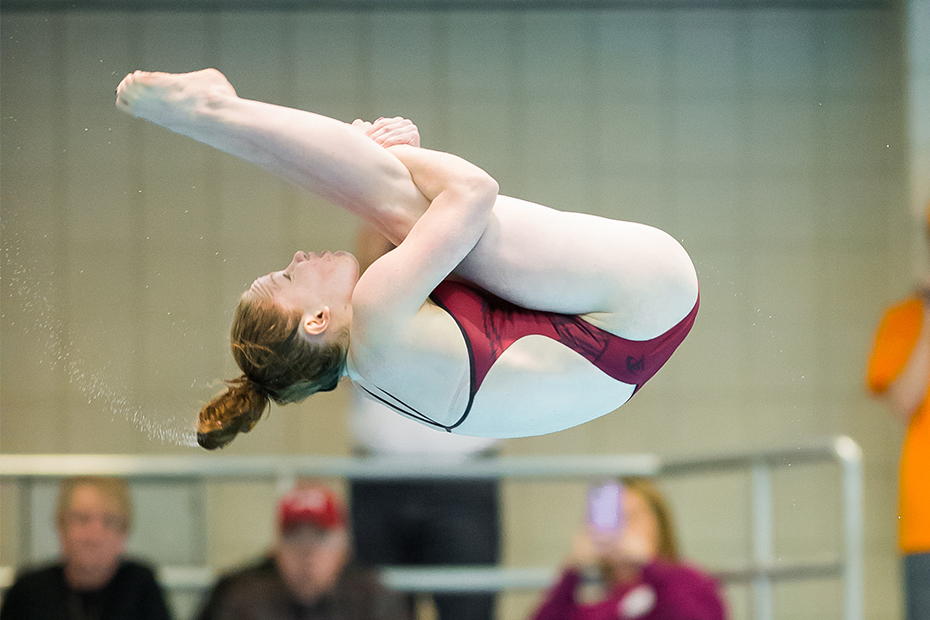 Schultz Punches Ticket To NCAA Championships
FAYETTEVILLE, Ark. — Freshman diver Brooke Schultz punched her ticket to the NCAA Championships Monday afternoon, finishing fourth overall in the one-meter springboard event at the NCAA Zone D Diving Championships in Minneapolis.
Schultz becomes the second Razorback this season and first diver to qualify for the Championships in Columbus, Ohio, next week, joining freshman Peyton Palsha (1650 freestyle).
Schultz started the day finishing fourth overall among 47 athletes in the one-meter prelims with a score of 303.55. Among the 18 divers who advanced to finals, Schultz needed to finish in the top 11 to move on the Indianapolis. The Fayetteville native added 312.25 points in finals to her prelim score to finish fourth overall with a running score of 615.80.
In prelims, senior Nicole Gillis missed the finals by 3.35 points, scoring a 258.85 for a 21st-place finish. Junior Marissa Green was right behind Gillis, scoring a 257.50 to finish 23rd, while freshman Maha Amer (236.95) and sophomore Caroline Welch (233.20) finished 30th and 34th, respectively.
Action from Minneapolis will continue tomorrow at 11 a.m. with the three-meter prelims.
Schedule of Events/Results
Monday, March 5
One-Meter Prelim
4th – Brooke Schultz – 303.55
21st – Nicole Gillis – 258.85
23rd – Marissa Green – 257.50
30th – Maha Amer – 236.95
34th – Caroline Welch – 233.20
 One-Meter Final
4th – Brooke Schultz – 615.80
Tuesday, March 6
11 a.m. – Women's Three-Meter Prelim/Final
Wednesday, March 7
11 a.m. – Women's Platform Prelim/Final
For more information on Arkansas Swimming and Diving, follow @RazorbackSD on Twitter.