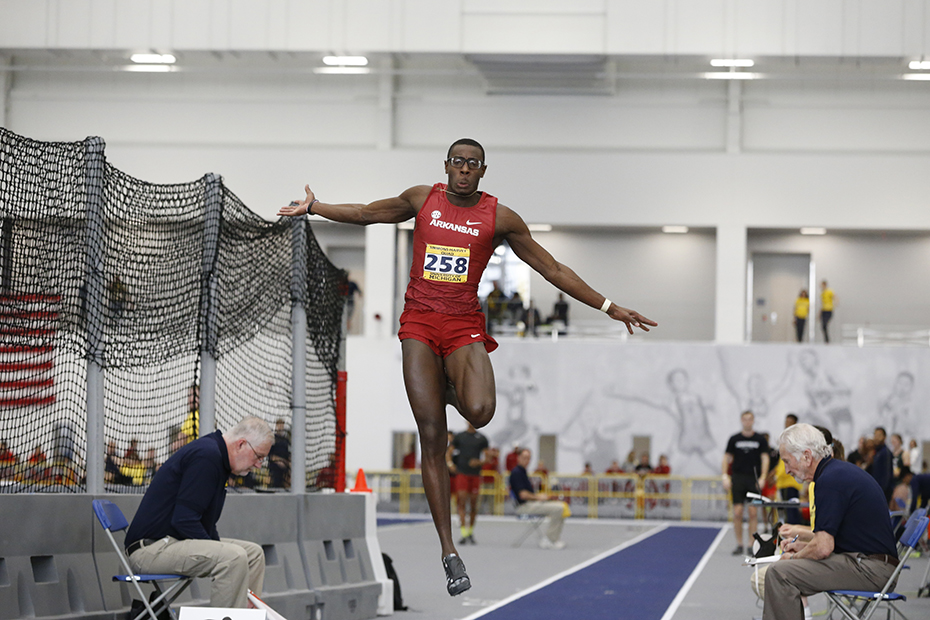 Six Titles, Five Facility Records
ANN ARBOR, Mich. – Battling three Big 10 programs on Saturday afternoon in Ann Arbor at the Simmons-Harvey Quad, the No. 3 Arkansas men's track and field team departed with several facility records.
The Razorbacks put their best foot forward on the track and in the field claiming six event titles including wins in the 60-meter dash, 200-meter dash, 60-meter hurdles, 4-x-400-meter relay, high jump and long jump. Arkansas finished third in the team scoring with 97 points, behind Ohio State (146.5 points) and Michigan (147.5 points).
"We always go to these meets and do the very best we can," head coach Chris Bucknam said. "There was a team score and we didn't finish up as we had hoped but we had less athletes there than the other teams, so I think it was a numbers game in that regard. Minus the team scoring it was a very successful trip across the board."
Transfers Have A Day
Azusa Pacific transfer Shakiel Chattoo (60-meter hurdles) and South Plains transfer Laquan Nairn (long jump) both picked up titles for Arkansas in their respective events. The top performer in the preliminary round of the 60 hurdles with 7.91, Chattoo improved upon his time by .12 seconds, clocking 7.79 in the finals to place first in the event. Primarily a heptathlete, Chattoo currently ranks as the sixth-fastest hurdler in the NCAA. Off the track, Bahamian talent Nairn displayed his jumps versatility notching a top-two finish in a horizontal-jumping event for the second-consecutive week. Already ranked among the top-10 best triple jumpers in the NCAA, Nairn added his name to the long jump national leader boards off a best mark of 7.60m/24-11 1/4.
"Those guys had a high energy level with it being their first early season competitions as Razorbacks," Bucknam said. "They did an outstanding job. Laquan, he's really high energy. He got some great jumps and in and that was really good to see. Chattoo, did an amazing job, he's just getting his feet wet and getting used to the division I level. Overall the day was extremely goo."
Everyone Gets a Record
Four of coach Bucknam's athletes including Shakiel Chattoo, Kenzo Cotton, Obi Igbokwe and Laquan Nairn etched their names individually in the Michigan history books as facility record holders in their respective events. Chattoo, Cotton and Igbokwe represented strongly in the sprints and hurdles, racing to records in the 60 hurdles, 60-meter dash and 200-meter dash respectively. Nairn set a new long jump facility record with his NCAA top-10 mark. Arkansas' 4-x-400-meter relay team of Roy Ejiakuekwu, Kemar Mowatt, Rhayko Schwartz and John Winn closed out the night with a facility record, clocking the seventh-fastest time in the nation with 3:09.01.
Additional Notable Performances
Junior Erich Sullins set a new program record in the weight throw of 20.32m/66-8, besting his previous PR by almost three feet. The performance earned him a fourth-place finish. Sophomore Cameron Griffith placed third in the mile with a PR of 4 minutes, 3.11 seconds. Griffith's time ranks him as the seventh-fastest miler in the NCAA.
Event Winners
• 60 Meters: Roy Ejiakuekwu, 6.71
• 200 Meters: Obi Igbokwe, 20.90
• 60-Meter Hurdles: Shakiel Chattoo, 7.79
• 4-x-400 Meter Relay: Ejiakuekwu, Mowatt, Schwartz, Winn, 3:09.01
• High Jump: Brendon Rivera, 2.09m/6-10 1/4
• Long Jump: Laquan Nairn, 7.60m/24-11 1/4
Simmons-Harvey Quad
January 20, 2018
Michigan Indoor Track Facility (Ann Arbor, Mich.)
60 Meters Prelims
1. Kenzo Cotton – 6.67 (Facility Record)
3. Roy Ejiakuekwu – 6.72
4. Shakiel Chattoo – 6.80
60 Meters Finals
1. Roy Ejiakuekwu – 6.71
200 Meters
1. Obi Igbokwe – 20.90 (Facility Record)
2. Rhayko Schwartz – 21.24
7. John Winn – 21.88
400 Meters
5. Travius Chambers – 48.52
800 Meters
5. Chase Pareti – 1:53.72
6. Kieran Taylor – 1:54.05
7. Reese Walters – 1:55.19
10. Kyle Hosting – 1:56.91
12. Hunter Woodhall – 1:58.04
13. Colin O'Mara – 2:00.57
Mile Elite
3. Cameron Griffith – 4:03.11
4. Jack Bruce – 4:05.31
Mile
6. Kyle Hosting – 4:13.66
10. Colin O'Mara – 4:16.66
15. Graham Brown – 4:21.88
16. Preston Cates – 4:24.08
3,000 Meters
7. Kyle Levermore – 8.19.71
60m Hurdles Prelims
1. Shakiel Chattoo – 7.91
2. Larry Donald – 7.95
6. Kemar Mowatt – 8.07
60m Hurdles Finals
1. Shakiel Chattoo – 7.79 (Facility Record)
2. Larry Donald – 7.89
7. Kemar Mowatt – 8.28
4x400m Relay
1. Arkansas A – Ejiakuekwu, Mowatt, Schwartz, Winn – 3:09.01 (Facility Record)
4. Arkansas B – Donald, Chambers, Woodhall, Pareti – 3:16.88
High Jump
1. Brendon Rivera – 2.09m/6-10 1/4
3. Rubin Owens – 1.99m/6-6 1/4
8. Gabe Moore – 1.94m/6-4 1/4
Long Jump
1. Laquan Nairn – 7.60m/24-11 1/4 (Facility Record)
3. Harrison Schrage – 7.32m/24-0 1/4
4. Rubin Owens – 7.03m/23-0 1/2
Shot Put
6. Sam Kempka – 16.58m/54-4 3/4
9. Jeff Rogers – 15.75m/51-8 1/4
11. Gabe Moore – 13.78m/45-2 1/2
Weight Throw
4. Erich Sullins – 20.32m/66-8 (Program Record)
For more information on Arkansas track and field including in-meet updates, follow @RazorbackTF on Twitter.