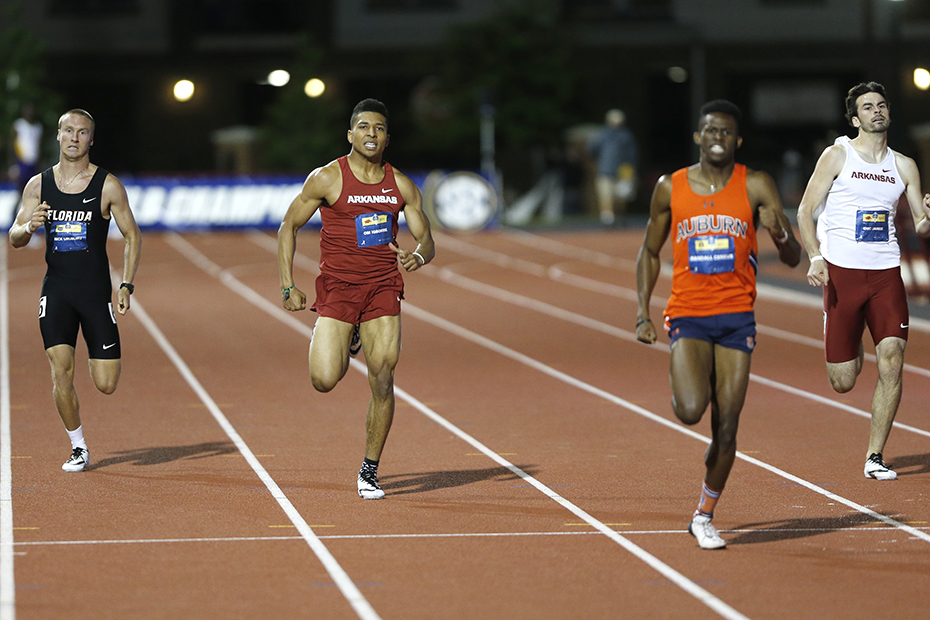 Three Razorbacks Set For USATF Junior Championship
FAYETTEVILLE, Ark. – With the collegiate postseason wrapped up, three members of Arkansas men's track and field team Obi Igbokwe, Carlton Orange and Brendon Rivera will continue their competition season this weekend at the 2016 USATF Junior Championship in Clovis, California.
USATF Junior Championship
Veteran's Memorial Stadium
Buchanan High School
Clovis, California
June 24-26
What's At Stake
The top two finishers in each event will be given the opportunity to represent the USA National Team at the 2016 IAAF U20 World Championship July 19-24 in Bydgoszcz, Poland.
Obi Igbokwe – 400 | PR: 46.32
The Woodlands, Texas product Igbokwe was an instant impact-maker for Arkansas during his first season. One of the best freshman quarter-milers in the nation, Igbokwe scored two points for the Razorbacks at his first Southeastern Conference Indoor Championship with a seventh place finish.
The lone freshman Razorback to qualify for the NCAA Outdoor Championship, Igbokwe completed his first campaign as a Hog as a two-time All-American.
Carlton Orange – 800 | PR: 1:46.96
A native of Memphis, Tennessee, Orange heads into the national event as the defending 800-meter champion. The 2015 meet saw the highly-touted middle distance runner break the 1 minute, 50 second barrier for the first time in his career claiming the 800 crown in 1:47.67 — .22 seconds shy of the meet record.
Orange went on to win gold in the event for Team USA at the 2015 PanAm Junior Championship.
As a Razorback, Orange placed inside the top eight at both the SEC indoor and outdoor championships. He earned first team indoor All-America honors as the sixth-place finisher at the 2016 NCAA Indoor Championship and capped his first year as a qualifier for the first round of the 2016 NCAA Outdoor Championship.
Brendon Rivera – High Jump | PR: 2.20m/7-3
A naturally-gifted vertical jumper from Edinburg, Texas, Rivera was the co-leader among the high school ranks in 2015. He placed sixth at last year's USATF Junior Championship with a clearance of 2.14m/7-0 1/4.
Harrison Schrage – Long Jump | PR: 7.60m/24-11 1/2 / Triple Jump | 15.13m/49-8
A Razorback commit, Schrage hails from Grant, Oregon, and is a five-time state champion. The future Razorback swept the horizontal jumps this year at the Oregon State meet claiming his fourth straight state title in the long jump and his first crown in the triple jump. Schrage also showcased his versatility at the state meet finishing second in the 100 and 200 meter sprints.
Friday, June 24
8:20 p.m. | 800 (1st Round) – Carlton Orange
9:00 p.m. | Long jump (final) – Harrison Schrage
Saturday, June 25
7:45 p.m. | 400 (1st Round) – Obi Igbokwe
9:10 p.m. | Triple jump (final) – Harrison Schrage
10:10 p.m. | 800 (finals) – Carlton Orange
Sunday, June 26
7:45 p.m. | High jump – Brendon Rivera
8:55 p.m. | 400 (finals) – Obi Igbokwe
Italicized events require qualification.
Razorback fans will be available to follow all of the action live at usatf.tv. Coverage is set to start on Friday at 5:30 p.m. CST, Saturday at 5:15 p.m. and on Sunday at 9 a.m.
For more information on Arkansas track and field including in-meet updates, follow @RazorbackTF on Twitter.