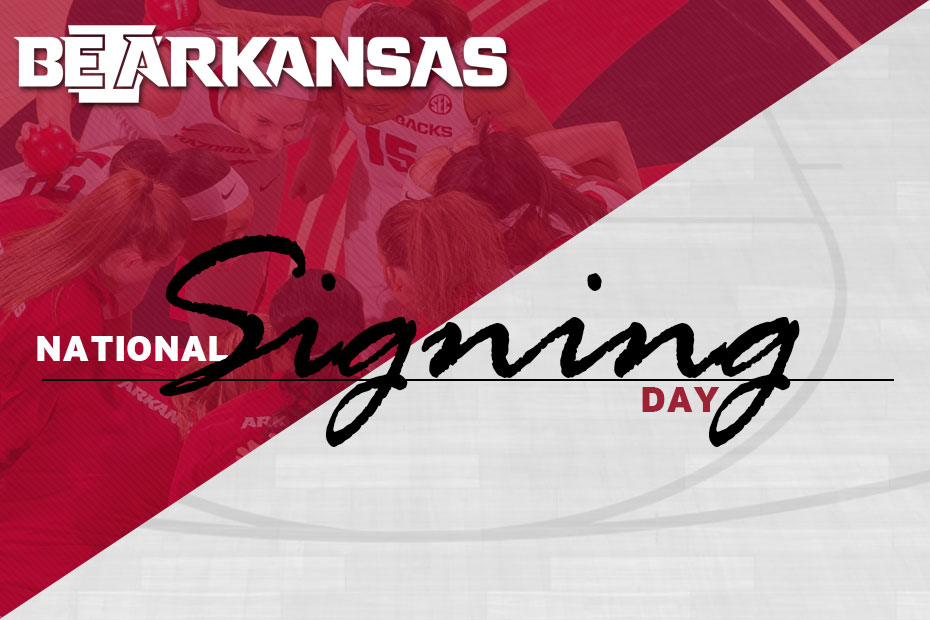 W. Basketball Signing Day Central 2015
FAYETTEVILLE, Ark. – The University of Arkansas and women's basketball head coach Jimmy Dykes welcomed the addition of four newcomers for the 2016-17 season, the program announced today.
Jailyn Mason, Yasmeen Ratliff, and Kiara Williams signed National Letters of Intent and Sydney Stout inked her written offer of admission as a recruited walk-on Wednesday.
Mason was first to sign on the dotted line and returned her paperwork early Wednesday. She is a 5-9 guard from Mason, Ohio, and attended William Mason High where she averaged 9.8 points, 4.1 rebounds and 2.9 assists per game as a junior last season.
"Jailyn is a legit 5-9 combo guard who comes from a winning program in the state of Ohio," Dykes said. "She will give us another guard who can shoot it and who will be a very good man-to-man defender. She has terrific leadership qualities."
Ratliff checks in from St. Francis Day in Alpharetta, Georgia. A 6-5 center, she is the daughter of long-time NBA player Theo Ratliff. Ratliff was a member of the2013 and 2015 Class A Championship teams and helped the Knights to a 25-4 record as a junior. She also played volleyball in high school.
"Yasmeen is a 6-5 post player who can run, rebound and defend," said Dykes. "She has only been playing organized basketball for two years. She has an athletic body and great potential. Her father, Theo Ratliff played in the NBA for 16 years. A player like Yasmeen will never be rattled or awestruck in the arenas we play in. She has the potential to be something we have never had here."
Bixby, Oklahoma, native Sydney Stout joins the team as a recruited walk-on. The 6-0 forward helped Bixby High to a conference and district title and a state runner-up finish in her first three seasons. She was an honorable mention selection to Oklahoma's All-State team averaging 17.5 points per game and 7.4 rebounds per game as a junior.
"Sydney caught our eye in our elite camp," said Dykes. "She is a 6-0 wing with a non-stop motor. She is tough and has a competitive fire that we want in our program. She is going to help us win games right away."
Dykes and the Razorbacks also welcome the program's fourth in-state standout in the last two seasons with the addition of Williams from Alexander, Arkansas. Williams attended Little Rock Central and was an all-state selection last season. She was named to the All-USA Arkansas Girls Basketball Second-Team as a sophomore along with current Razorbacks Jordan Danberry and Malica Monk. Williams averaged 14+ ppg last year and was also a member of the volleyball team.
"Kiara is a multi-sport athlete who has never concentrated year-round on basketball," said Dykes. "I like her upside, her potential. She is very explosive and at 6-1, she is an athlete who can run, defend and fits what we want our bigs to be able to do."
Signing week continues through next Wednesday. The Razorbacks open the 2015-16 season Friday at 10:30 a.m. hosting Southeastern Louisiana for Elementary Day.
For more information on Arkansas women's basketball, follow @RazorbackWBB on Twitter.