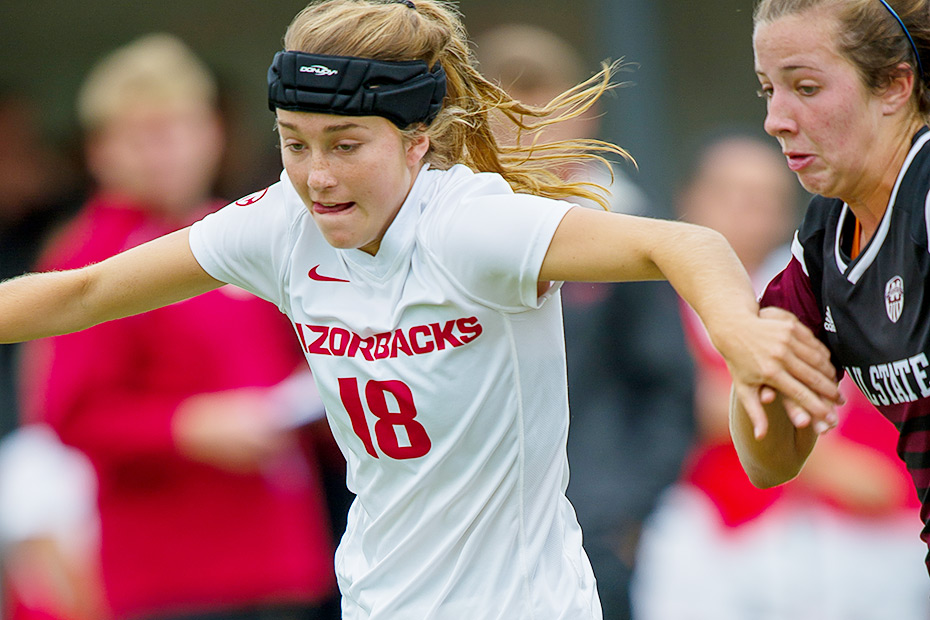 Wrapping Up Spring Exhibitions
FAYETTEVILLE, Ark. – Razorback Soccer (3-0-1) wraps up its five-game spring exhibition slate Saturday afternoon as it travels to Lawrence, Kansas, for a 3 p.m. matchup against the Kansas Jayhawks at Rock Chalk Park.
Arkansas' 6-0 win over Northwestern State last week was highlighted by five Razorbacks scoring goals. Through the spring, senior midfielder Claire Kelley leads the team with 8 points (3 goals, 2 assists) followed by senior midfielder Rachel Riggs with 6 points from 3 goals.
Junior midfielder Katie Kienstra, senior forward Katie Moore and junior forward Sarah Price are tied for third with 2 points. Redshirt freshman hybrid midfielder/forward Reid Sibley is in fourth place with one point from an assist tallied during the spring opener against Illinois on April 2.
"The spring has been good so far and Saturday will provide a new test," Arkansas head soccer coach Colby Hale said. "We've had some people step up and this will be a great chance to measure where we are going into a very important summer. We've made good progress and we always want to see consistency in work rate, attitude and performance. We like this group and Kansas will be a great way to end this segment so we can transition to the next phase."
Arkansas last faced Kansas on Sept. 17, 2015 during the regular season at home, falling to a 2-1 decision in overtime.
Kickoff at Rock Chalk Park is set for 3 p.m. CDT. The game is free and open to the public.
The Razorbacks will celebrate their 30th season this fall by hosting the NCAA Tournament runner-up Duke Blue Devils on Friday, August 26 at Razorback Field.
For more information on Razorback Soccer, follow @RazorbackSoccer on Twitter, Instagram and Facebook.