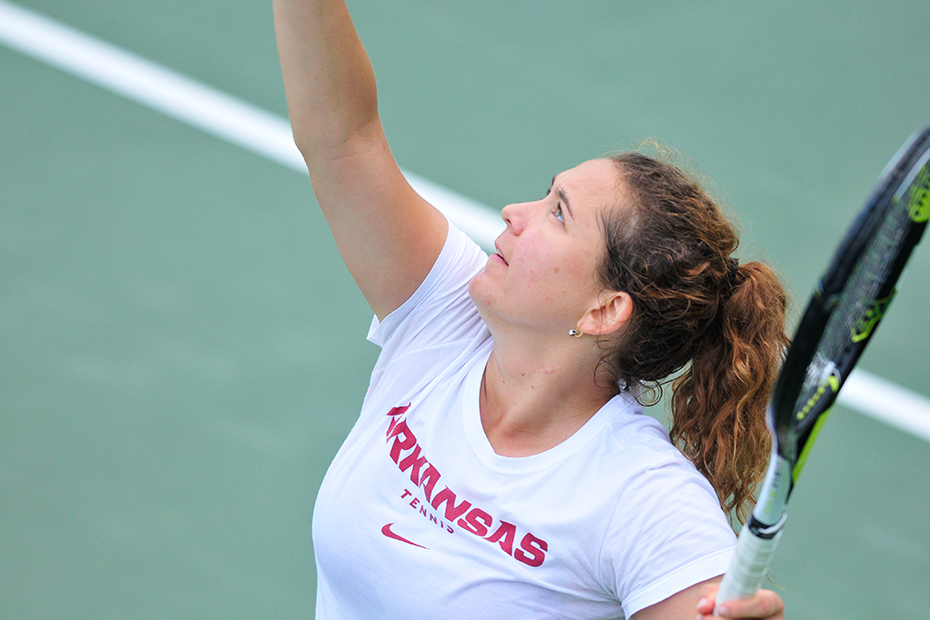 Yuliya Lysa Earns All-SEC Second Team Honors
FAYETTEVILLE, Ark. – The Southeastern Conference released its 2015 postseason award winners and All-SEC selections for women's tennis on Wednesday afternoon (April 22). Arkansas junior Yuliya Lysa was the lone Razorback to earn a postseason award, earning a spot on the All-SEC second team.
"What a great honor for Yuliya to be named to the All-SEC team," said head coach Michael Hegarty. "She has improved rapidly throughout the season and I am expecting her to continue that growth through the NCAA Championships."
The Kiev, Ukraine native earned All-SEC honors in her first year on the U of A campus thanks to a 19-9 overall record and a 12-8 record in the top singles slot. Playing in the highly-competitive No. 1 slot for the majority of her junior year, Lysa has been providing some valuable support for the Razorbacks. She has defeated five nationally-ranked players on the season and is currently ranked No. 48 in the country. Lysa, winner of five of her last six singles matches, is also a part of the No. 35 ranked doubles tandem (Shannon Hudson).
The No. 42 Razorbacks will find out their NCAA Tournament fate next week. The teams will be announced on Tuesday, April 28 (4 p.m. CT) during an NCAA.com Selection Show, while individuals will be announced via a press release on NCAA.com on Wednesday, April 29.
For more information on Arkansas women's tennis, follow @RazorbackWTEN on Twitter.
2015 SEC Women's Tennis Awards
Player of the Year: Brooke Austin, Florida
Freshman of the Year: Brooke Austin, Florida
Scholar-Athlete of the Year: Emily Zabor, Alabama
Coach of the Year: Geoff Macdonald, Vanderbilt
First Team All-SEC
Maya Jansen, Alabama
Erin Routliffe, Alabama
Brooke Austin, Florida
Josie Kuhlman, Florida
Brianna Morgan, Florida
Lauren Herring, Georgia
Joana Vale, Costa LSU
Julia Jones, Ole Miss
Jasmine Lee, Mississippi State
Rachel Pierson, Texas A&M
Sydney Campbell, Vanderbilt
Astra Sharma, Vanderbilt
Second Team All-SEC
Yuliya Lysa, Arkansas
Pleun Burgmans, Auburn
Kourtney Keegan, Florida
Silvia Garcia, Georgia
Ellen Perez, Georgia
Kennedy Shaffer, Georgia
Aldila Sutjiadi, Kentucky
Skylar Kuykendall, LSU
Elixane Lechemia, South Carolina
Rutuja Bhosale, Texas A&M
Saska Gavrilovska, Texas A&M
Frances Altick, Vanderbilt
Courtney Colton, Vanderbilt
All-Freshman
Brooke Austin, Florida
Josie Kuhlman, Florida
Ellen Perez, Georgia
Kennedy Shaffer, Georgia
Arianne Hartono, Ole Miss
Astra Sharma, Vanderbilt