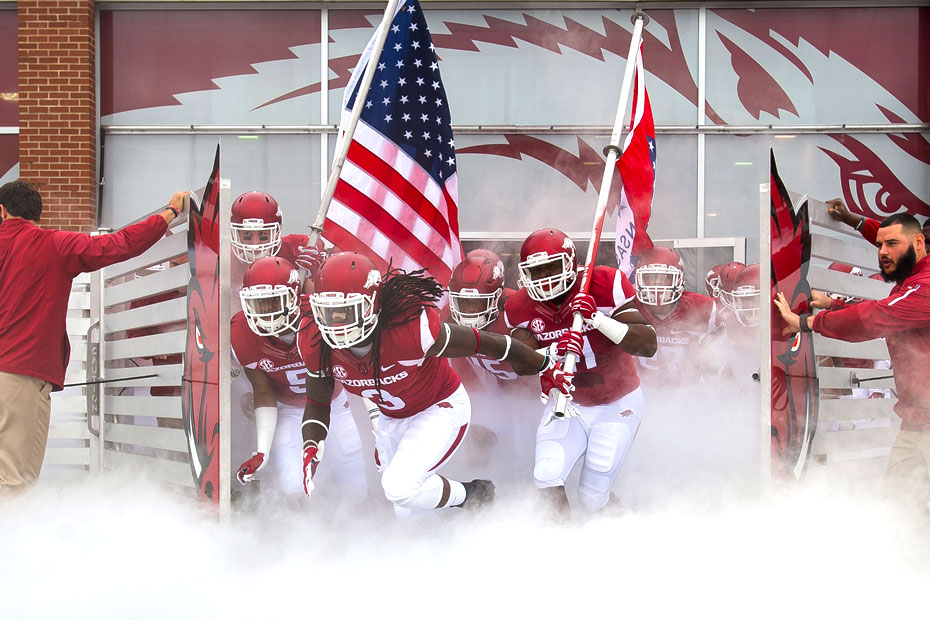 Arkansas Hosts UT Martin For Homecoming
Game 8: UT Martin | Saturday, Oct. 31 | Donald W. Reynolds Razorback Stadium
Kickoff: 3 p.m. CT
TV: SEC Network
Tickets: Buy Here

The Razorbacks host UT Martin on a Halloween Homecoming Saturday afternoon. Arkansas is looking for its ninth win in the past 10 homecoming games and to even its 2015 record at 4-4 overall.
The Series
The two schools have never played each other and this is the first time Arkansas has ever played an opponent from the Ohio Valley Conference. UT Martin is the only Football Championship Subdivision opponent on Arkansas' schedule this season. Last year, the Razorbacks beat FCS foe Nicholls 73-7 in the home opener.
The Opponent
UT Martin runs several sets offensively, but primarily spreads the field to attack opposing defenses. Their offense is loaded with experience as seven starters are fifth-year seniors including quarterback Jarod Neal, running back Trent Garland and two of their three starting wide receivers. Through seven games, the Skyhawks are averaging 38.7 points per contest.
The Skyhawks' defense has played well for most of the season but struggled against top competition. The unit allowed just 13.8 points per game against Bethel, Tennessee Tech, Tennessee State and Austin Peay but has given up 56.3 points per game in contests against Ole Miss, Jacksonville State and Murray State. UT Martin has been strong in critical areas, limiting opponents to just 32.4 percent on third down and 75 percent in the red zone. Both numbers rank second in the OVC.
Overall, the Skyhawks are a solid 5-2 FCS opponent. Their only two losses have come to FBS No. 19 Ole Miss and FCS No. 1 Jacksonville State, and they only lost to JSU by a touchdown.
Connections
The Razorbacks have three players – punter Toby Baker, defensive lineman Cordale Boyd and defensive lineman Brandon Lewis – from the state of Tennessee. All three call Memphis home. Martin is about 135 miles away from Memphis and the Natural State's eastern border.
UT Martin offensive coordinator John Bond is from Northwest Arkansas. He grew up in Rogers, Arkansas and was an all-state quarterback for his father, Gary Bond, at Rogers High School. Bond played a season at Arkansas but suffered a career-ending injury and became a student assistant coach. He graduated from the University of Arkansas in 1985 and stayed on another year as a graduate assistant.
News & Notes
– Arkansas is 7-2 in its past nine games at Donald W. Reynolds Razorback Stadium.
– The Razorbacks have allowed just one opponent to score in the first quarter in their past nine games in Fayetteville.
– In three of the past four games Arkansas has passed and rushed for more than 200 yards each.
– Quarterback Brandon Allen will make his 29th consecutive start on Saturday, the most by a quarterback in Arkansas' SEC era (1992-present).
– Allen has the best QB rating in home games (195.16) of any SEC QB by nearly 30 points.
– The Razorbacks lead the SEC in fewest sacks allowed for the third consecutive season with just six allowed this year.
– True freshman linebacker Dre Greenlaw leads all SEC freshmen with 53 total tackles.
– Wide receiver Drew Morgan is tied for the SEC lead with six receiving touchdowns this year.