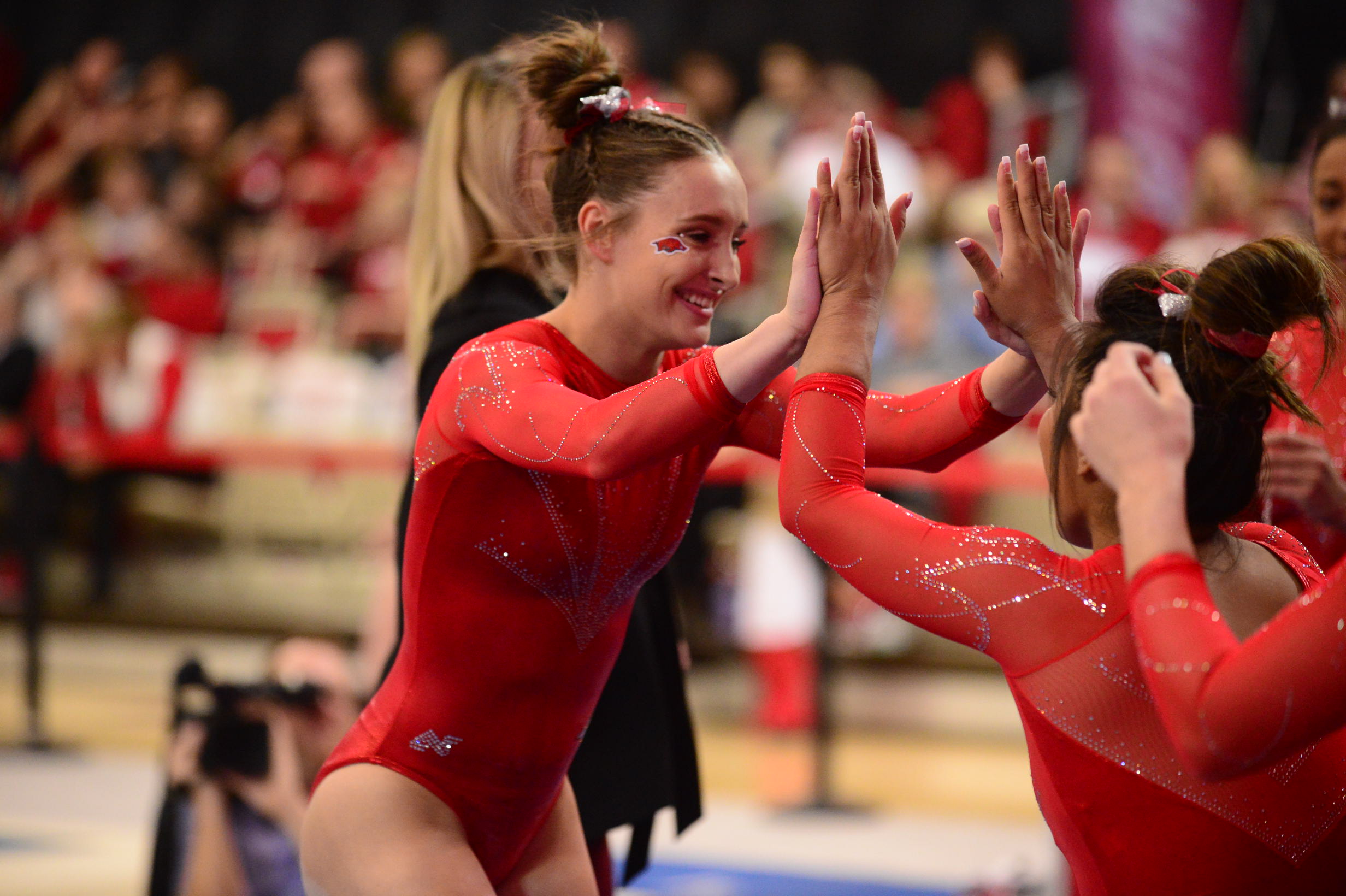 Arkansas Puts Up Season High At The Metroplex
FORT WORTH, Texas – Despite being forced to count a fall, the No. 21 Arkansas gymnastics team posted a season high score of 195.825 at the Metroplex Challenge in Fort Worth, Texas.
First Rotation: Arkansas Bars: 48.925
Sophomore Hailey Garner, freshman Kennedy Hambrick and sophomore Sarah Shaffer scored season highs in the first rotation to lead the Gymback to a season high bar score of 48.925. Junior Jessica Yamzon and sophomore Sydney Laird led off the rotation with a pair of 9.700's.
Hambrick followed that up with a 9.875, which ties her career high on any event. Garner and Shaffer ended the rotation with a pair of 9.825's.
Second Rotation: Arkansas Beam: 48.400
Arkansas led off with a 9.875 from Yamzon and a 9.825 from Hambrick, which set or tied season highs for the pair, but was forced to count a fall in the rotation. Sophomore Sophia Carter scored a 9.750 as junior Michaela Burton anchored to rotation with a season high 9.900.
Third Rotation: Arkansas Floor: 49.250
The Razorback had its highest floor score of the season in Fort Worth with a pair with all five scorers putting up scored rotations being higher than 9.800. Yamzon led the rotation off with a 9.825. In the third spot, Hambrick put up a 9.800 that led to three big scores from senior Sydney McGlone, Shaffer and Carter.
McGlone tied her career high of 9.900 on the event. The senior has scored 9.900 on the floor four times in her career and for the first time since 2017. Shaffer and Carter put up a 9.875 and a 9.850, respectively.
Fourth Rotation: Arkansas Vault: 49.250
It was another team season high on the final event, as the Razorbacks' five scorers all put up 9.825's or higher. The rotation was led off with a 9.825 from Yamzon. A 9.775 from freshman Savannah Pennese was followed up with a 9.825 from Shaffer.
Arkansas' anchors proved strong in the end, Hambrick put up a 9.850 to give her a 39.350 in the all-around. McGlone put up a 9.875 to lead to freshman Amanda Elswick's debut as the anchor on the event. Elswick, who suffered a fall earlier in the competition, recovered to put up a 9.875 on vault.
Team Scores:
No. 1 Oklahoma: 197.975
No. 7 Denver: 196.350
No. 15 Missouri: 196.200
No. 21 Arkansas: 195.825
Up Next
The Razorbacks end their four-week road trip with a trip to Athens, Georgia for a Southeastern Conference meet against the Georgia Gymdogs. The meet will be televised by the SEC Network and will begin at 6:30 p.m.