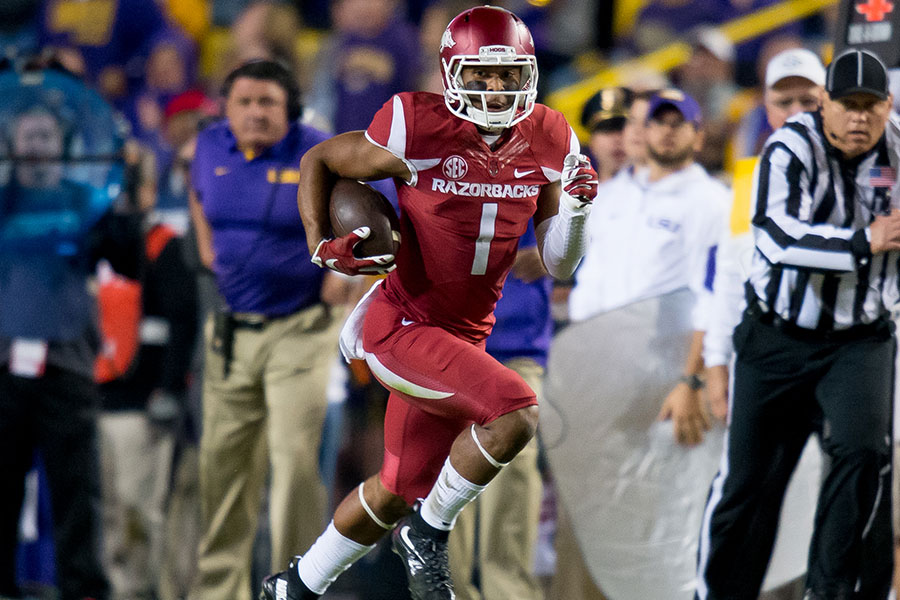 Cornelius, Smith Join On The Air With Bret Bielema
FAYETTEVILLE, Ark. – With just two shows remaining, "On the Air with Bret Bielema," Coach Bielema's weekly radio show presented by AT&T and Lindsey, returns on Thursday night at 7 p.m. at the Catfish Hole in Fayetteville. Third-year wide receivers coach Michael Smith and junior wide out Jared Cornelius will be the guests as Arkansas prepares to host No. 25 Mississippi State on Saturday.
Chuck Barrett, the voice of the Razorbacks, will host head coach Bret Bielema and fans can make reservations to attend the show by calling the Catfish Hole at 479-521-7008. Tickets are $25 and include all you can eat dinner buffet with catfish, shrimp and chicken.
In the return to his home state of Louisiana last Saturday, Cornelius scored on a 69-yard reverse in the fourth quarter to help the Razorbacks move their win streak to four games with a convincing 31-14 triumph at No. 9 LSU.
After suffering a double-break in his left arm on a 34-yard reception in week three against Texas Tech, Cornelius remarkably returned after missing only four games and has 10 receptions and two touchdowns in three games. He has found his way into the end zone in each of Arkansas' SEC road wins at No. 19 Ole Miss and No. 9 LSU. At Ole Miss, he set or equaled season-bests with four receptions for 76 yards, highlighted by a 30-yard TD grab.
Smith's guidance in the wide receiver room has been vital this season, as the group has been hit by three significant injuries and a total of 10 different players have started at the position. Junior Drew Morgan emerged as a Biletnikoff Award watch list member and currently leads the SEC with nine touchdown receptions, while junior Dominique Reed has scored in six straight games in his first year as a Razorback.
The show will be carried throughout the state of Arkansas on the Razorback Sports Network and in Fayetteville on 92.1 FM and 93.3 FM.
2015 "On The Air With Bret Bielema" Schedule
Thursday, November 19
Wednesday, November 25