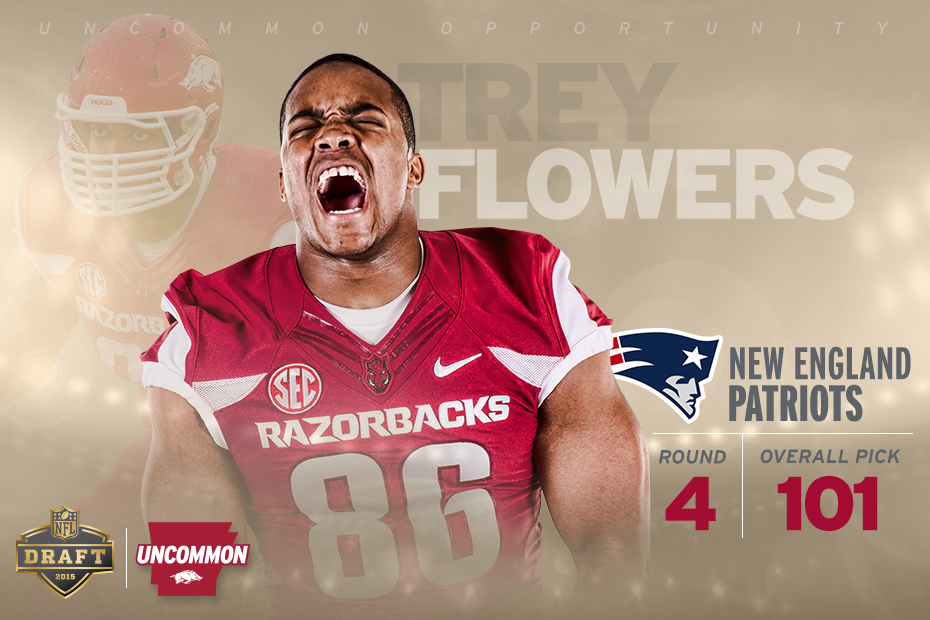 Flowers Selected In 4th Round By Patriots
FAYETTEVILLE, Ark. – Arkansas defensive lineman Trey Flowers has been selected by the New England Patriots in the fourth round of the 2015 NFL Draft. He was the 101st overall pick.
The Huntsville, Alabama native is the first draft selection for Arkansas in 2015 and is the 251st player in Razorback history to be selected in the NFL draft. Flowers becomes the 27th Arkansas defensive lineman to ever be selected and the seventh player in program history drafted by the Patriots.
Flowers is the fifth Razorback to be drafted under second-year head coach Bret Bielema. Bielema has had six defensive lineman drafted in his eight-year head coaching career, including two-time Associated Press NFL Defensive Player of the Year, J.J. Watt.
A senior captain for the Razorbacks last season, Flowers was an essential cog in Arkansas' defense since he stepped on campus in 2011. Flowers appeared in 49 games, missing just one game in his entire Razorback career. Flowers finished with the second-most tackles for loss in program history with 47.5.
As a senior, Flowers was named to the Coaches All-SEC second team and earned AP All-SEC honorable mention after posting 68 tackles, 15.5 tackles for loss and 6.0 sacks on the year.
Flowers completed his Razorback career with 190 tackles, 47.5 tackles for loss and 18.0 sacks for a loss of 178 yards.
WHAT THEY'RE SAYING:
"High-motor power end. Uses stab move effectively and is continuing to grow as a pass rusher. Consistent with hand placement and is technically sound. Stacks and sheds in run game. Had a strong game against Texas A&M tackle Cedric Ogbuehi. Good student. Doesn't look like much athletically, but finds his way to the ball against the run." – NFL.com
"Flowers looks the part of an NFL defensive lineman with broad shoulders, long arms and good overall musculature. Average initial quickness for the position but generates good speed off the corner because of his long gait. Length and strength of his arms — used effectively to discard blockers and lasso ball-carriers on the move ?- are his best traits." – CBSSports.com
"Outstanding football character. Team-first guy with great intangibles. Extremely well-liked and respected at school. Good student and handles his business off the field. Was named to Razorback Honor Roll in fall of 2011 and SEC Fall Academic Honor Roll in 2012. No off-field issues. Comes from two-parent supportive home. Son of Robert and Jacqueline Flowers. Majoring in economics." – ESPN.com
ARKANSAS DEFENSIVE LINEMEN DRAFT HISTORY
YR
RD
OVR
NAME
TEAM
2015
6
192
Darius Philon
San Diego Chargers
2015
4
101
Trey Flowers
New England Patriots
2014
5
159
Chris Smith
Jacksonville Jaguars
2012
3
90
Jake Bequette
New England Patriots
2008
3
90
Marcus Harrison
Chicago Bears
2007
1
8
Jamaal Anderson
Atlanta Falcons
2007
7
248
Keith Jackson, Jr.
St. Louis Rams
2001
6
167
Randy Garner
Atlanta Falcons
1999
6
202
Melvin Bradley
Arizona Cardinals
1999
7
225
Ryan Hale
New York Giants
1998
7
235
David Sanders
Oakland Raiders
1996
5
155
Junior Soli
San Diego Chargers
1994
1
26
Henry Ford
Houston Oilers
1993
4
95
Raylee Johnson
San Diego Chargers
1989
1
19
Wayne Martin
New Orleans Saints
1984
1
15
Ron Faurot
New York Jets
1979
1
4
Dan Hampton
Chicago Bears
1975
15
380
Brison Manor
New York Jets
1973
5
106
Dave Reavis
Pittsburgh Steelers
1973
10
258
Don Wunderly
Pittsburgh Steelers
1967
1
10
Loyd Phillips
Chicago Bears
1966
16
237
Jim Williams
Minnesota Vikings
1962
16
223
Jerry Mazzanti
Philadelphia Eagles
1957
3
26
Billy Ray Smith, Sr.
Los Angeles Rams
1952
5
52
Dave Hanner
Green Bay Packers
1952
5
56
Fred Williams
Chicago Bears
1951
26
315
Fred Williams
Cleveland Browns
1940
16
148
Bolo Perdue
Washington Redskins
1938
6
41
Ray Hamilton
Cleveland Rams
BIELEMA COACHED D-LINEMEN DRAFT HISTORY
YR
RD
OVR
NAME
TEAM
COLLEGE
2015
6
192
Darius Philon
San Diego Chargers
Arkansas
2015
4
101
Trey Flowers
New England Patriots
Arkansas
2014
7
224
Beau Allen
Philadelphia Eagles
Wisconsin
2014
5
159
Chris Smith
Jacksonville Jaguars
Arkansas
2011
1
11
J. J. Watt
Houston Texans
Wisconsin
2010
4
130
O'Brien Schofield
Arizona Cardinals
Wisconsin
2009
3
71
Matt Shaughnessy
Oakland Raiders
Wisconsin
2008
6
181
Nick Hayden
Carolina Panthers
Wisconsin
RAZORBACKS DRAFTED BY PATRIOTS
RD
OVR
NAME
POS
YEAR
6
202
AJ Derby
TE
2015
4
101
Trey Flowers
DE
2015
3
90
Jake Bequette
DE
2012
3
74
Ryan Mallett
QB
2011
4
128
Cedric Cobbs
RB
2004
4
109
Gerald Skinner
T
1977
2
35
Ike Forte
RB
1976
9
220
Mike Kelson
T
1972