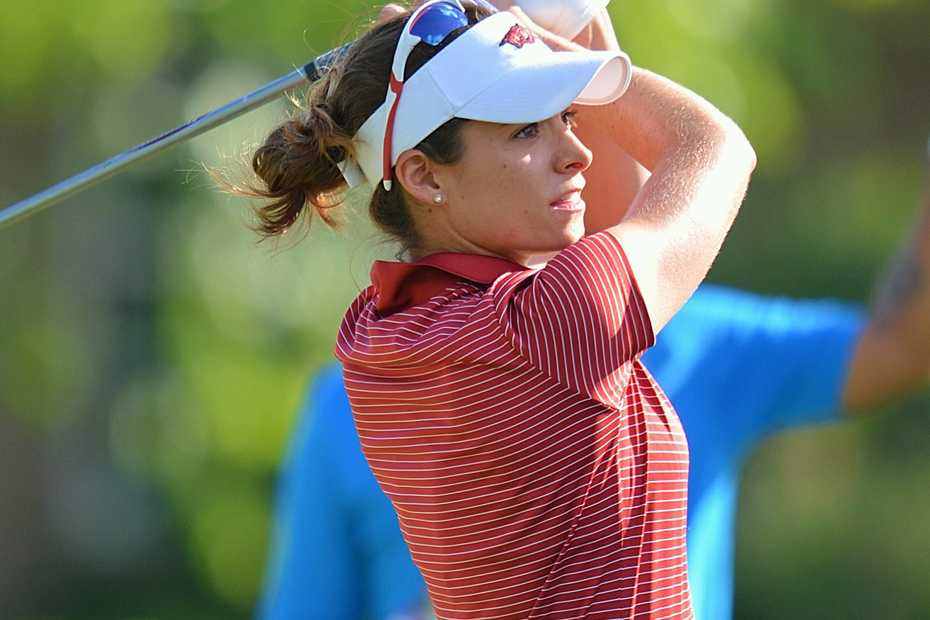 Four-Under In First Stage of Q-School
RESULTS
DAYTONA BEACH, Fla. – University of Arkansas senior Gabriela Lopez fired a for-under 68 and is tied for fifth place after round one of stage three of the LPGA's Qualifying School in Daytona Beach, Florida, Wednesday.
Lopez is three off the lead after the first round on the Jones Course at LPGA International and the top 20 players earn full membership to the LPGA Tour. She is the top finishing amateur after the first of five round
The Mexico City, Mexico, native's scorecard was busy today with seven birdies and three bogeys in the round. Lopez began her day on the 10th hole and opened play birdie-par-birdie to get started. She picked up two of her three bogeys on the back side, first on the par-four 15th hole and again on the par-three 17th hole.
Lopez rallied with a birdie on No. 18 and turned one-under for the first nine. She followed up with another birdie on No.1 but again moved back to one-under with a bogey on the par-four fourth hole. Lopez finished strong going birdie-par-birdie-par-birdie to close out the round.
Lopez is schedule to tee off with group 17 Thursday at 8:28 a.m. CT. She will play with Becky Morgan of Monmouth, United Kingdom, and Briana Mao of Folsom, Calif.
Former Razorback Emily Tubert, who currently plays on the Symetra Tour, opened with a first round 78 on the Hills Course. Tubert tees off at 7:22 a.m. playing with Portland Rosen of Sugarland, Texas, and Stacy Bregman of Johannesburg, South Africa.
The field of 157 players will compete for 90 holes of stroke-play competition. The field will be cut after 72 holes to the low 70 players and ties.
Inside the Lines
• Final Stage of LPGA Qualifying School
• LPGA International – Jones and Hills Courses
• Dec. 2-6, 2015
• 157 players in the field
• Top 20 finishers (no ties) earn category 12 membership – full membership
• Players 21-45 plus ties earn category 17 membership –conditional status
• Stacy Lewis is the only other former Razorback to make it through Q School. Lewis won the final stage in 1988.
For more information on Arkansas women's golf, follow @RazorbackWGolf on Twitter.