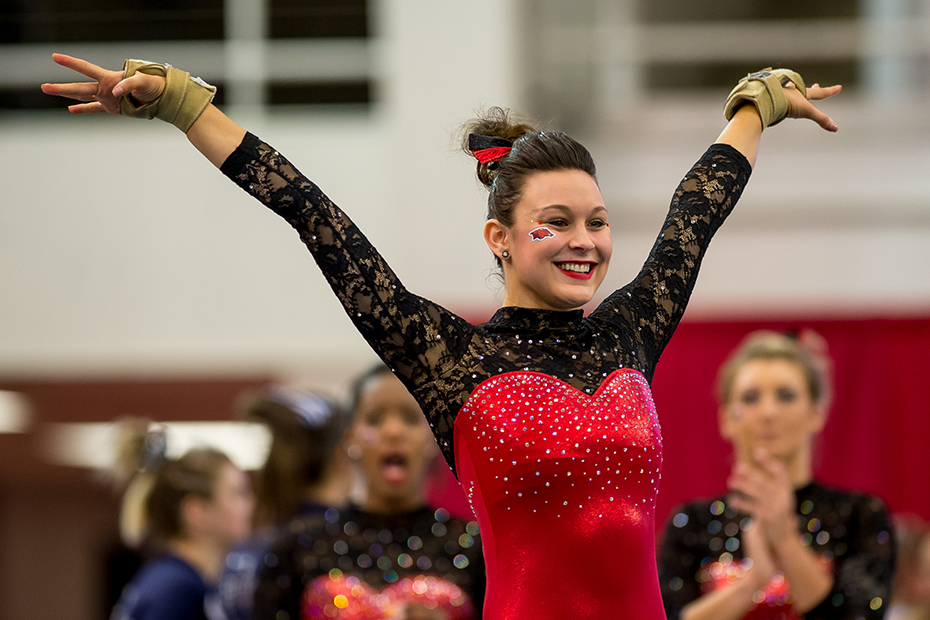 Gymnastics Seniors Show Out in Win
FAYETTEVILLE, Ark. — On a night where the Arkansas gymnastics team honored five seniors, Stephani Canizaro stood out with her first-career floor exercise title. Canizaro scored a 9.875 in the event to lead the Razorbacks on Senior Night to their fourth-consecutive win, a 196.775-194.825 victory over visiting Utah State.
It was the second-highest home score of the season for No. 11 Arkansas, who ended the regular season with a 7-5 in front of 2,817 Hog fans in Barnhill Arena. Only eight home scores in program history have been higher than the 196.775 Arkansas posted on this night.
Starting off on vault, Braie Speed, Sydney McGlone and Amanda Wellick all notched 9.825's to tie for the event title. They were the first such accolades for Speed and McGlone, who gave herself an early present just hours before her 19th birthday.
The Razorbacks started to heat up on uneven bars, where the team had its third-best performance of the season – a 49.200 – on the apparatus. To round out the rotation, Speed and Paige Zaziski posted 9.875's to tie for the event title. Earlier in the second spot, Canizaro had a 9.850, her third score of that or higher this season.
On balance beam is where Arkansas truly shined on Friday night, as the team tied its season high of 49.325, which is also the team's second-best score on the apparatus in Barnhill history. Wellick won her third-career beam title – all of which have been this season – with a career-high tying 9.900.
Erin Freier had a season-high of 9.875 on her Senior Night, while Samantha Nelson also matched that score as the anchor of the lineup. Meanwhile, Sydnie Dillard led off the lineup with a 9.850, her sixth score of that or higher this season.
The floor exercise rotation – which came into the meet ranked 11th in the country – had another stellar performance, putting a cherry on top of the meet with a 49.225. Canizaro's first event title led the way, while Nelson's and McGlone's routines each went for 9.850's.
Wellick won her 10th-career all-around title with a 39.350, her seventh-straight overall performance of 39.325 or better. Over the past seven meets, she has scored above a 9.800 in 27 of her last 28 routines.
In exhibition, Keara Glover on beam and Zaziski on floor made her first appearances of the year.
GYMQUOTES
"Tonight was really nice because the seniors had their last opportunity at home. We had a great crowd and I thought the girls did a great job, and so that memory will be with them for the rest of their lives. We still have a couple meets left in the season so we have to focus on those, but tonight was their night." — Head coach Mark Cook
"It felt great to go out there in front of our crowd for the last time. It's bittersweet, but it was an awesome feeling." — Senior Stephani Canizaro
UP NEXT
With the regular season over, Arkansas and the other seven conference programs will compete in the SEC Championship on Saturday, March 19 North Little Rock. The Razorbacks are expected to be in the first of two sessions in Verizon Arena, with the first starting at 1 p.m. and the second at 5 p.m. Tickets are available HERE.