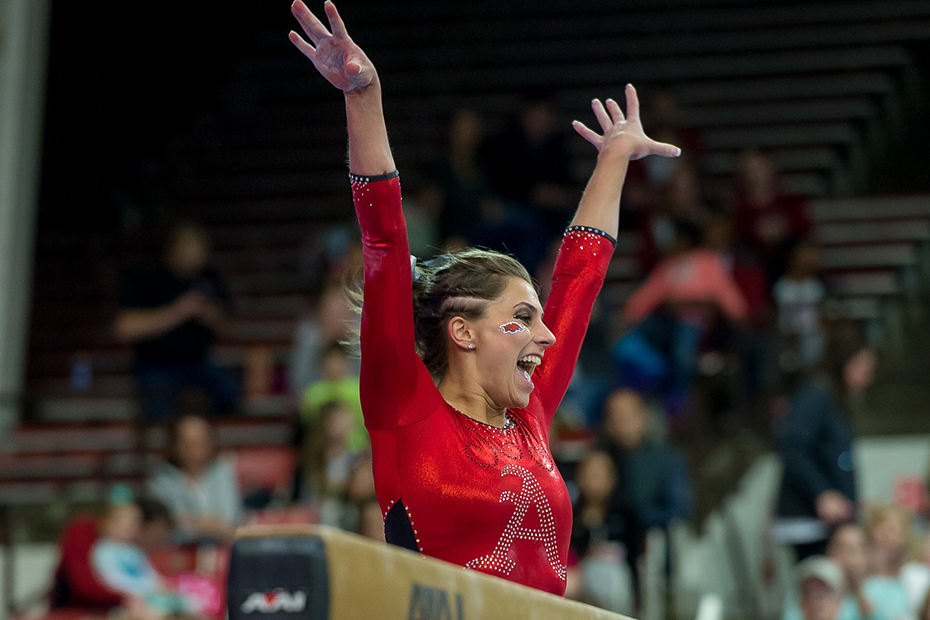 Maryland Preview: The Track Leads East
MEET INFO…
WHO: No. 11 Arkansas at Maryland
WHEN: Friday, Feb. 19 at 6:30 p.m. CT
WHERE: College Park, Maryland
VENUE: Xfinity Center
HOW TO…
STREAM: B1G Network +
LIVE RESULTS: Stats
FOLLOW: @RazorbackGym
PREPARE: Meet Notes (PDF)
FAYETTEVILLE, Ark. — Through with the first portion of a tenacious SEC schedule, the Arkansas gymnastics team hits the mats against Big Ten opponent Maryland in the Xfinity Center on Friday, Feb. 19. The Razorbacks have an opportunity to get back on track in their third and final meet of a three-week road trip before heading back to the friendly confines of Barnhill Arena.
In the Eastern time zone for a non-conference meet for only the eighth time in program history, Arkansas hopes to get back on the same track the team was riding at the end of January. The Razorbacks averaged 196.675 in back-to-back victories at No. 4 Alabama and vs. No. 9 Auburn, as they rose to No. 8 in the nation and fourth in the conference.
However, after averaging 196.063 in meets at No. 6 LSU and No. 2 Florida, Arkansas currently stands just outside the top 10 nationally and sixth in the SEC. But maybe a trip to the Eastern seaboard is just what the Razorbacks need to put a few more tenths back on the scorecard.
"We're looking to get out there and put up our best possible performance and our highest possible score," sophomore Paige Zaziski said. "Maryland is out of our conference, so it will be a good experience for us. Also, being able to visit Washington DC this weekend is something we're all looking forward to, and it will be a good team-bonding activity."
Of course, Arkansas will have to compete without key contributor Leah MacMoyle, who will miss the rest of the season due to a foot injury she suffered in Gainesville. Still, that gives the opportunity for another member of the team to step into a heightened role, as well as the existing Razorbacks in the lineup to continue their success.
Three gymnasts – Sydnie Dillard on balance beam, Amanda Wellick on vault and Zaziski on vault – are yet to score below a 9.800 in an event. Wellick especially has been spectacular, notching 20 consecutive vaults at 9.850 or higher dating back to her freshman year, and scoring a 39.325 or better in all-around in three consecutive meets.
For more #Gymbacks content during the season, please follow @RazorbackGym on Instagram, Twitter and Snapchat.