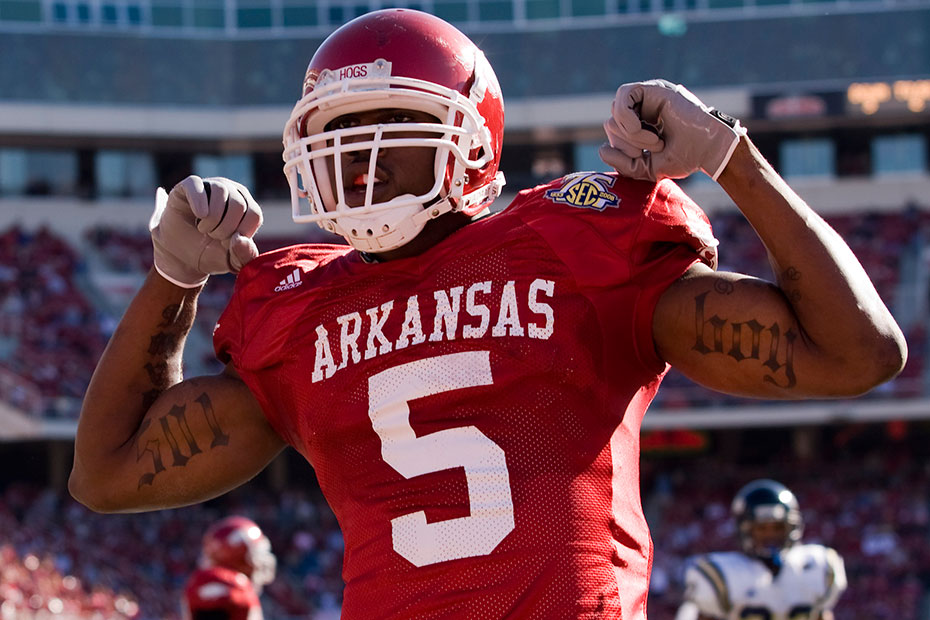 McFadden: SEC Legend
FAYETTEVILLE, Ark. – Former Arkansas running back Darren McFadden was honored on Friday at the AT&T SEC Legends Dinner in Atlanta, Georgia, as part of the 2018 SEC Football "Weekend of Champions."
One of the most decorated players in Arkansas history and a two-time runner up for the Heisman Trophy, McFadden was the 2007 Player of the Year by the Walter Camp Foundation and The Sporting News. A two-time first-team All-American, he twice won the Doak Walker Award and was twice named SEC Offensive Player of the Year.
McFadden ranks second on the SEC career rushing list with 4,590 yards and averaged 120.8 yards per game during his three-year career, third-best in league history. He rushed for 100 yards or more 22 times, a school record, and is one of only three players in SEC history to rush for 1,000 yards in each of his freshman, sophomore and junior seasons. His 321 yards vs. South Carolina in 2007 remains tied for the SEC record for rushing yards in a game.
After his collegiate career, McFadden was selected fourth overall in the 2008 NFL Draft by the Oakland Raiders. He played 10 seasons in the NFL for the Raiders and the Dallas Cowboys. Last year, he was named to the Arkansas Sports Hall of Fame and is eligible for consideration for the College Football Hall of Fame.
McFadden and the other 13 SEC Legends in this year's class will also be recognized prior to the SEC Football Championship Game on Dec. 1.
Past SEC Football Legends – Arkansas
2017 – Dan Hampton (DT)
2016 – Shawn Andrews (T)
2015 – Madre Hill (RB)
2014 – Jerry Lamb (E)
2013 – Wayne Martin (DE)
2012 – Pat Summerall (K/DE/TE)
2011 – Leotis Harris (OG)
2010 – Frank Broyles (Head Coach)
2009 – Gary Anderson (RB)
2008 – Billy Ray Smith Jr. (LB)
2007 – Ken Hatfield (DB)
2006 – Cliff Powell (LB)
2005 – Quinn Grovey (QB)
2004 – Fred Marshall (QB)
2003 – Wayne Harris (LB)
2002 – Loyd Phillips (DT)
2001 – Steve Atwater (FS)
2000 – Ronnie Caveness (LB)
1999 – Bill Montgomery (QB)
1998 – Clyde Scott (B)
1997 – Jim Bento (E)
1996 – Chuck Dicus (WR)
1995 – Joe Ferguson (QB)
1994 – Lance Alworth (HB)
For more information on Arkansas Football, follow @RazorbackFB on Twitter.