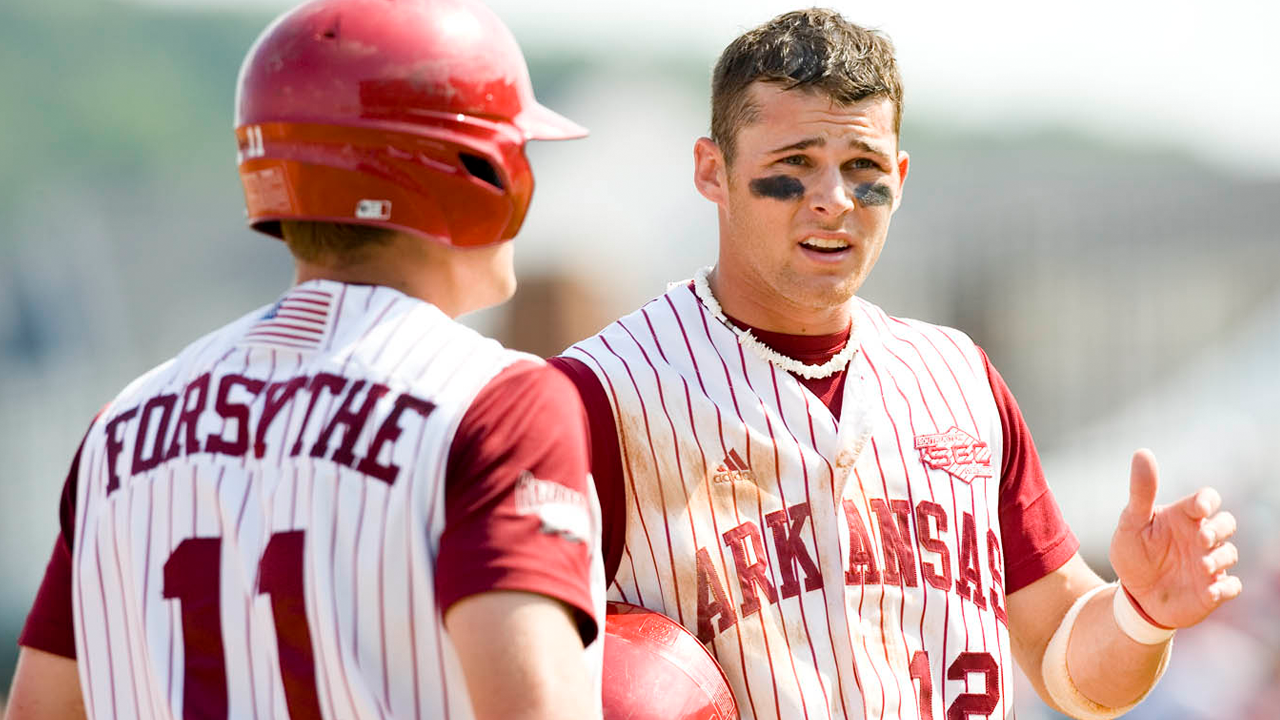 MLB Draft Rewind: 2006
The 2006 Razorbacks posted a nearly identical overall record as the year before, finishing 2005 at 39-22 and 2006 at 39-21, but flipped the script on the SEC slate, finishing second in the Western Division at 18-12.
Arkansas opened the year at 9-0 and entered conference play at 16-1, losing the first game at the Rainbow Baseball Tournament in Honolulu, Hawaii. The Hogs picked up series victories over Tennessee, Vanderbilt, Kentucky, Mississippi State, Alabama and Auburn.
A short showing at the conference tournament and an extra-innings loss in the opener of the 2006 Fayetteville Regional put the Hogs with their backs against the wall early in postseason play. Arkansas rebounded to eliminate Princeton, 6-2, but fell in another one-run loss to Oklahoma State to end their 2006 campaign.
The 2006 draft featured the most draft picks under head coach Dave Van Horn at the time and the most at Arkansas since 1999.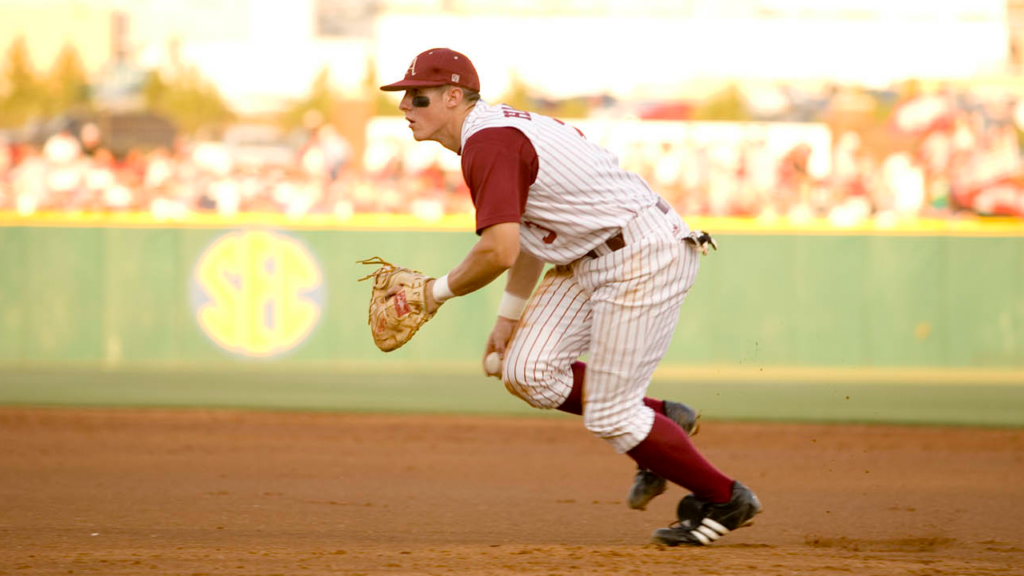 2006 MLB DRAFT
Danny Hamblin (1B) – Oakland Athletics – 9th Round (278)
Craig Gentry (OF) – Texas Rangers – 10th Round (298)
Blake Parker (C) – Chicago Cubs – 16th Round (479)
Devin Collis (LHP) – Colorado Rockies – 26th Round (768)
Daryl Maday (RHP) – San Francisco Giants – 30th Round (896)
Hamblin's name is littered through the Arkansas record books after spending four years in a Razorback uniform, playing both first and third base, as well as designated hitter for the Hogs from 2004-07. The Garland, Texas, native earned Freshman All-America honors as a DH in 2004 after hitting .304 his first year in college. Hamblin racked up what would stand as his personal-best 77 hits, including 19 doubles, a triple and eight homers, as well as 42 RBIs and 53 runs scored. His 253 at-bats, 122 total bases and 53 runs as a freshman stood as school records by newcomers for 14 years until Heston Kjerstad arrived in 2018. The power really picked up as he continued his collegiate career, launching 10 home runs as a sophomore, as his three home-run, four extra-base hit game against Oral Roberts in 2005 still remains school records in both categories. Hamblin's 17 dingers in 2006 still sits at 10th all-time by a Razorback in a single season. Hamblin hit .341 to disprove the sophomore slump, and nearly matched his hit total from the previous two years, with more RBIs (68) and runs (46) as a junior, rising him to a ninth round draft pick by the Oakland Athletics. Hamblin would return to Arkansas for his senior year, more on that on May 22.
Gentry, an Arkansan from Van Buren, patrolled centerfield for Razorbacks in 2005-06 after spending his first two years at Arkansas-Fort Smith. As a junior, he hit .311 with 61 hits, 18 RBIs and 36 runs scored. He increased his totals in nearly every offensive category in 2006, despite playing one less game, producing 15 doubles, three triples, three homers, 23 RBIs and 37 runs for a .326 clip at the plate, which led the team. The Rangers selected Gentry in the 10th round, and the outfielder spent four years working his way up the organization before making his MLB debut in 2009, the first Razorback under Van Horn to do so. Gentry was part of the most memorable seasons in Rangers history from 2009-13, heavily involved in back-to-back American League Champion clubs, hitting .304 in 122 games in 2012. He also spent two years with the Oakland A's, one year with the Los Angeles Angels and his final two seasons in Baltimore before retiring in 2019. Playing in 601 Major League games, Gentry racked up 325 hits, 104 RBIs and 180 runs over 10 years of service in the Bigs.
Parker, a Fayetteville native, set up behind the plate for the Razorbacks from 2004-06, moving into the starting catching role after Toops departed in the draft. He started 44-of-47 games as a freshman, hitting .303 with 50 knocks, 21 RBIs and 23 runs. Parker started 93 games over the next two years, racking up 51 hits as a junior with 10 doubles, two triples and six homers before heading to the Cubs organization in 2006. Although drafted as a catcher, Parker made the move to pitcher and it proved to be beneficial, spending six years in the minors, but reaching Triple-A Iowa within two seasons. In 2012, Parker made his big league debut with the Cubs, pitching in seven games. His 2013 season was a strong one, pitching in 49 games, working a 2.72 ERA over 46.1 innings, striking out 55. Over the last four years, he's played with five different teams, as he's totaled 289 games in seven MLB seasons, pitching in 285.2 innings with 321 strikeouts. He continues to pitch for the Phillies, set for his second season with the club in 2020.
Collis, from St. Charles, Missouri, joined the Hogs for the 2005-06 seasons after two years at Jefferson College. He pitched in 17 games as a junior, putting together a 2-0 record with 23 strikeouts over 48.0 innings. He nearly doubled his time on the mound as a senior, pitching in 33 games, the fourth-most in school history, finishing with a 7-3 overall record and nine saves, also ranking ninth for a single year at Arkansas, with a 2.45 ERA. Collis finished off a combined no-hitter with Nick Schmidt and Brian McLelland against Oklahoma State on Feb. 11, 2006, in the second game of the year. Collis would go on to play three seasons professionally, two in the Rockies organization and his final season in 2008 in Independent ball.
Maday, a native of Bristol, Wisconsin, pitched for three years for the Razorbacks from 2004-06. He started 11 games as a freshman, appearing in 18 total, posting a 4-0 record with a 4.75 ERA over 47.1 innings of work. He earned a 5-1 mark in 21 games, primarily as a reliever in 2005, striking out 41 over 42.0 innings pitched. His final year with the Hogs featured a 3.14 clip over 19 games and six starts, tallying five saves. Maday worked seven years in the San Francisco organization, reaching Double-A Connecticut by 2008, moving from Double-A and Triple-A Fresno until 2013. He finished with 42 wins, 29 saves and a career 3.81 ERA with 520 strikeouts through professional ball.
On May 22, we'll take a look at the 2007 draft, which featured nine Hog selections to big league clubs, the most since 1985 and most under Dave Van Horn at the time.