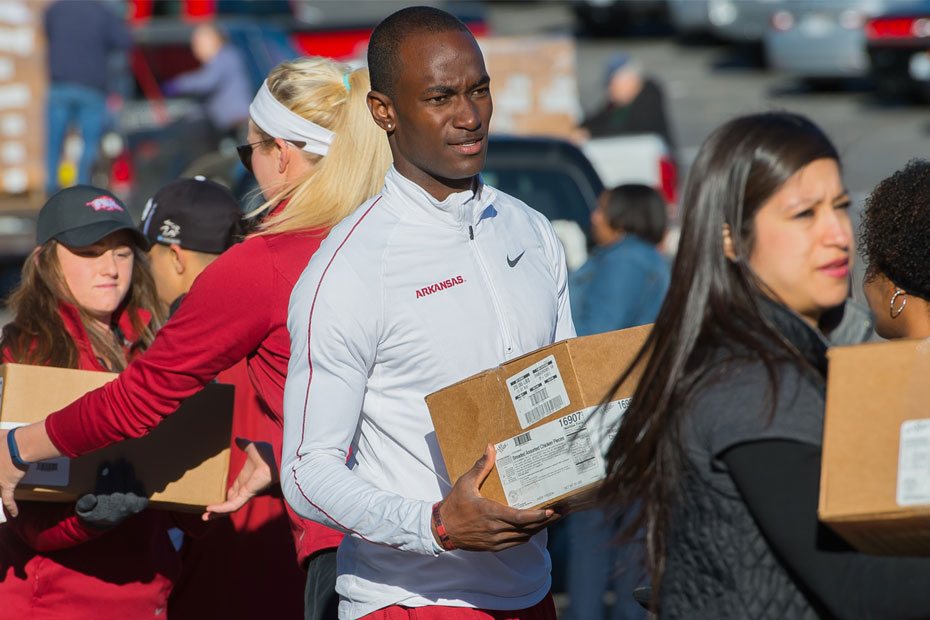 #RazorbackRelief: Operation Baton Rouge
FAYETTEVILLE, Ark. – The University of Arkansas Student-Athlete Advisory Committee (SAAC) and Razorback Athletics are partnering with the Associated Student Government, the Razorback Foundation Collegiate Membership and the University of Arkansas Student Alumni Association to host a Razorback Relief: Operation Baton Rouge event on Saturday to benefit those impacted by the recent floods in Louisiana.
Razorback student-athletes as well as volunteers from all participating organizations will be collecting items for victims of the flooding this Saturday, Aug. 27, from 10 a.m. – 4 p.m. in Lot 44 East, located near Stadium Drive at the Northeast corner of Donald W. Reynolds Razorback Stadium.
Based on recommendations from participating agencies in Louisiana, the drive will be accepting:
Bottled water
Youth clothing
Bedding
School supplies
Truck Centers of Arkansas has donated a truck and J.B. Hunt Transport has provided drivers to deliver all collected items to Baton Rouge. Cash donations will not be accepted as part of this Razorback Relief effort. Those wishing to contribute financial support are encouraged to contact the American Red Cross and other relief agencies.
"When disaster impacts those near to us, Razorback student-athletes as well as many other University of Arkansas students look for ways they can help," Assistant Athletics Director for Student-Athlete Development and Administration Marcus Sedberry said. "As S.A.A.C. partners with several student organizations, our hope is that we are able to make a difference in the lives of those who are facing these serious challenges. We invite all who want to help to participate in Razorback Relief by donating the items that have been requested."