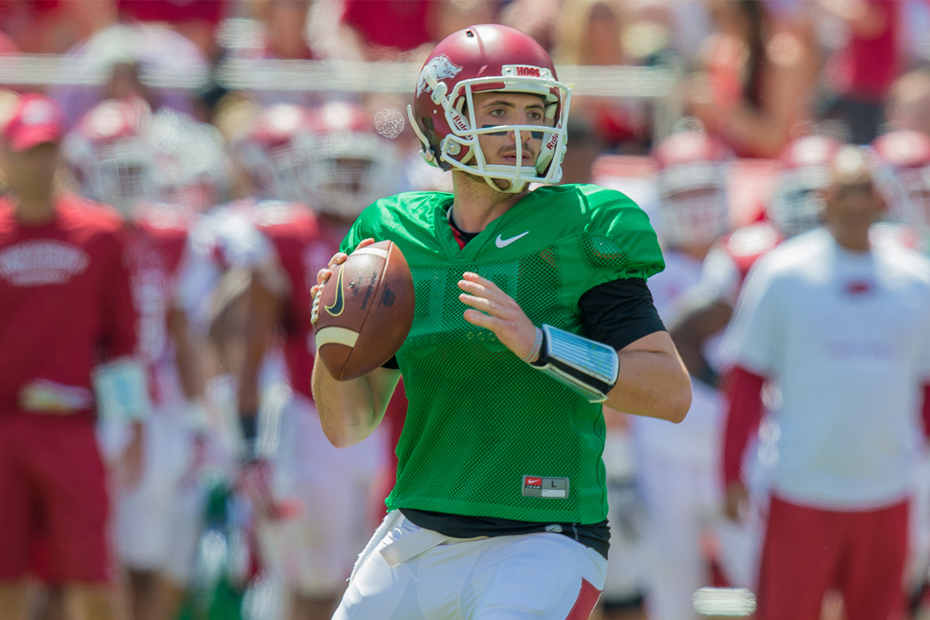 Red & White Spring Game Information
FAYETTEVILLE, Ark. – Exciting events surround Razorback football's annual Red & White Spring Game presented by Contour by Cox inside Donald W. Reynolds Razorback Stadium. The game is slated to start at 1 p.m. on Saturday. Arkansas' Red & White Spring Game is free and open to the public. There will be 15,000 official spring game posters available to fans as they exit the stadium.
In conjunction with the Red & White Spring Game, Champions for Kids will host RazorFest in Lot 44 and the East and South Concourses of Donald W. Reynolds Razorback Stadium beginning at 9 a.m. RazorFest includes a fun zone, games, music, mascots, giveaways and an autograph session with many Razorback greats. Admission is free. For more information about RazorFest, please visit www.championsforkids.org.
Friday, April 24
ALL DAY – Razorback Friday: Wear Cardinal and White!
6:35 p.m. – Baseball hosts Mississippi State for Game 1 of its conference series in Baum Stadium. Purchase tickets to the game here.
Saturday, April 25
9 a.m. – RazorFest opens in lot 44 and runs until 12:30 p.m. The free event will feature health and wellness fun zones, live music, inflatables, games, giveaways and autographs. Fans are encouraged to bring canned food items for North West Arkansas Food Bank and UA Full Circle Pantry. Canned food bins will be located throughout the RazorFest area as well as gates 1, 12, 15 and 16.
9 a.m. – Hog Heaven opens – three locations: Trailer in southeast corner of Lot 44 at RazorFest, Bud Walton Arena and Hog Heaven in the stadium. All Hog Heaven Locations will be having a Spring Sale offering 20 percent discount on non-discounted items for all fans.
9 a.m. – Tusk scheduled to arrive at Gate 12
10 a.m. – Razorback football head coach Bret Bielema will address Arkansas fans on the RazorFest stage in Lot 44.
11 a.m. – Volleyball hosts a Red & White spring scrimmage in Barnhill Arena. The match is open to the public and admission is free. Fans should enter the arena from the south and east doors.
11:30 a.m. – Gates open to Donald W. Reynolds Razorback Stadium.
Noon – A pep rally featuring the Razorback Marching Band and Spirit Squads will take place on the main stage at RazorFest.
1 p.m. – Red & White Spring Game begins!  There will be 15,000 official spring game posters available to fans as they exit the stadium.
Halftime – Breast cancer survivors will be recognized on field.
3 p.m. – Razorback Baggo Invitational begins outside Gate C near home plate of Baum Stadium at the corner of Baum and DeBriyn Drives. For Invitational information and registration, click here.
6:05 p.m. – It's $1 Hot Dog Night for Game 2 of the SEC baseball series vs. Mississippi State. Purchase tickets to the game here.
Sunday, April 26
1:05 p.m. – Baseball hosts Mississippi State for the series finale in Baum Stadium. Purchase tickets to the game here.
This year's game will air live on SEC Network Alternate and SEC Network + / WatchESPN. It can also be heard on the radio via the Razorback Sports Network. For more information on the SEC Network Alternate channel, please click here.
Bag Policy
This policy reflects the university's ongoing commitment to recommendations from the Department of Homeland Security. Except for bags required for child care or medical conditions, all bags, back packs, fanny packs, camera and binocular cases or other similar items and purses larger than 14″ long (side-to-side) x 10″ wide (front to back) x 10″ deep (top to bottom) are prohibited.  All purses allowed into the stadium will be searched.  Containers measuring 14″ long x 10″ wide x 10″ deep will be placed at each entry to Donald W. Reynolds Razorback Stadium, shuttle pick up locations and selected parking lots. Purses that do not fit into the container will not be permitted inside the stadium.
Fan Code of Conduct
Razorback fans are the best of the best. They model this by loudly supporting the Razorbacks and displaying respect and good sportsmanship toward the visiting team and visiting fans. The NCAA, SEC and UA have assigned a high priority to assuring athletic events are conducted in a safe and enjoyable atmosphere which promotes good sportsmanship by spectators, student-athletes and coaches. We request your cooperation by supporting the participants, officials, those around you, and event management in a positive manner and treating others with courtesy and respect. Refrain from throwing objects onto the field for any reason. Do not enter the playing areas at any time, unless directed to do so in an emergency situation, including after-game celebrations.
ADA Parking
ADA parking is available on a first come, first serve basis in a designated area in Lot 56, located on the corner of Martin Luther King Blvd. (6th Street) and Razorback Road. Overflow ADA parking is available at Baum East. A state-issued license plate or hang tag will be required to enter the designated ADA parking areas in each lot. A shuttle is available from both lots and drops off/picks up at Gates 1 and 8 (both on the west side of the stadium) and Gates 14 and 16 (both on the east side of the stadium). Because of the high demand for the shuttle service from Lot 56 and Baum East, ridership is prioritized by those patrons who have a disability and one caretaker for riders needing additional assistance. There is no fee to ride the shuttle.
*Please note that it is against the law to use an ADA parking permit unless the person to whom the permit is issued is in the vehicle. State laws will be enforced and the disabled person issued a license plate or certificate, shall, upon request of any police officer or any other person authorized to enforce parking laws, ordinances, or regulations, present to that officer or authorized person the photo identification card, drivers' license with disability endorsement, or other authorized documentation establishing the person's disability (Arkansas Rule 2007-7).