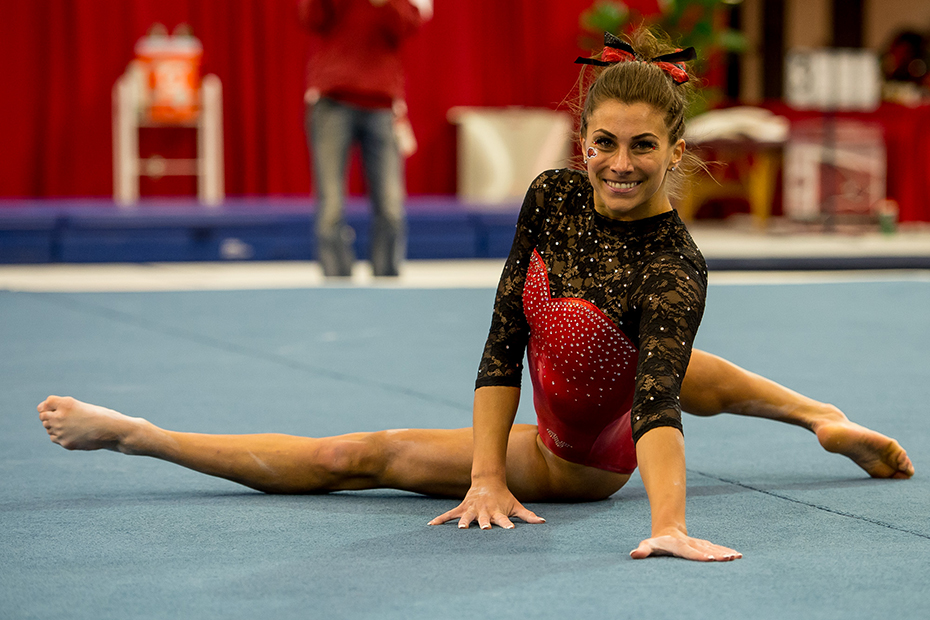 SEC Championship Preview: Calling All Hogs
Meet Notes (PDF) | Purchase Tickets
NORTH LITTLE ROCK, Ark. — In order to get better acclimated to the variables at Verizon Arena, the Arkansas gymnastics team practiced at the site of the 2016 SEC Championship Friday afternoon as they prepared to compete against Georgia, Missouri, and Kentucky in the Saturday afternoon session, which begins at 1 p.m.
"Today was all about seeing how the team would adapt to the environment and the equipment," head coach Mark Cook said. "I thought today the girls practiced pretty well, so I feel good about our energy and focus. After a little bit of rest between now and tomorrow, we will come back and just get after it."
The No. 6 seed Razorbacks (7-5, 4-3) have the chance to compete for a conference championship in their home state, an opportunity that has only come about twice before. In 2007, Arkansas scored a 194.550 and finished fifth out of seven teams. In 2013, the Razorbacks posted an SEC Championship program-best 196.400.
Senior gymnast Sydnie Dillard, a freshman during that 2013 season, is a dual-rotation competitor on balance beam and floor exercise. Since she stepped on campus as a walk-on in 2013, Dillard hasn't missed a rotation on either event. When her turns come on Saturday afternoon, it will be her 49th-consecutive meet appearing in both lineups.
"It's really exciting and it means a lot to have SEC's in Arkansas; there are so many Razorback fans here," Dillard said. "To start freshman year here and then to come back as a senior is really great."
With the No. 5 Gymdogs leading off the event on vault, the No. 7 Tigers will be on beam and the No. 8 Wildcats will start off on floor. Arkansas' rotations will begin at uneven bars, move to beam and then to floor, before the team finishes the day on vault. It's the same series the Razorbacks had at the Cancun Classic during their first meet of the year on Jan. 2. The Classic also was the team's lone multi-team meet of the season.
The SEC Championship afternoon session will be broadcast live on ESPNU at 1 p.m., with the evening session – featuring No. 1 Florida, No. 2 LSU, No. 3 Alabama and No. 4 Auburn – on SEC Network at 6 p.m.
New this year, each apparatus will also have its own online stream for fans to follow along on SEC Network+. Arkansas fans can find links to live online content in a media center post that will follow this article.
For more #Gymbacks content during the season, please follow @RazorbackGym on Instagram, Twitter and Snapchat.