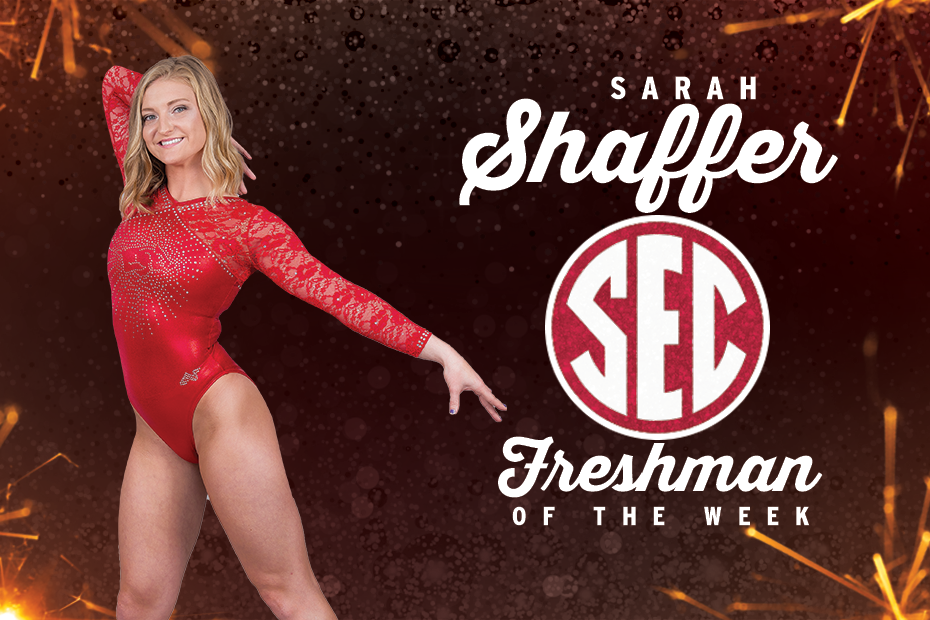 Shaffer Named SEC Co-Freshman Of The Week
BIRMINGHAM, Ala. – Redshirt freshman Sarah Shaffer was named the Southeastern Conference Co-Freshman of the Week following her 39.325 all-around performance in the Razorbacks' home opener against No. 6 Kentucky last Friday.
Shaffer's all-around score is the highest among freshman in the SEC this season, and the seventh highest in the conference overall. The score is the fourth highest among the nation's freshman this season through week two.
The Tyler, Texas, native secured Arkansas' highest all-around score since April 2, 2016 and the highest by a Razorback freshman since 2015.
As the Razorbacks' anchor on beam, Shaffer helped Arkansas secure its highest beam score of 49.250 since March 8, 2014. In total, Shaffer took second in the all-around and on the floor while taking fourth on vault and recording her highest event score of 9.875.
Shaffer was one of Arkansas' five scorers on every event against No. 6 Kentucky, helping the Razorbacks tally its third-highest home opening score in program history of 196.525, and vault into the top 10 of Road To Nationals weekly rankings for the first time since 2016.
Shaffer's Results vs No. 6 Kentucky
Vault: 9.875
Bars: 9.800
Beam: 9.800
Floor: 9.850
All-Around: 39.325
Shaffer becomes the sixth Razorback gymnast to earn an SEC Freshman of the Week honor and ­is the first since Jessica Yamzon won the award on Feb. 7, 2017.
The 10th-ranked Razorbacks return to action Friday for another top-25 conference matchup at the No. 24 Missouri Tigers in Columbia. The meet is scheduled to begin at 6:45 p.m. and will be streamed on the SEC Network+ and the WatchESPN app.
Tickets for the remaining four home meets are available at the Razorback Ticket Center by calling 1-800-982-HOGS (4647) or by clicking here. Arkansas' next home meet is Jan. 26 at 6 p.m. against Georgia.
For more information on Arkansas gymnastics, including in-meet updates, follow @RazorbackGym on Twitter.