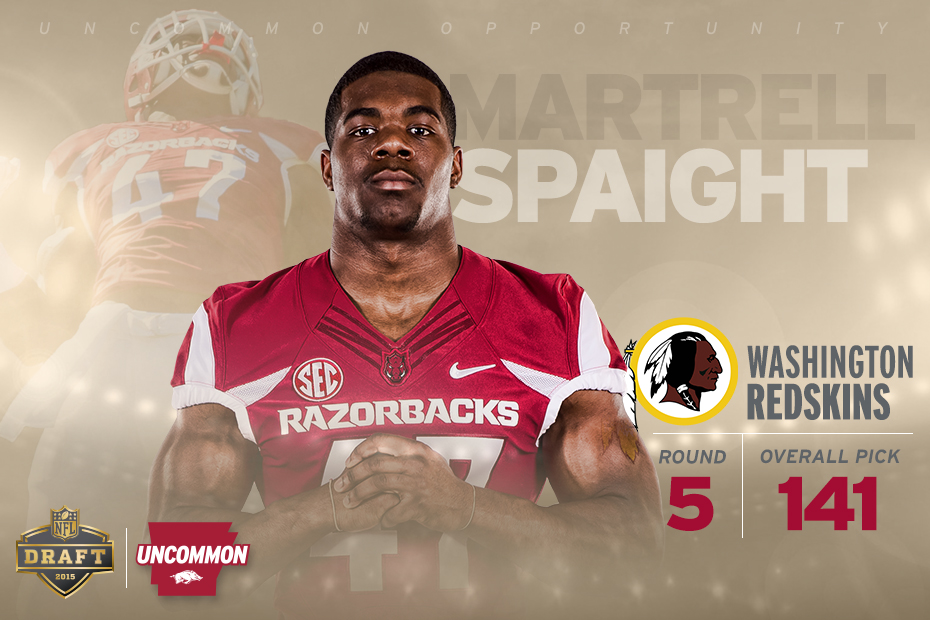 Spaight Goes To Washington In 5th Round
FAYETTEVILLE, Ark. – Arkansas linebacker Martrell Spaight has been selected by the Washington Redskins with the fifth pick of the fifth round (141st overall) in the 2015 National Football League Draft.
Spaight is the 23rd Razorback linebacker to be selected in the NFL draft and the 13th player to be drafted to the Redskins.
The North Little Rock, Arkansas native is the sixth Razorback to be drafted under second-year head coach Bret Bielema. In his eight-year coaching career, Bielema has had three of his linebackers selected in the draft.
Spaight transferred to Arkansas for his junior campaign after spending two seasons at Coffeyville (Kan.) Community College. After recording just 22 tackles his junior season, Spaight completed his senior campaign as the Southeastern Conference leading tackler and a consensus first team All-SEC selection with 128 total stops on the year.
Spaight is the first Razorback to lead the SEC in tackles and was the first Arkansas linebacker to be named to the coaches' first team All-SEC team since Sam Olajubutu in 2006. His 128 tackles were the most tackles for a Razorback since 2003 and was good for 13th on the program's single season chart.
WHAT THEY ARE SAYING: 
"Was a two-time JUCO All-American. Plays downhill and will attack his gap. Physical at line of scrimmage and had several tackles for losses. Sees past blockers and displays good ball awareness. Uses his hands to disengage from blockers and is a leverage linebacker. Aggressive in man coverage toward the boundaries." – NFL.com
"Shorter than ideal but possesses a compact, well-developed frame. Reacts quickly once he locates the football, showing impressive burst to slip through traffic and very good closing speed. Light on his feet and balanced, making Spaight an effective open-field tackler who can deliver a pop and force the ball out (two forced fumbles in 2014). Flexible, coordinated athlete who scrapes the edge cleanly. Developing recognition for coverage but reacts well to the ball when in position, showing good hand-eye coordination to slap it away as the receiver attempts to pull it in. Speed and aggression project well to the NFL, especially on special teams or as a chase linebacker. Raw athleticism worthy of developing." – CBSSports.com
ARKANSAS LINEBACKERS DRAFT HISTORY
YR
RD
OVR
NAME
TEAM
2015
5
141
Martrell Spaight
Washington Redskins
2005
5
159
Jeb Huckeba
Seattle Seahawks
2004
3
80
Caleb Miller
Cincinnati Bengals
2004
5
160
Tony Bua
Miami Dolphins
2001
2
55
Quinton Caver
Philadelphia Eagles
1997
5
160
Anthony Hicks
Green Bay Packers
1996
3
72
Steve Conley
Pittsburgh Steelers
1989
4
89
Kerry Owens
Cincinnati Bengals
1989
9
243
LaSalle Harper
Chicago Bears
1986
5
113
Ravin Caldwell
Washington Redskins
1986
5
127
Nick Miller
Cleveland Browns
1983
1
5
Billy Ray Smith, Jr.
San Diego Chargers
1982
12
322
Jeff Goff
Washington Redskins
1980
11
291
Mike Massey
Oakland Raiders
1977
5
132
Dennis Winston
Pittsburgh Steelers
1977
10
265
Curtis Townsend
San Diego Chargers
1974
6
140
Danny Rhodes
Baltimore Colts
1972
11
265
Ronnie Jones
St. Louis Cardinals
1971
16
395
Bruce James
Philadelphia Eagles
1970
17
423
Cliff Powell
St. Louis Cardinals
1965
9
121
Ronnie Caveness
Los Angeles Rams
1963
3
30
Danny Brabham
St. Louis Cardinals
1952
2
25
Bob Griffin
Los Angeles Rams
BIELEMA COACHED LINEBACKERS DRAFT HISTORY
YR
RD
OVR
NAME
TEAM
COLLEGE
2015
5
141
Martrell Spaight
Washington Redskins
Arkansas
2014
3
77
Chris Borland
San Francisco 49ers
Wisconsin
2009
3
76
DeAndre Levy
Detroit Lions
Wisconsin
RAZORBACKS DRAFTED BY THE REDSKINS
YR
RD
OVR
NAME
2015
6
182
Tevin Mitchel
2015
5
141
Martrell Spaight
2014
7
228
Zach Hocker
1986
5
113
Ravin Caldwell
1982
12
322
Jeff Goff
1964
20
270
Gordon Quest
1963
16
218
Dave Adams
1962
10
127
John Childress
1955
27
316
A. J. Baker
1951
26
221
Buddy Brown
1950
18
227
Alvin Duke
1949
17
168
Ross Pritchard
1947
15
128
Earl Wheeler
1940
16
148
Bolo Perdue