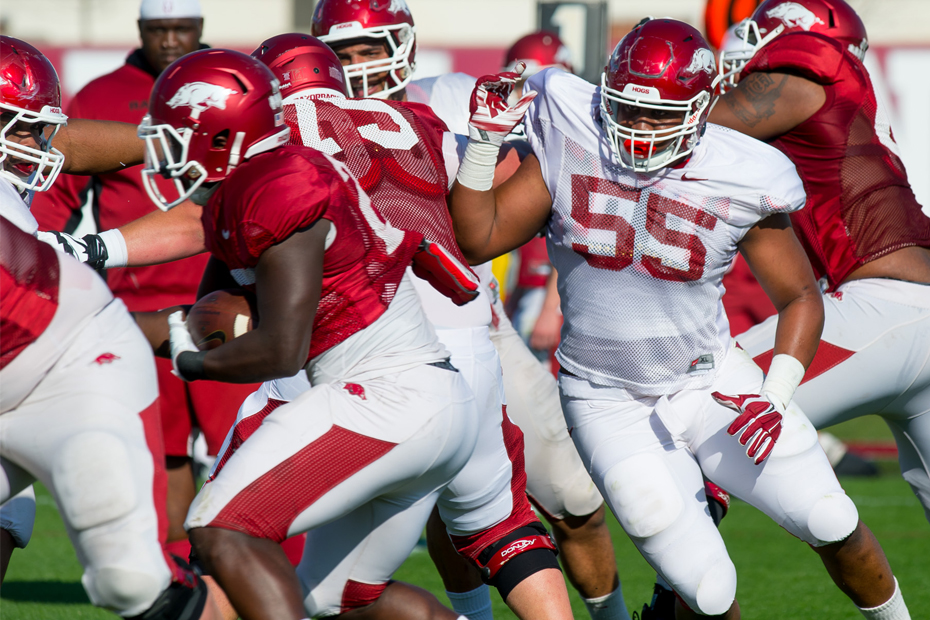 Spring Football Practice Report - April 14
FAYETTEVILLE, Ark. – After starting practice indoors, the rain couldn't stop Arkansas football from returning to the fresh air to complete practice No. 10 outside on Tuesday evening.
Venue: Indoor/Outdoor Practice Fields
Format: Full Pads
Highlights: 
– Due to rain, the Arkansas opened practice No. 10 in the indoor facility. While they concentrated on individual drills, the Razorbacks also broke into one-on-one drills. Senior wide receiver Keon Hatcher made a leaping grab while draped in heavy coverage by junior defensive back Jared Collins.
– After moving outside, the squad broke into red zone drills where sophomore defensive back De'Andre Coley made an impressive pass breakup in the end zone.
– Junior tight end Hunter Henry also impressed in red zone drills as he used his height and size to tower over the defense in the end zone to haul in a touchdown.
News and Notes:
– Arkansas will close its 2015 spring practice schedule with its annual Red-White Game on April 25 at 1 p.m. in Donald W. Reynolds Razorback Stadium. Attendance to the scrimmage is free and open to the public.
– Season ticket orders are now being accepted for the 2015 season at ArkansasRazorbacks.com. The 2015 home schedule includes six games in Fayetteville, four against opponents that played in bowl games last season – UTEP, Auburn, Mississippi State and Missouri. Arkansas will also take on Toledo at War Memorial Stadium in Little Rock.
Up Next: Arkansas will hit the practice fields Thursday for the 11th practice of the season.
Follow Live: For complete coverage of Arkansas football throughout the spring season, follow @RazorbackFB on Twitter.
QUOTEABLES:
Defensive Line and Specialists Coach Rory Segrest
Defensive Lineman Jeremiah Ledbetter
Kicker Cole Hedlund