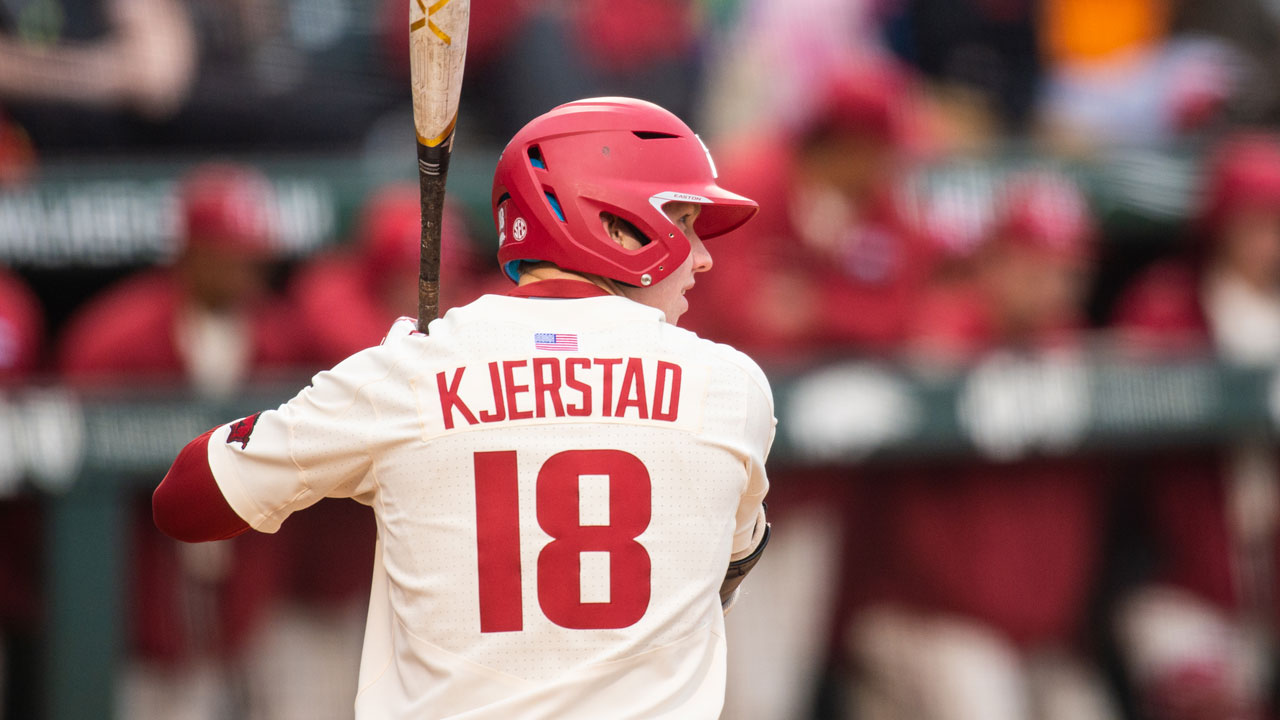 Arkansas Opens SEC Play Against Missouri
FAYETTEVILLE, Ark. – The 10th-ranked Arkansas baseball team will finish its 14-game homestand this weekend when it faces Missouri in a three-game series at Baum-Walker Stadium, opening Southeastern Conference play on Friday.
Friday's game is scheduled for a 6:30 p.m. start, while Saturday's game will be at 2 p.m. Sunday's series finale will be at 1:30 p.m. and all games will be broadcast on SEC Network+.
The Razorbacks (14-2) will be opening SEC play against Missouri (11-5) for the first time since the Tigers joined the league in 2012-13 and will be looking to win its third-straight SEC-opening series. The Hogs have swept each of their last two conference-opening series, coming against Kentucky last year and Mississippi State in 2017.
Isaiah Campbell, at 3-0, will return to the mound on Friday and look to continue his strong start to his redshirt junior season. Campbell has gone five or more innings in each of his four starts and has struck out 10 or more in each of his last two starts (13 vs. Stony Brook; 10 vs. Louisiana Tech). Campbell currently ranks in a tie for eighth in the SEC in strikeouts (33) and has only allowed three walks in 23.1 innings pitched.
Missouri comes into the weekend off a perfect five-game homestand after defeating Arkansas State, 14-4, on Wednesday. The Tigers have scored 10 or more runs in each of the last two games and have scored 10 or more five times this season. Head coach Steve Bieser enters his third season at the helm in Columbia and won more games than any other coach in their first two seasons (70) in school history. It was the winningest two-year stretch for Missouri since 2008-09.
Follow Live
This weekend's series will be available on SEC Network+ via the Watch ESPN app and WatchESPN.com. Brett Dolan (PxP) and Troy Eklund (Analyst) will call the action. Phil Elson (PxP) and Bubba Carpenter (Analyst) will have the radio call on the Razorback Sports Network.
Fans can listen to the radio call via the Razorback Gameday app and locally on KQSM 92.1 FM. Pregame coverage begins 30 minutes prior to first pitch. There will also be a live radio link available on ArkansasRazorbacks.com.
Important Links
Game 1 – WATCH | LIVE STATS
Game 2 – WATCH | LIVE STATS
Game 3 – WATCH | LIVE STATS
Probable Starters
Fri. : (ARK) RHP Isaiah Campbell (3-0, 3.09 ERA, 33 K, 3 BB) vs. (MIZZ) LHP Jacob Cantleberry (2-0, 2.91 ERA, 33 K, 9 BB)
Sat. : (ARK) RHP Connor Noland (0-0, 4.32 ERA, 13 K, 5 BB) vs. (MIZZ) LHP TJ Sikkema (2-0, 0.46 ERA, 25 K, 4 BB)
Sun. : (ARK) RHP Cody Scroggins (1-0, 4.50 ERA, 26 K, 5 BB) vs. (MIZZ) LHP Tyler LaPlante (1-1, 3.43 ERA, 15 K, 3 BB)
Ballpark Promotions
Free Shirsey Fridays are BACK at Baum-Walker Stadium for all five SEC Friday night games in 2019. Be one of the first 2,000 fans through the gates and receive a Brain Anderson Razorback Shirsey. Gates open at 4:30 p.m.
SEC Opening Weekend – Arkansas Takes On Mizzou
Arkansas and Missouri will face off in the first weekend of SEC play for the first time in series history. The Razorbacks have swept their last two SEC-opening weekend series (Kentucky – 2018; Mississippi State – 2017), but have only won three SEC-opening weekend series since 2012. Arkansas is 11-10 in SEC opening series since 2012 and will be opening against an SEC East opponent for the fourth time since 2012.
Pitching Leads Way In Early Going
With the addition of first-year pitching coach Matt Hobbs, the Razorback pitching staff hasn't lost stride in the first five weeks of the season. Arkansas currently ranks fifth in the nation in strikeouts-per-nine innings (11.5) and sixth in strikeout-to-walk ratio (4.07). Arkansas pitchers have struck out 10 or more batters in nine of their last 10 games and haven't walked more than three batters in 13 games.
Kjerstad Heating Up
Sophomore outfielder Heston Kjerstad did not have the best start to his second season when he was 8-for-36 (.222) after eight games. Since then, the Amarillo, Texas native is batting an even .500 (16-for-32) with five multi-hit games, four with three hits or more, and slugging .767 with five extra-base hits and six RBIs. For the year, Kjerstad is now batting .353, good for third on the team.
Scroggins Shuts Down Louisiana Tech
Making his third-consecutive start on Sunday against Louisiana Tech, Cody Scroggins went a career-long six innings and struck out a career-high 11 batters, while walking only one and giving up two singles on 88 pitches. Scroggins didn't even allow a baserunner past first base for his entire outing and retired seven of the first eight he faced. Sunday's game was his' first victory of the year and first decision in 27 career appearances dating back to 2016.
Welcome To The Show Kid
Freshman right-hander Elijah Trest made his collegiate debut in the ninth inning on Sunday, striking out the side on 20 pitches to help secure Arkansas' 12th victory of the year. Trest is the seventh different freshman pitcher to see time on the mound so far this season and fourth to strike out the side in their first collegiate inning of work (C. Monke, P. Wicklander, E. Taylor).
Up Next
Arkansas will make its annual Spring Break road trip next week when it starts a six-game road stretch in Austin, Texas. The Hogs will take on the Texas Longhorns on Tuesday and Wednesday with both games starting at 6:30 p.m. on the Longhorn Network.
For more information on Razorback Baseball, follow @RazorbackBSB on Twitter.