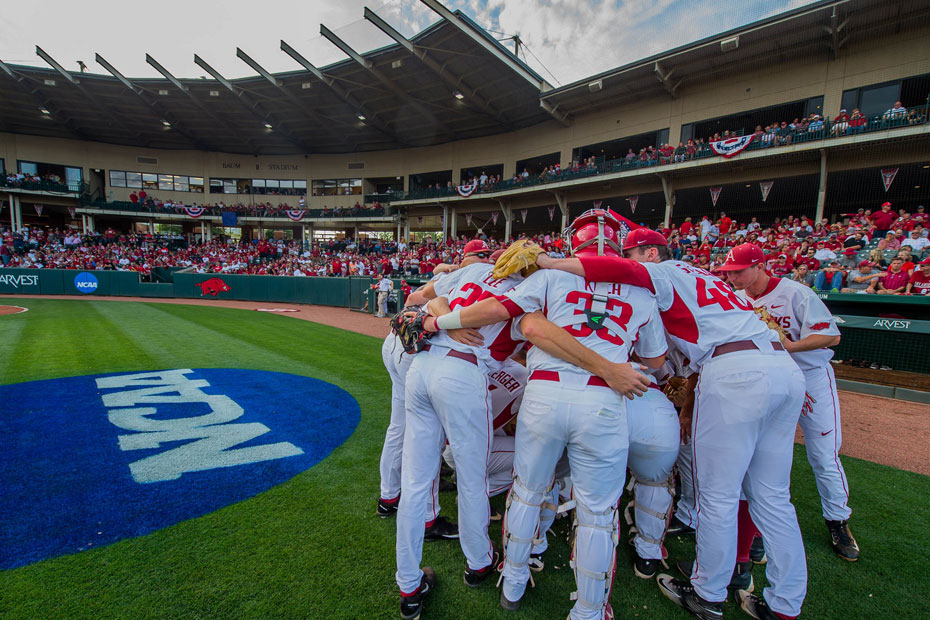 Arkansas Picked To Win West By League Coaches
BIRMINGHAM, Ala. – The Razorback Baseball team was picked by the head coaches of the Southeastern Conference to win the Western Division and finish second overall, while four Razorbacks were tabbed as Preseason All-SEC players.
The 14 coaches in the SEC voted in the 27th annual preseason SEC poll and the Razorbacks picked up 12 of the 14 votes to win the division. Arkansas also received one vote to win the SEC overall and received 90 points for the overall conference finish, just one point behind Florida.
Points were compiled on a 7-6-5-4-3-2-1 basis for each division. Coaches were not allowed to vote for their own team. Each coach also voted for one team as an overall conference champion.
In addition, Arkansas was one of only two schools (Florida) to have four or more players earn a spot on either Preseason All-SEC team. Catcher Grant Koch led all Razorbacks as the lone first-team player. He's coming off a career year where he hit .264 with a career-best 13 home runs and 42 RBIs, the highest home run and RBI total among all SEC catchers.
Shortstop Jax Biggers, outfielder Dominic Fletcher, and right-hander Blaine Knight make up the Arkansas contingent on the second team. Biggers and Fletcher are both coming off All-SEC seasons of their own, while Knight is expected to be one of the top pitchers in the league in 2018 and was named a preseason All-American earlier this year.
Arkansas is scheduled to open the 2018 season against Bucknell on Friday, Feb. 16 with first pitch at 3 p.m. at Baum Stadium. Season tickets, mini-plan, and group tickets are now on sale through the Razorback Ticket Office.
For more information on Razorback Baseball, follow @RazorbackBSB on Twitter.
2018 SEC Baseball Coaches Preseason Poll
Eastern Division
1. Florida (13) – 91
2. Kentucky (1) – 74
3. Vanderbilt – 72
4. South Carolina – 50
5. Georgia – 41
6. Missouri – 32
7. Tennessee – 25
Western Division
1. Arkansas (12) – 90
2. Texas A&M (1) – 72
3. Ole Miss (1) – 62
4. LSU – 59
5. Mississippi State – 44
6. Auburn – 38
7. Alabama – 20
() – First place votes
SEC Champion: Florida (12), Arkansas (1), Texas A&M (1)
2018 SEC Baseball Coaches Preseason All-SEC Team
First Team
C: Grant Koch, Arkansas
1B: Julian Infante, Vanderbilt
2B: Cobie Vance, Alabama
SS: Braden Shewmake, Texas A&M
3B: Jonathan India, Florida
OF: Antoine Duplantis, LSU
OF: Tristan Pompey, Kentucky
OF: Jake Mangum, Mississippi State
DH/UTL: Michael Curry, Georgia
SP: Brady Singer, Florida
SP: Casey Mize, Auburn
RP: Michael Byrne, Florida
Second Team
C: JJ Schwarz, Florida
1B: Kameron Misner, Missouri
2B: Luke Becker, Kentucky
SS: Jax Biggers, Arkansas
3B: George Janca, Texas A&M
OF: Dominic Fletcher, Arkansas
OF: Zach Watson, LSU
OF: Carlos Cortes, South Carolina
DH/UTL: JJ Schwarz, Florida
SP: Sean Hjelle, Kentucky
SP: Blaine Knight, Arkansas
RP: Dallas Woolfolk, Ole Miss