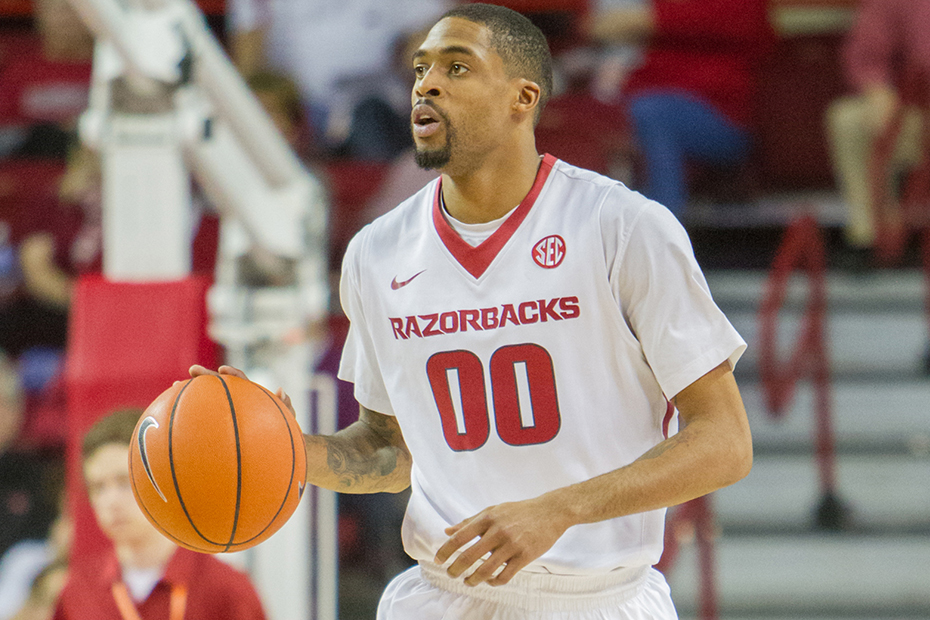 Arkansas Ready For Season Opener On Sunday
Arkansas Notes (PDF) | Listen Live & Live Stats | Watch
AT A GLANCE
The 92nd season of Arkansas basketball gets underway on Sunday when the Razorbacks play host to SWAC preseason favorite Alabama State at Bud Walton Arena. Arkansas has won its last 19 season openers and is 20-1 all-time in openers at BWA. Entering the program's fourth year under head coach Mike Anderson, the Razorbacks also have a streak of 43 consecutive wins at home against unranked non-conference opponents.
GAMEDAY #RAZORFACTS

GAME

Arkansas (RV/RV) vs. Alabama State 


DATE | TIME

Sunday, Nov. 16 | 4:00 p.m.

SITE | ARENA

Fayetteville, Ark. | Bud Walton Arena (19,200)

TV | VIDEO

SEC Network+ | ESPN3.com | WatchESPN App

AUDIO

Razorback/IMG Sports Network

TALENT

Chuck Barrett (P-B-P) & Scotty Thurman (Analyst)

LIVE STATS

www.ArkansasRazorbacks.com

SOCIAL

Twitter | Facebook | Instagram

HASHTAGS

#Fastest40 | #WeHogs

BUD WALTON OPENERS

20-1

STREAK

W19

VS. ALABAMA STATE

7-0

NEXT UP

Wake Forrest – Wednesday, Nov. 19
THIS DAY IN RAZORBACK HISTORY
Arkansas holds a 3-1 record on November 16, dating back to the start of the 1959-60 campaign. The Razorbacks have gone over the 100-point plateau three times on Nov. 16, defeating No. 15 Oklahoma, 110-88, in 1990 and Northeastern State, 114-56, in 1997. The trio of of Todd Day, Lee Mayberry and Oliver Miller combined for 66 points in 1990 while an amazing eight players reached double figures during the 1997 win in which the Razorbacks forced 36 turnovers. Over its four games on Nov. 16, Arkansas is averaging 96.5 points.
RISING EXPECTATIONS
Arkansas was tabbed to finish third in the SEC preseason poll by the media, returning eight players from last year's team that went 22-12 overall and advanced to the second round of the NIT. The third place prediction is the program's best since the SEC moved away from divisions in 2012 and the best since the Razorbacks were the favorite in the Western Division heading into the 2007-08 season.
Rankings Since 2012 (Non-Divisions)
2012 >>> 6th
2013 >>> 5th
2014 >>> 3rd
STARTING 5 QUICK 5 HITS
#00 | Rashad MADDEN (G)
•First Arkansas native to lead the team in scoring (12.7) since Sonny Weems (2007-08).
•One of just three SEC players to lead their team in scoring and return in 2014-15
•All five 20-point games in 2013-14 came at Bud Walton Arena.
•Sixth player in program history to lead in scoring and assists (2.8) in the same year.
•240 points shy of becoming the 36th player in program history to reach 1,000 points.
#05 | Anthlon BELL (G)
•Has 51 points in his last 43 minutes played at Bud Walton Arena.
•Led the team in three-pointers in each of the last two seasons.
•Averaged 11.0 points over the final eight games in 2013-14.
•Arkansas was 4-0 when he led the way in scoring last year.
•Scored 20+ points twice last March.
#24 | Michael QUALLS (G)
•Averaged 15.0 points over two exhibition games, hitting 7-of-9 from three.
•Ranked in the top three in points (11.6), rebounds (4.5) and assists (1.9) in 2013-14.
•Increased scoring average by 7.0 points from freshman (4.6) to sophomore (11.6) year.
•Team-leading 33 dunks in 2013-14 and 53 for his career.
•Landed on SportsCenter's Top 10 plays eight times in 2013-14.
#02 | Alandise HARRIS (F)
•Averaged 15.8 points over six games last November.
•Just 51 points shy of 1,000 for his collegiate career (Houston & Arkansas).
•Reached double figures 12 times in 2013-14, including 10 times off the bench.
•Averaged 12.5 points and 5.0 rebounds over two NIT games to close last season.
•Scored a season-best 21 points in a win over SMU.
#10 | Bobby PORTIS (F)
•Scored 33 points in 40 minutes of action over two exhibition games.
•Preseason All-SEC first team choice by the league coaches and media.
•Broke the Arkansas freshman single-season rebound record with 230 boards.
•Closed freshman season with back-to-back double-doubles in the NIT.
•Only player to start all 34 games in 2013-14.