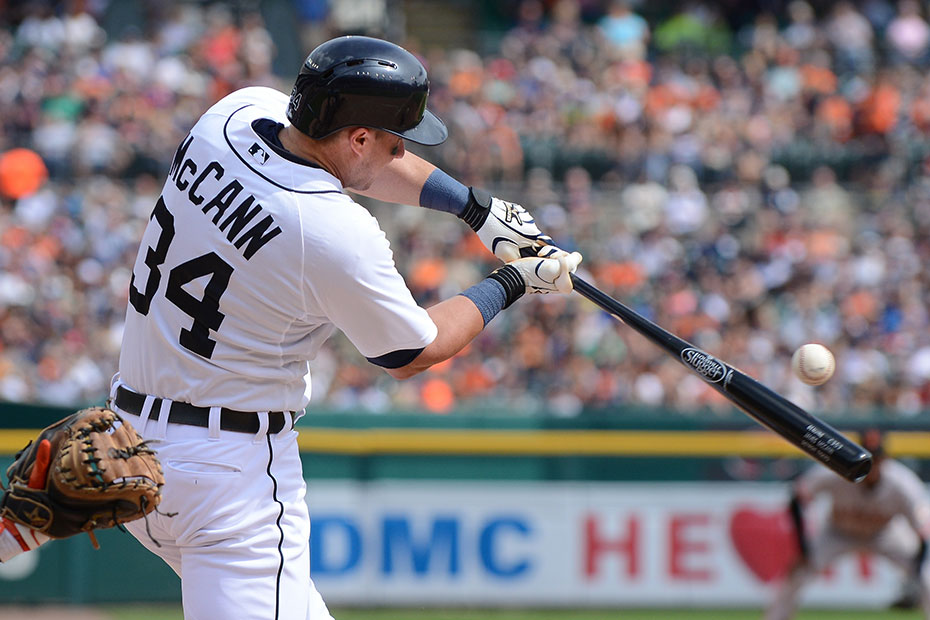 Diamond #ProHogs in Full Swing
FAYETTEVILLE, Ark. – The boys of summer are in full swing and Arkansas has former players all over the country at every level representing the Razorbacks in professional baseball.
Six former players have appeared in Major League Baseball this season, led by Cy Young candidate Dallas Keuchel, while James McCann, Logan Forsythe and Mike Bolsinger are all key contributors for their respective clubs as the All-Star break looms
Dallas Keuchel | Houston Astros | #VoteKeuchel | #GoBeardOrGoHome
In the midst of a Cy Young Award-type season, Dallas Keuchel continues to evolve as one of the most dominant pitchers in Major League Baseball with a 9-3 record and a 2.17 ERA through his first 16 starts of the year. He ranks third in the MLB in total wins, second in the American League in ERA and leads the Majors with three complete games. He is coming off a complete-game shutout of the Yankees on June 25, recording nine strikeouts and allowing five hits. The Astros currently have a four-game lead in the AL East.
James McCann | Detroit Tigers | #MrWalkoff
With walk-off home runs starting to become his forte, James McCann has taken over the starting catching role for the Detroit Tigers, hitting .254 with three home runs, 10 doubles and 15 runs batted in. His first collegiate home run was an inside-the-park shot, while his other two blasts were walk-off bombs, including Sunday's clincher against the Chicago White Sox in the bottom of the ninth. McCann is the first Tiger in franchise history to hit two walk-off home runs in his rookie seasons (via @EliasSports). The Tigers are currently 39-36 on the year and 6.5 games back of the AL Central-leading Kansas City Royals and 2.0 games back of the AL Wild Card lead.
Logan Forsythe | Tampa Bay Rays | #VoteForsythe
Before the All-Star break even arrives, Logan Forsythe is having the best statistical season of his six-year MLB career, hitting .297 with eight home runs and a team-best 15 doubles. He has 18 multi-hit games on the year, including six three-hit performances, most recently a 3-for-5 day against Boston on June 26. Forsythe has raised his average 33 points since June 16, hitting safely in 11 of 14 games during the stretch. The Rays are currently tied for first place in the AL East.
Mike Bolsinger | LA Dodgers
On a team loaded with pitching talent, Mike Bolsinger has quietly emerged as one of the best pitchers for the Dodgers, posting a 4-2 record and 2.95 earned run average in 10 starts. He made his Dodger Debut on April 23 and started his LA career with a 3-0 record and 0.71 ERA, allowing just two earned runs in his first 25.1 innings of work. The Dodgers currently have a 43-34 record and a 1.0 game lead on the San Francisco Giants in the NL West.
Around the Horn
•  Drew Smyly was shut down in early May with a torn labrum but was scheduled to throw off the mound over the weekend in his road to recovery. In his three starts early in the year, Smyly was 0-1 with a 2.70 ERA and 21 strikeouts in 16.2 innings of work.
•  Craig Gentry saw action in 17 games for the Oakland Athletics early in the season, but was optioned to the Triple-A Nashville Sounds where he is hitting .257 with seven doubles and three home runs.
•  Cliff Lee was placed on the 60-day disabled list for the Philadelphia Phillies back in March with a tear in his left elbow and will likely be out the remainder of the 2015 season.
Minor League Roundup
Triple-A
Matt Reynolds – Las Vegas 51s (Mets)
Brett Eibner – Omaha Storm Chasers (Royals)
Andy Wilkins – Oklahoma City (Dodgers)
Jess Todd – Pawtucket (Red Sox)
Blake Parker – Iowa (Cubs)
Double-A
Zack Cox – Jacksonville Suns (Marlins)
DJ Baxendale – Chattanooga Lookouts (Twins)
Nolan Sanburn – Birmington Barons (White Sox)
Barrett Astin – Pensacola Wahoos (Reds)
Ryne Stanek – Montgomery Biscuits (Rays)
Single-A Plus
Trent Daniel – Modesto Nuts (Rockies)
Randall Fant – Lancaster Jethawks (Astros)
Dominic Ficociello – Lakeland Flying (Tigers)
Brian Anderson – Jupiter Hammerheads (Marlins)
Single-A
Jalen Beeks – Greenville Drive (Red Sox)
Derrick Bleeker – Delmarva Shorebirds (Orioles)
Jacob Morris – Kannapolis Intimidators (White Sox)
Chris Oliver – Lakewood BlueClaws (Phillies)
Colby Suggs – Greensboro Grasshoppers (Marlins)
Michael Gunn – Greenville Drive (Red Sox)
Short-season A
Eric Fisher – Batavia Muckdogs (Marlins)
Bobby Wernes – Tri-City VallyCats (Astros)
Rookie
Trey Killian – Grand Junction (Rockies)
2015 MLB Draft
Andrew Benintendi – Red Sox (Yet to Sign)
Tyler Spoon – Red Sox (Yet to Sign)