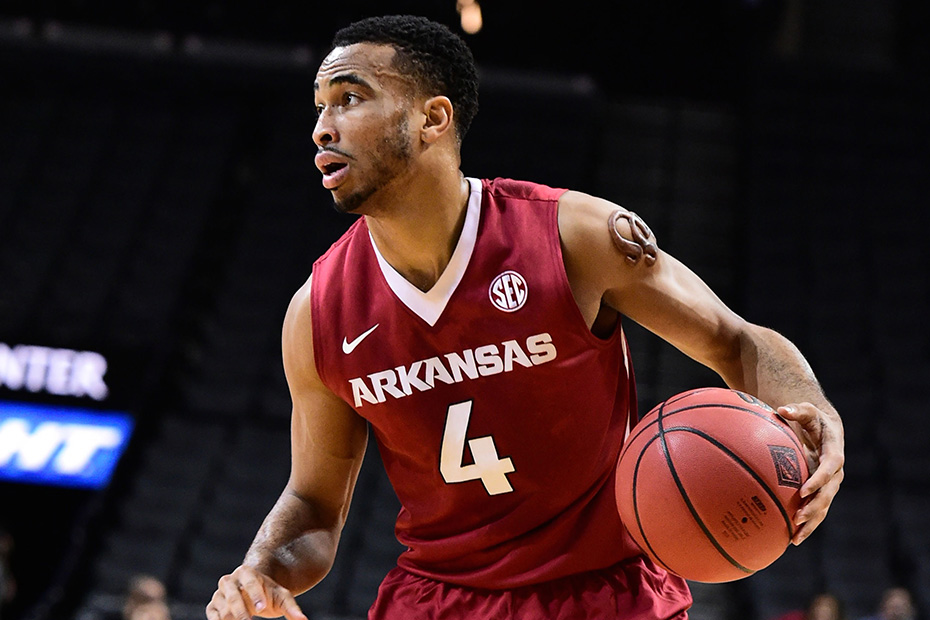 Durham and Watkins Join Mike'd Up on Monday
FAYETTEVILLE, Ark. – Senior Jabril Durham and junior Manuale Watkins will join Mike Anderson on Mike'd Up, the weekly radio show dedicated to Arkansas basketball at Sassy's Red House in Fayetteville on Monday at 7 p.m.
The one-hour program gives fans an opportunity to interact with Razorback coaches and players, while also getting a chance to learn more about the personalities they witness on the court. Hosted by the voice of the Razorbacks, Chuck Barrett, the program features interviews with Coach Anderson and Arkansas student-athletes, coaches and staff members. Fans in attendance will also have an opportunity to ask the head Razorback their own questions. Fans can also send in questions to Coach Anderson on the day of each show via Twitter to @RazorbackMBB and by using the hashtag #MikedUp.
Watkins has averaged 7.2 points per game through the first five contests, including a career-high 14 points against Charleston Southern. He pulled down a career-high seven rebounds against Stanford last Friday and has a team-high seven steals on the year.
Durham continues to be the floor general for the Razorbacks, as he leads the SEC and ranks No. 6 in the country with 7.6 assists per game. He is responsible for two of the five double-digit assist performances in the SEC this year, including a career-high 11 helpers against Charleston Southern.
The Razorbacks are 2-3 on the year as they return home to Bud Walton Arena to host Northwestern State on Tuesday, Dec. 1 at 7 p.m. Arkansas will then hit the road to take on Wake Forest on Friday, Dec. 4 in Winston-Salem, N.C.
Mike'd Up can be heard across the Razorback Sports Network from IMG College across the state. All but one of the 12 shows are held on Mondays with Thursday, Jan. 14 serving as the lone exception due to the game schedule.
Remaining 2015-16 Mike'd Up Schedule (All Shows At 7 p.m.)
Monday, Nov. 30
Monday, Dec. 7
Monday, Dec. 14
Monday, Jan. 4
Thursday, Jan. 14
Monday, Jan. 18
Monday, Jan. 25
Monday, Feb. 1
Monday, Feb. 15
Monday, Feb. 22
Monday, Feb. 29
For more information on Arkansas men's basketball, follow @RazorbackMBB on Twitter.