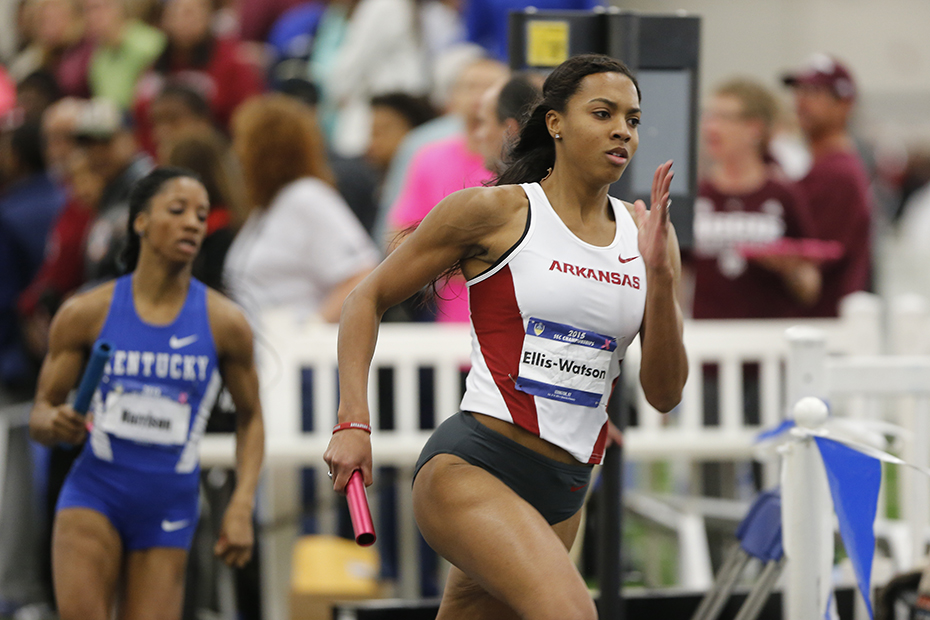 Ellis-Watson Races to SEC Runner of the Week
FAYETTEVILLE, Ark. – Seven-time All-American sprinter Taylor Ellis-Watson was selected as the SEC Runner of the Week following her 200-meter victory at last weekend's Arkansas Invitational.
Known for her dominance at 400 meters, Ellis-Watson proved to the nation that she not only has speed and endurance, but also a complimentary quick turnover.
Pushing hard out of the blocks in lane 4, Ellis-Watson made up the stagger on her outside opponent within the first 50 meters. The Pennsylvania native cruised down the back stretch and used the final turn to give her the momentum needed to race through the finish in 23.39 seconds. Her time was about half a second faster than the runner-up.
Ellis-Watson's race was the fastest in the SEC among 200-meter dash competitors last weekend. She currently has the third best time in the NCAA this season.
The 2015 NCAA indoor 400-meter silver medalist will next see action at the Gladstein Invitational in Bloomington, Ind. on Friday, Jan. 22 and Saturday, Jan. 23. Arkansas returns home for the Razorback Invitational on Jan. 29-30 when they host 14 of the best teams in the country at the Randal Tyson Track Center.
2016 INDOOR TOP 10 (200 METERS)
1. Felicia Brown – Tenn. (23.20)
2. Shakima Wimbley – Miami (23.33)
3. Taylor Ellis-Watson – Arkansas (23.39)
4. Aaliyah Brown – Texas A&M (23.42)
5. Kali Davis-White – Tenn. (23.44)
6. Morolake Akinosun – Texas (23.47)
7. Diamond Spaulding – Texas A&M (23.59)
8. A'Keyla Mitchell – Kansas State (23.59#)
9. Sabria Hadley – Clemson (23.76)
10. Payton Stumbaugh – Arkansas (23.79)
For more information on Arkansas track and field including in-meet updates, follow @RazorbackTF on Twitter.