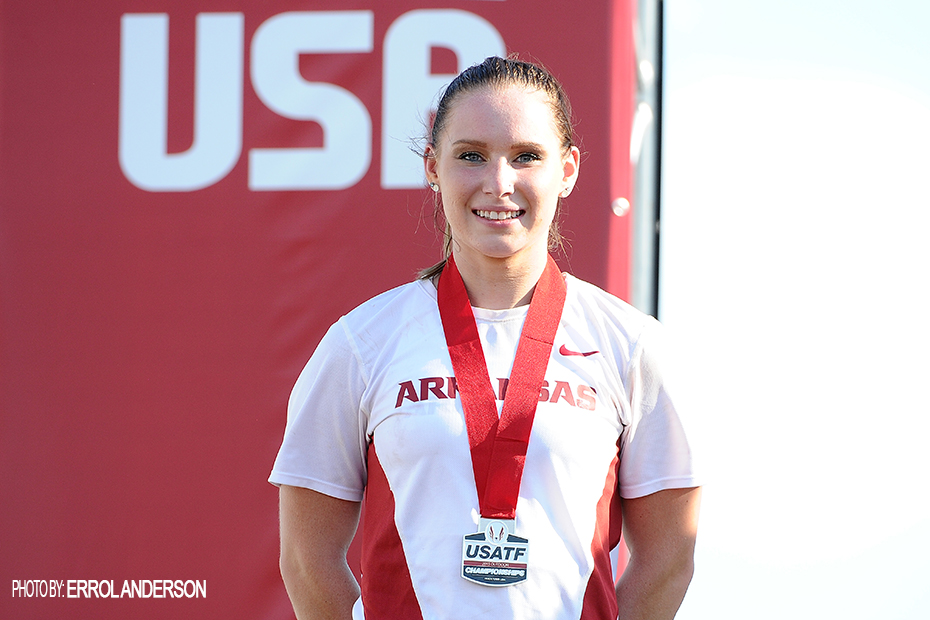 Freier Makes Second Consecutive USA Junior National Team
Day 3 Results | Meet Schedule | Start Lists
EUGENE, Ore. – Arkansas freshman Desiree Freier will compete at the 2015 Pan Am Games in Edmonton, Canada for the USA Junior National Team. This is her second consecutive year qualifying to represent team USA in international competition.
The two-time NCAA All-American passed on the opening height and started her day with a first attempt clearance of 3.95m/12-11.5. Moving on to the next height, Freier was up and over easy once again remaining as one of the top performers of the event. Exiting at 4.20m/13-9.25, the 2014 USA junior champion kept a cool disposition as she awaited the outcome of her fellow competitors. With the 2015 champion decided, Freier headed into a three-way jump off to determine who would claim the No. 2 spot. Displaying skill under pressure, the Fort Worth, Texas native earned her place on the US national team.
Freier was the runner-up at last year's World Junior Championships, setting the American junior record of 4.45m/14-7.25 at Hayward field.
Returning to the track following Friday's hurdle competition, Arkansas junior Alex Gochenour was the first to compete for the Razorbacks collecting 1,074 points for her fourth-place finish in the heptathlon 100-meter hurdles. Completing four of the seven events, Gochenour finished the day in 10th place with 3,473 points.
Arkansas' last runner of the day, freshman Sydney Brown represented the Razorbacks in the USA jrs 3,000-meter run. With temperatures continuing to remain in the high nineties Brown proved resilient crossing the line at 10:53.91 to finish 14th.
2015 USATF Outdoor Championships | Day 3
Hayward Field
Eugene, Ore.
Heptathlon (day one)
10. Alex Gochenour – 3,473 pts.
Pole Vault Jrs (final)
2. Desiree Freier – 4.10m/13-5.25
3,000 Meter Jrs (final)
14. Sydney Brown – 10:53.91
#USATFOutdoors Day 4 Schedule (All times central)
12:45 p.m. | Long Jump hept – Alex Gochenour
1:45 p.m. | Javelin hept – Alex Gochenour
2:00 p.m. | Pole Vault – Sandi Morris
3:11 p.m. | 800m hept – Alex Gochenour
USATF Outdoor Championships Broadcast Schedule (All times central)
Sunday, June 28
All Events: 12:20 p.m. – 2:00 p.m. | USATF.tv
All Events: 2:00 p.m. – 5:00 p.m. | NBCSN
For more information on Arkansas track and field including in-meet updates, follow @RazorbackTF on Twitter.