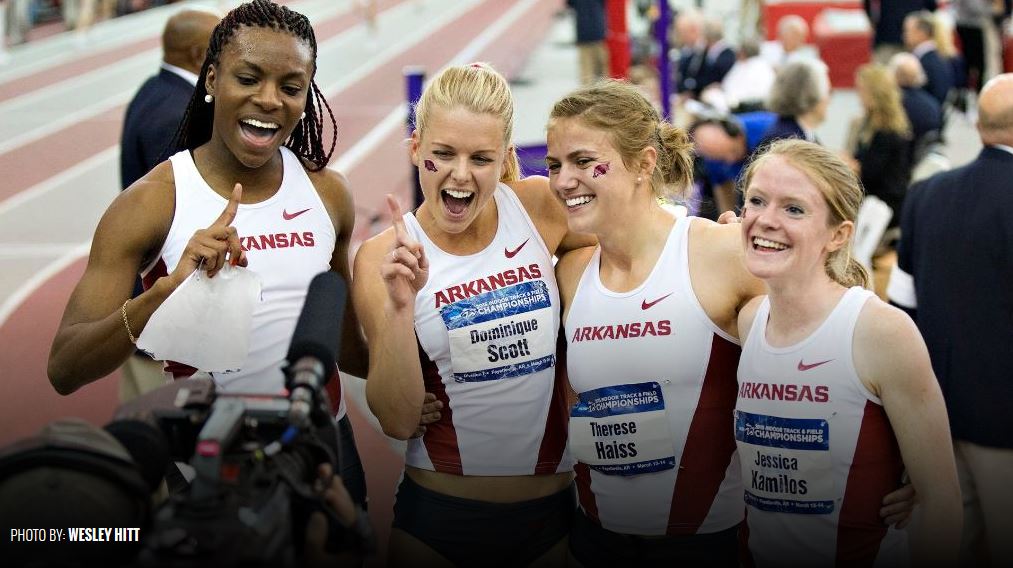 No. 1 Razorbacks Defend #NCAATF DMR Title
FAYETTEVILLE, Ark. – The No. 1 University of Arkansas women's track and field team successfully defending its title in the distance-medley relay in school-record fashion Friday night at the 2015 NCAA Indoor Championships at the Randal Tyson Track Center. After day one of the national meet, the Razorbacks are in third place overall with 13 points. Arkansas sits within one point of the team lead with 11 scoring opportunities Saturday.
What to Watch | #NCAATF Day Two Finals/Schedule
• Alex Gochenour, Leigha Brown, Taliyah Brooks (pentathlon) – 11:30 a.m.
• Sandi Morris, Desiree Freier, Ariel Voskamp (pole vault) – 5:30 p.m.
• Tamara Myers (triple jump) – 6 p.m.
• Taylor Ellis-Watson (400 meters) – 6:40 p.m.
• Chrishuna Williams (800 meters) – 7:20 p.m.
• Dominique Scott (3,000 meters) – 8 p.m.
• 4x400m Relay – 8:30 p.m.
Day two of the NCAA Indoor Championships will be streamed live on WatchESPN beginning at 5:50 p.m. (CT). Morning and afternoon coverage will be supplied at ArkansasRazorbacks.com. A tape-delay broadcast of the championship will air Monday, March 23, starting at 6 p.m. on ESPNU. Dwight Stones and Larry Rawson will handle the play-by-play and color commentary duties, respectively.
In the final event, the quartet of Jessica Kamilos, Sparkle McKnight, Therese Haiss and Dominique Scott combined for a time of 10:51.89 to establish a new school mark and the second-fastest time in NCAA history, less than a second behind the all-time record. With Friday's performance, the DMR school record was lowered by more than five seconds. The win is Arkansas' 12th national indoor event title and second-consecutive in the distance-medley relay.
The Razorbacks picked up a combined three points from the efforts of Diane Robison at 5,000 meters and Tamara Myers in the long jump. Both entered the meet with qualifying marks positioned outside the top eight but performed above the national seeding. Robison finished seventh at 5,000 meters in 15:52.07 while Myers scored the first points of the weekend with an eighth-place finish with a day's best of 6.19m/20-3.75.
Arkansas secured two qualifiers for event finals Friday with Taylor Ellis-Watson at 400 meters and Chrishuna Williams at 800 meters. Ellis-Watson clocked in at 51.97 as the second-fastest runner during qualifying while Williams grabbed an automatic placement into the 800-meter final by finishing second in her heat. She posted a semifinal time of 2:06.41. In her first full season competing at the distance, Williams has the No. 2 time in the country this season.
#NCAATF Day 1 | March 13, 2015
Team Standings (Top 10 – thru five events)
1. Georgia – 14
2. Oregon – 13.5
3. ARKANSAS – 13
4. Baylor – 13
5. Akron – 12
5. Kentucky – 12
7. Missouri – 10
7. Providence – 10
9. Kansas State – 8
9. Southern Illinois – 8
9. Stanford – 8
9. UCLA – 8
Event Results
400 Meters (preliminary)
2. Taylor Ellis-Watson – 51.97q
16. Sparkle McKnight – 54.12
800 Meters (preliminary)
4. Chrishuna Williams – 2:06.41q
5,000 Meters
7. Diane Robison – 15:52.07 [2 points]
Distance-Medley Relay
1. Kamilos/McKnight/Haiss/Scott – 10:51.89 (school record) [10 points]
Long Jump
8. Tamara Myers – 6.19m/20-3.75 [1 point]
For more information on Arkansas track and field including in-meet updates, follow @RazorbackTF on Twitter.