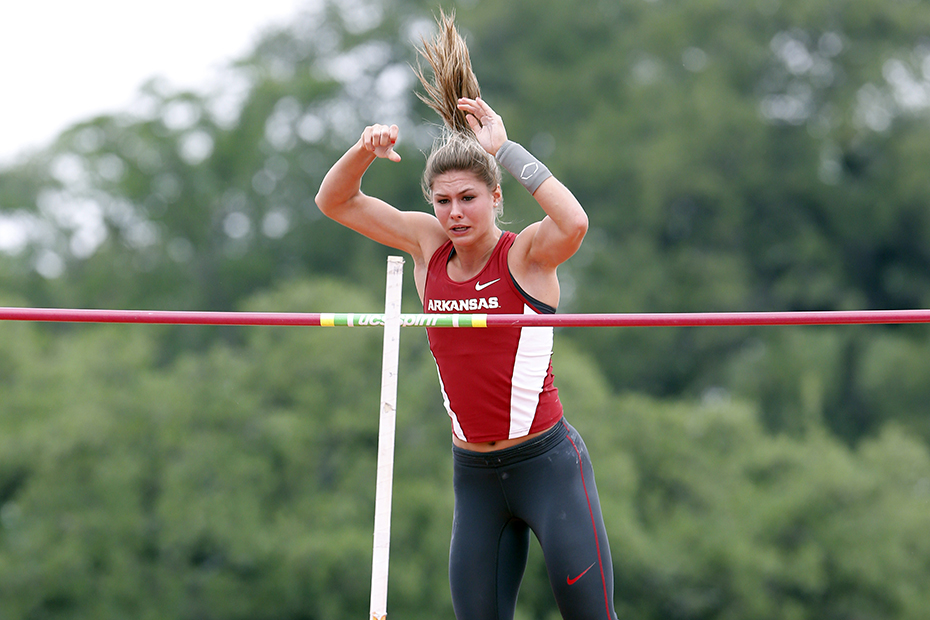 No. 2 Arkansas Set For John McDonnell Invitational
FAYETTEVILLE, Ark. – Following two successful outings in California and Texas the No. 2 Arkansas women's track and field team returns to action in the third-best city in the United States at the John McDonnell Invitational on April 20-23.
The Razorbacks enter the meet with several NCAA top-five marks and a national leader in Dominique Scott (5,000 meters).
Versatile Razorbacks
Known in the NCAA for her quarter-mile speed, Taylor Ellis-Watson has evolved into a talented short sprinter. Ellis-Watson's 100 (11.50) and 200 (22.63) PRs from last weekend's Texas Invitational rank the senior fifth and second, respectively, on Arkansas's all-time bests list.
Already one of the top runners in the conference and nationally in two events (5,000 and 3KSC), Jessica Kamilos will look to secure a solid performance in the 1,500.
100 Hurdles
Four of the best combined events performers, No. 1 Akela Jones, No. 2 Taliyah Brooks, No. 3 Payton Stumbaugh and No.4 Alex Gochenour, will take on the 100 hurdle prelims Saturday at 2 p.m. CDT. A top eight finisher in the 60 hurdles at the 2016 NCAA Indoor Championships, Stumbaugh, enters the event with the best wind-legal performance with 13.18 from the Clyde Littlefield Texas Relays.
Pole Vault U
The pole vault competition will be headlined by 2016 World Indoor silver-medalist, Arkansas record-holder, Sandi Morris. Five national qualifiers from 2014 and 2015, all Razorbacks, will also hit the runway this weekend including: Desiree Freier, Ariel Voskamp, Lexi Weeks, Tori Weeks and Megan Zimlich.
Arkansas Pole Vault
• Four vaulters ranked in the NCAA top 20.
• Two vaulters ranked in the NCAA top 10.
• Only program in the country with two freshman vaulters over 14 feet.
Live results for the meet will be available at flashresults.com.
Tickets are just $5 for adults and youth 17 and under get in free. Visit arkansasrazorbacks.com or call 800-982-HOGS and get your tickets today.
For more information on Arkansas track and field including in-meet updates, follow @RazorbackTF on Twitter.