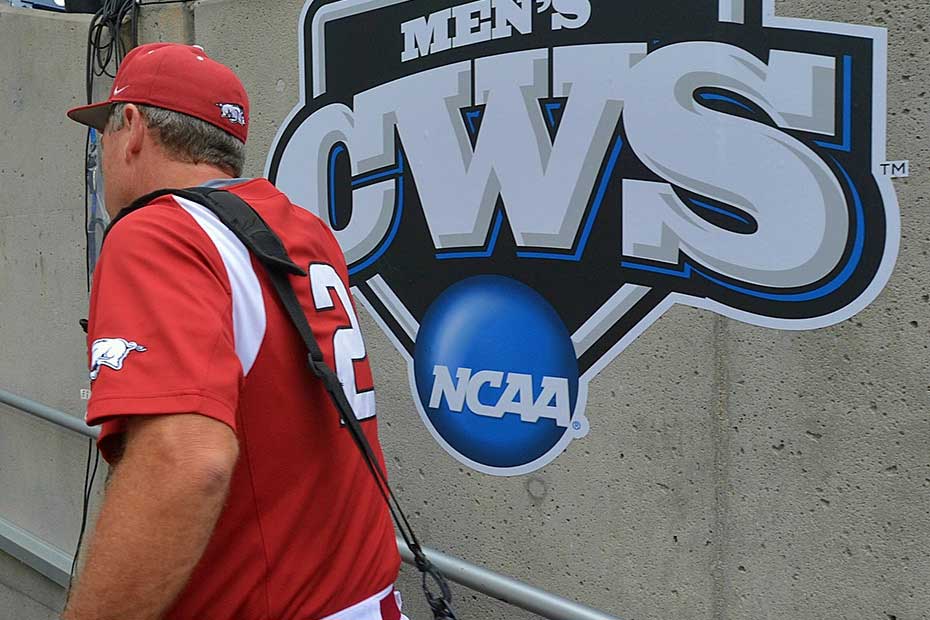 #OmaHogs Set for College World Series Opener
CWS Game Notes  |  CWS Press Conference Quotes | Live Audio (at 1:30 p.m.) | ESPN
OMAHA, Neb. – The University of Arkansas baseball team is set to make its eighth College World Series appearance in program history on Saturday, taking on Virginia at 2 p.m. CT at TD Ameritrade Park in game one of the championship.
Matchup: No. 2 Arkansas vs. No. 3 Virginia
When: Saturday, June 13 – 2 p.m.
TV: ESPN >> WatchESPN App
Talent > Jon Sciambi (PXP), Aaron Boone (Analyst), Kaylee Hartung (Field)
Radio: Razorback Sports Network from IMG >> SiriusXM
Probable Starters: (ARK) RHP Trey Killian (3-4) vs. (UVA) RHP Connor Jones (7-2)
Series Note: Arkansas is 1-2 all-time against Virginia, picking up a 4-3 victory in 12 innings during the 2009 World Series, before dropping two games to the Cavaliers during the 2014 NCAA Charlottesville Regional.
Leading Off

• The Razorbacks are one of just five teams nationally to advance to the NCAA Tournament each of the last 14 years. Arkansas is joined by Cal State Fullerton, Florida State, Miami (Fla.) and Rice as the only programs to accomplish the feat.
• Arkansas continues its postseason quest, advancing to the College World Series for the eighth time in program history, making appearances in 1979, 1985, 1987, 1989, 2004, 2009, 2012 and now 2015.
• The Razorbacks look to top the program-best National Runner-up finish in 1979. Since the title game appearance, Arkansas has never won more than two games during a trip to Omaha.
• Arkansas is slated to face Virginia (39-22) in its opening contest. The Razorbacks also join Miami (49-15) and Florida (49-16) in their half of the College World Series bracket.
• The Razorbacks extended their all-time record in Super Regionals to 9-6, including a 4-1 mark at Baum Stadium.
• Arkansas is 71-59 all-time in the NCAA Tournament, including 17 tournament wins in the last four years.
• The Razorbacks are 7-3 in postseason play: 2-2 in the SEC Tournament, 3-0 in the Stillwater Regional and 2-1 in the Fayetteville Super Regional.
• The Razorbacks are 11-14 all-time in the College World Series and 4-3 in CWS openers.
DVH by the Numbers
• For the sixth time in his coaching career and fourth time in his Arkansas tenure, head coach Dave Van Horn is headed to Omaha.
• The Razorbacks are 4-6 in the College World Series under DVH.
• Arkansas' 3-2 win over Missouri State Sunday clinched another 40-win season for head coach Dave Van Horn, giving him 40-plus wins for the sixth time in the last seven years.
• The skipper picked up his 500th victory at Arkansas in the series finale at Auburn on April 5 and currently has 1,109 career wins in his 27-year career as a head coach.
• Over his 13 seasons at Arkansas, DVH has led the Razorbacks to four College World Series appearances, five Super Regionals, 13 NCAA Tournament berths, one Southeastern Conference overall title, three SEC Western Division championships and a total of 524 wins, averaging more than 40 wins per season.
#BennyBaseball Breakdown
• Is the first SEC Player of the Year in program history.
• Is the first National Player of the Year in program history.
• Is the first Razorback to win a major SEC award since Nick Schmidt won Pitcher of the Year in 2006.
• Is the first player in school history with at least 15 home runs and 20 stolen bases in a season.
• On pace to become the first player in SEC history to win the batting title, home run title and Player of the Year.
• On pace to become the third player in SEC history to finish the year as the league leader in home runs and batting average.
• Is currently tied for the national lead with 19 home runs on the year.
• Is one of only two players in the country with 15-plus home runs and 20-plus stolen bases (Only player in the CWS).
• Currently leads the SEC in batting average, home runs, slugging percentage, on base percentage and walks.
• Is 12 RBI's shy of becoming the second Triple Crown winner in SEC history.
• Leads all sophomores in the country in batting average, home runs and slugging percentage.
• One home run away from being one of five players in school history to reach 20 home runs in a season.
Benintendi Awards and Accolades
• Dick Howser Trophy Winner
• Collegiate Baseball National Player of the Year
• Baseball America National Player of the Year
• Southeastern Conference Player of the Year
• Golden Spikes Award Finalist
Saturday Probable Starter – RHP Trey Killian
Trey Killian is coming off a quality start against Missouri State in the Fayetteville Super Regional, tossing 6.0 innings and giving up three runs on eight hits. He leads the team with seven quality starts on the year, including four in the last six starts. Killian has worked at least 6.0 innings in eight of his 14 starts and allowed one earned run or less six times this season. He makes his first College World Series appearance.
Team Notables
• In six NCAA Tournament games, Arkansas out-hit its opponents three times, was out-hit twice and tallied equal hits once. The Razorbacks are 33-1 this season when out-hitting its opponents, but just 7-22 when being out-hit or having equal hits.
• After setting the Baum Stadium attendance record last Friday with 11,869, Razorback fans followed suit Saturday, breaking the record in less than 24 hours with 12,167 on hand. This past weekend, the top-three attendance marks at the eight Super Regional sites were all at Baum Stadium, totaling 35,730 over the three games.
• Since the series win against Kentucky April 10-12, the Razorbacks' pitching staff is 9-1 when it gets a quality start.
• TD Ameritrade Park is no stranger to the Razorbacks. Arkansas returns to Omaha, Nebraska for the second time in less than a month after taking down non-conference foe Creighton 6-2 on May 12.
• The Razorbacks have now won 7 of 10 conference series twice in the last three seasons (2015, 2013) as well as four-straight SEC road series for the first time since 2007.
Arkansas Postseason Facts
Tournament Appearances: 28
Tournament Record: 71-59
College World Series Appearances: 8
Best College World Series Finish: 1979, National Runner-up
College World Series Record: 11-14
Super Regional Appearances: 6
Super Regional Titles: 4
Super Regional Record: 9-6
Regional Appearances: 28
Regional Titles: 9
Regional Record: 51-39