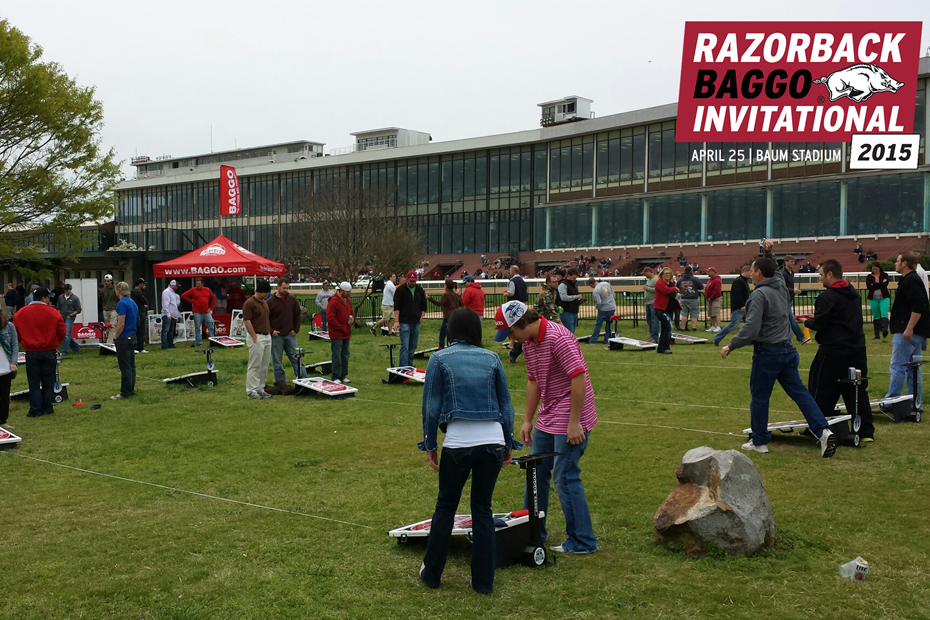 Razorback Baggo Invitational This Saturday
FAYETTEVILLE, Ark. – Make Saturday, April 25 one to remember and spend the day with the Razorbacks. The University of Arkansas Department of Athletics and Baggo, the official Bag Toss Game, have announced they will host the inaugural Razorback Baggo Invitational on Saturday, April 25, 2015 at Baum Stadium at 3 p.m. between the Red-White Football game (1 p.m.) and the Razorbacks' baseball game vs. Mississippi State (6:05 p.m.).
The tournament will feature a 64-team field with a format that guarantees each team a minimum of two matches. Registration for the tournament is $50 per two-person team and includes a pair of tickets to that evening's baseball game ($20 value) and a chance to win special door prizes. Participants must be 18 years or older. Teams can register online by clicking here.
Prizes include:
First Place
– Trophy presentation at Baseball Game
– Two custom Baggo Game Sets
– Complimentary Entry into the Baggo National Championship at Riverfest (Little Rock) on May 23
– Two Baggo Sport Couches
– Four tickets to the Season Opening football game on Sept. 5
– Autographed Dave Van Horn baseballs
– A $50 Gift Certificate to Hog Heaven
Second Place
– Two Razorback Baggo Game Sets
– Four Tickets to Razorback Baseball
– A $25 Gift Certificate to Hog Heaven
Third Place
– Four Tickets to Razorback Baseball
– A $15 Gift Certificate to Hog Heaven
The Baggo Tournament is part of a day-long list of activities for families and Razorback fans. The day starts at 9 a.m. in Lot 44 of Donald W. Reynolds Razorback Stadium with the 11th Annual Razorfest, a family-friendly event including autograph stations, inflatables, games, music and more.
Following Razorfest, the Red-White Spring Football game will kick off at 1 p.m. inside the stadium. Admission for both Razorfest and the Red-White game is free and open to the public. The day concludes with the baseball game vs. Mississippi State.