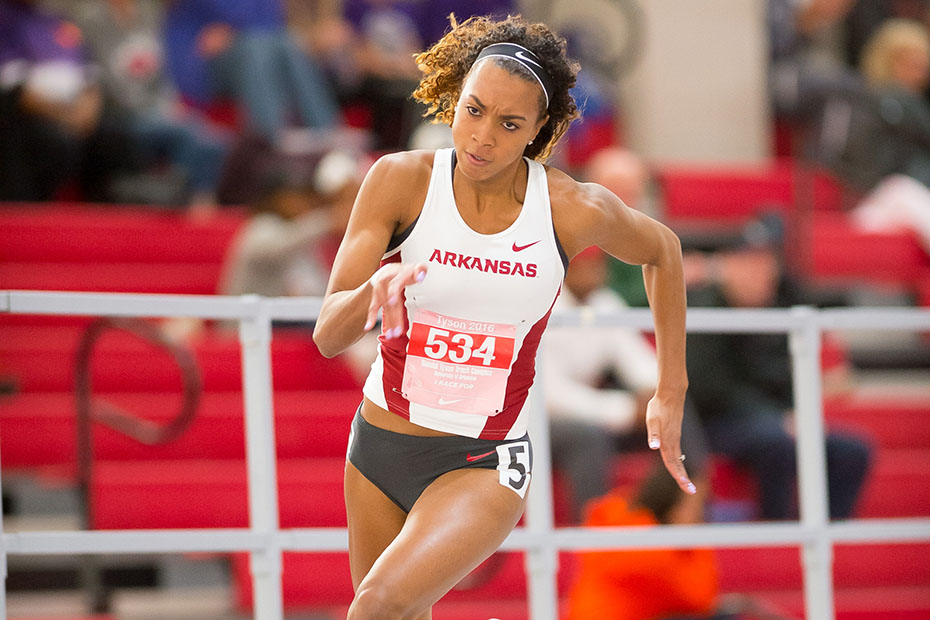 Razorback Duo Collect SEC Awards
BIRMINGHAM, Ala. – For the second time this season two members of the No. 4 Arkansas women's track and field team have been recognized for their performances on the track and in the field. Senior Taylor Ellis-Watson and freshman Lexi Weeks have been named the SEC Runner and Freshman of the Week respectively following outstanding showings by the pair at last weekend's Tyson invitational.
The honor is the third for Ellis-Watson who picked up the award earlier this year following the Arkansas Invitational (1/15) and again after the Razorback Invitational (1/29-1/30).
Ellis-Watson leads the SEC at 400 meters and ranks second in the event nationally with her time of 52.18. The Philadelphia, Pa. native who is undefeated this season in the 400-meter dash also excels at 200 meters. The seven-time All-American's indoor PR of 23.03 secured at Tyson earned her the No. 3 spot on the 200-meter NCAA performance list.
The No. 1 high school pole vaulter in the nation last year, Lexi Weeks has jumped up the ranks at the collegiate level at a rapid rate.
Weeks claimed the NCAA leading spot following her collegiate debut at the Arkansas Invitational (1/15) where she vaulted a new personal best of 4.50m/14-9. Always working to improve her abilities, Weeks remained resolute in her pursuit of a 15 foot clearance.
The elusive height was finally secured by the Cabot, Ark. native at the Tyson Invitational when she made NCAA history with her clearance of 4.60m/15-1. The performance earned Weeks both the NCAA freshman and American junior records. She is the fifth collegian to clear 15 feet indoors.
Arkansas hosts its final regular season indoor meet on Friday, Feb. 19 at the Randal Tyson Track Center. Running events will begin at 5 p.m. with the 60-meter dash prelims.
The Randal Tyson Track Center will welcome members of the Southeastern conference to 'The Track Capital of the World' for the 2016 SEC Indoor Track and Field Championships. All-session tickets for the event are now on sale. All-session ticket prices are $35 for reserved seating and $25 for adult general admission. Youth and general admission student tickets are available for $15.
Tickets will be available online, or by calling the Razorback Athletics Ticket Center at 800-982-4647. You can also visit the Ticket Center in person at 1295 S. Razorback Road, just east of Baum Stadium.
2016 INDOOR TOP 10 (POLE VAULT)
1. Lexi Weeks – Arkansas (4) 4.60m/15-1
1. Megan Clark – Duke (17) 4.60m/15-1
2. Emily Grove – South Dakota 4.51m/14-9.5
3. Alysha Newman – Miami (Fla.) (16) 4.50m/14-9
4. Annie Rhodes – Baylor 4.40m/14-5.25
5. Diamara Planell Cruz – Washington (14) – 4.40m/14-5.25
6. Elizabeth Quick – Washington (14) – 4.40m/14-5.25
7. Victoria Weeks – Arkansas (4) – 4.33m/14-2.5
8. Kristina Owsinki – Washington (14) 4.32m/14-2
9. Jessie Johnson – Auburn (25) 4.32m/14-2
2016 INDOOR TOP 10 (400 METERS)
1. Courtney Okolo – Texas (5) 51.16
2. Taylor Ellis-Watson – Arkansas (4) 52.18
3. Kyra Jefferson – Florida (1) 52.19
4. Robin Reynolds – Florida (1) 52.94
5. Claudia Francis – Florida (1) 52.39
6. Jaide Stepter – Southern California (10) 52.41
7. Shamier Little – Texas A&M (19) 52.43
8. Amalie luel – Southern California (10) 52.52
8. Margaret Bamgbose – Notre Dame 52.52
10. Daye Shon Robertson – Oklahoma 52.62
2016 INDOOR TOP 10 (200 METERS)
1. Kyra Jefferson – Florida (1) 22.72
2. Felicia Brown – Tennessee (7) 22.81
3. Taylor Ellis-Watson – Arkansas (4) 23.03
4. Deanna Hill – Southern California (10) 23.09
5. Jada Martin – LSU (22) 23.10
5. Robin Reynolds – Florida (1) 23.10
7. Daye Shon Robertson – Oklahoma 23.14
8. Shakima Wimbley – Miami (Fla.) (16) 23.20
9. Kali Davis-White – Tennessee (7) 23.23
9. Diamond Spaulding – Texas A&M (19) 23.23
For more information on Arkansas track and field including in-meet updates, follow @RazorbackTF