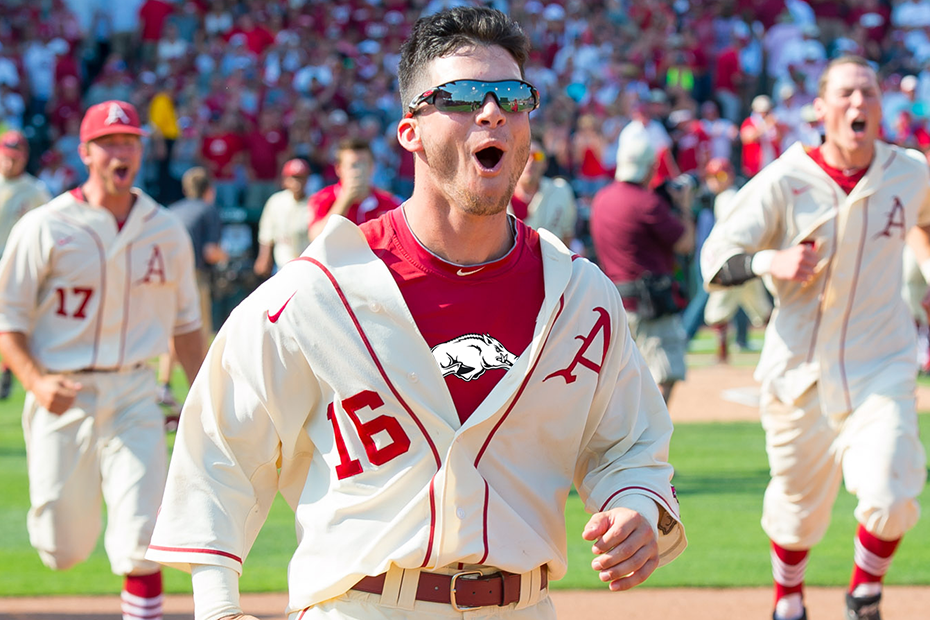 Razorback Players Set For 2015 MLB Draft
FAYETTEVILLE, Ark – Major League Baseball will hold day one of the 2015 First-Year Player Draft tonight at MLB Network's Studio 42 in Secaucus, New Jersey.
The Draft will begin live on MLB Network and MLB.com at 6 p.m. (CT). Prior to the start of the Draft, MLB Network will air a Draft preview show, also simulcast on MLB.com, at 5 p.m. (CT).
The selection order of the First-Year Player Draft is determined by the reverse order of finish at the close of the previous championship season. The Arizona Diamondbacks will have the first overall selection in the 2015 Draft, followed by the Houston Astros, Colorado Rockies and Texas Rangers.
Arkansas set a school record with 11 players taken in the 2013 Major League Baseball First-Year Player Draft and have had 17 players drafted over the last two years, more than any other program in the country.
Arkansas' MLB draft success goes far beyond the last two seasons, as the Razorbacks have seen seven players taken in the first round since 1981, including Ryne Stanek in the 2013 MLB Draft with the 29th overall pick. Over the last five years, 40 Arkansas players have been taken in the MLB Draft.
Arkansas Draft Notes
• The highest draft pick in program history came in 1986 when Jeff King was selected first overall by the Pittsburgh Pirates.
• The Razorbacks have had seven players taken in the first round of the MLB Draft, including four in the last eight years.
• The last first round pick came in 2013 when Ryne Stanek was taken 29th overall by the Tampa Bay Rays.
• The most Arkansas picks in one draft came in 2013 when 11 players (10 signed) were selected.
• Dave Van Horn has had 74 players selected in 12 MLB Drafts since taking over as Arkansas' head coach in 2003.
For more information on Arkansas baseball, follow @RazorbackBSB on Twitter.