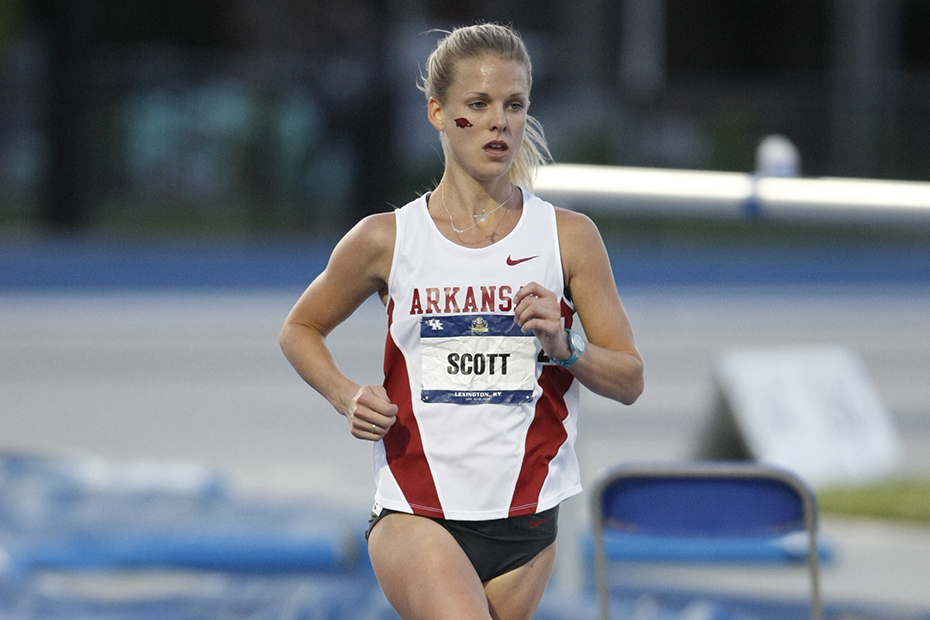 Razorbacks Continue to Prosper on the Road
Texas Results
Stanford Results
AUSTIN, Texas/PALO ALTO, Calif. – Friday morning marked the first day of competition for the Arkansas women's track and field team at the Stanford Invitational in Palo Alto, California. As the Razorback distance crew opened the West coast meet with remarkable performances, Arkansas's sprints, hurdles and multis continued their productive week, claiming the sprint medley relay title and advancing student-athletes to the finals section of three events at the Texas Relays in Austin, Texas.
One of the best distance track meets in the country, the Stanford Invitational, produced two Razorback SEC-leading performances on day one of the competition off the heels of Jessica Kamilos (3,000 meter steeplechase) and Dominique Scott (5,000 meters).
Coming off her 2016 All-America meriting DMR performance, Kamilos, returned to her favorite race on the track, the 3,000-meter steeplechase, at Stanford's Cobb Stadium. The SEC champion in the event last year, Kamilos wasted no time making moves in the competition, positioning herself among the race leaders to contend for a top time. The Neosho, Missouri native crossed in a season's best 9:59.96 as the third best collegian in the field and one of only two Division I athletes under 10 minutes in the event this season.
After opening her final outdoor campaign with an NCAA-leading performance in the 1,500-meter run (4:15.61), Scott, took on another challenge, racing in the invitational section of the 5,000-meter run at the Stanford Invitational. The NCAA national runner-up in the 5K and 10K last year, Scott, displayed an increased level of fitness controlling the flow of the race from the gun. On the bell-lap, Scott surged ahead of Brooks UK professional, Mary Cullen, to capture the Stanford Invitational 5K title in a new program record of 15:25.10. A three-time national champion, Scott, now leads the NCAA in two events this season.
Sydney Brown (5,000m), Devin Clark (1,500m), Valerie Reina (5,000m) and Annika Sisson (1,500m) all each had outstanding performances posting personal best times in their respective events.
Over in Austin, Texas, Arkansas raced to its second-consecutive sprint medley relay victory with a time of 3:52.40. Relay team of Brianna Swinton, Daina Harper, Monisa Dobbins and Taylor Ellis-Watson, challenged several top programs, winning by a one second margin over SEC rival, Texas A&M.
Along with the SMR, Razorback newcomers, Kiara Parker and Payton Stumbaugh saw success, qualifying for the finals in the 100-meter dash and 100-meter hurdles, respectively. Parker and Stumbaugh also assisted in the advancement of Arkansas's 4×100-meter relay team to Saturday's final section of the event.
Damajahnee Birch collected a fourth-place finish in the 400-meter hurdles with another sub-60 performance in only her third time racing the event.
The Razorbacks return to action in Texas tomorrow for the final day of the competition. Arkansas's Saturday slate includes the 100-meter dash finals, 100-meter hurdle finals, 4×100-meter relay, 4×400-meter relay, high jump and pole vault.
Arkansas's final day in Palo Alto will feature competition by Razorback middle distance runners in the 800-meter run scheduled to begin at 4:11 p.m. CST.
LHN Texas Relays TV Schedule (all times Central):
| | | |
| --- | --- | --- |
| Date | Time (CT) | Events |
| Sat, April 2 | 1:30 p.m. | Finals, 4x100M, 110/100M Hurdles, 100M, 4x400M, 200M, Field events |
Clyde Littlefield Texas Relays
Mike A. Myers Stadium
Austin, Texas
Day two (4/1/16)
100 Meters (Prelims)
Kiara Parker – 11.64w
100 Meter Hurdles (Prelims)
Payton Stumbaugh – 13.58q
Taliyah Brooks – 13.58w
Alex Gochenour – 13.74
400 Meter Hurdles (Finals)
Damajahnee Birch (4) – 59.80
4×100 Meter Relay (Prelims)
Arkansas – 45.11q
Kiara Parker, Taylor Ellis-Watson, Daina Harper, Payton Stumbaugh
Sprint Medley Relay (Invitational)
Arkansas (1) – 3:52.40
Brianna Swinton, Daina Harper, Monisa Dobbins, Taylor Ellis-Watson
Pole Vault Section B
Megan Zimlich (7) – 4.06m/13-3.75
Day one (3/31/16)
400 Meter Hurdles (Prelims)
Damajahnee Birch – 58.62q
Brianna Swinton – 59.91
Heptathlon
Taliyah Brooks (1) – 5,991 – 100mH: 13.16w, HJ: 1.78m/5-10, SP: 11.44m/37-6.5, 200m: 24.47w, LJ: 6.21m/20-4.5w, JT: 36.85m/120-10, 800m: 2:17.66
Payton Stumbaugh (2) – 5,985 – 100mH: 13.20w, HJ: 1.69m/5-6.5, SP: 11.52m/37-9.5, 200m: 23.76w, LJ: 6.13m/20-1.5, JT: 39.54m/129-9, 800m: 2:16.79
Alex Gochenour (3) – 5,833 – 100mH: 13.30w, HJ: 1.69m/5-6.5, SP: 13.03m/42-9, 200m: 24.51w, LJ: 6.03m/19-9.5, JT: 35.24m/115-7, 800m: 2:20.64
Leigha Brown (9) – 3,396 – 100mH: 13.89, HJ: 1.69m/5-6.5, SP: 12.12m/39-9.25, 200m: 24.95w, LJ: 5.62m/18-5.25, JT: 39.59m/129-10, 800m: 2:14.95
Kelsey Herman (11) – 3,368 – 100mH: 13.61, HJ: 1.66m/5-5.25, SP: 10.89m/35-8.75, 200m; 24.43w, LJ: 6.03m/19-9.5w, JT: 30.47m/99-11, 800m: 2:32.71
Stanford Invitational
Cobb Stadium & Angell Field
Palo Alto, Calif.
1,500 Meters (Section 4)
Annika Sisson (6) – 4:27.74
1,500 Meters (Section 3)
Devin Clark (5) – 4:20.89
5,000 Meters (Section 4)
Sydney Brown (14) – 16:36.99
5,000 Meters (Section 3)
Valerie Reina (4) – 16:06.66
5,000 Meters (Section 1)
Dominique Scott (1) – 15:25.10
3,000 Meter Steeplechase
Jessica Kamilos (5) – 9:59.96
For more information on Arkansas track and field including in-meet updates, follow @RazorbackTF on Twitter.