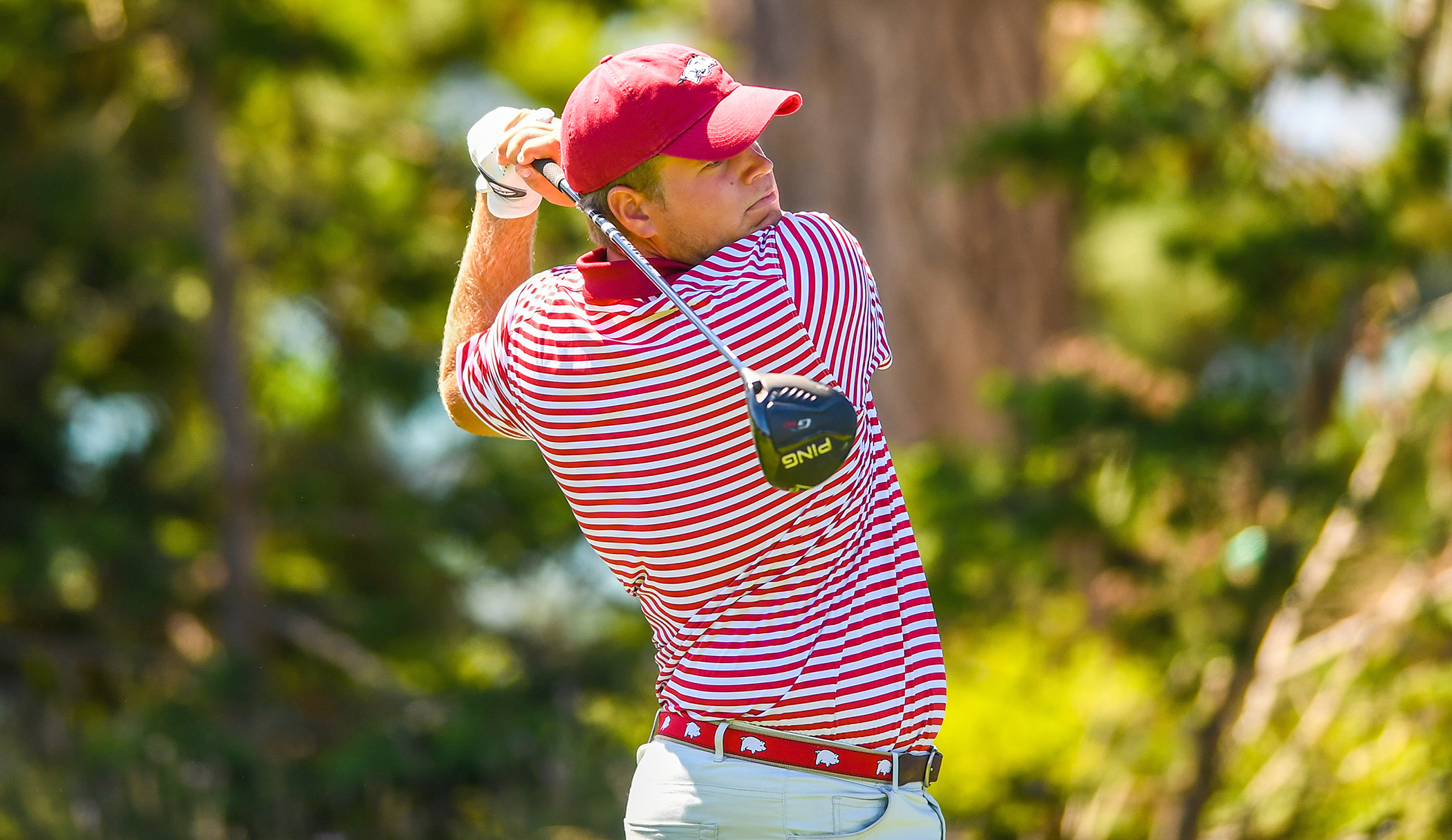 #16 Razorbacks Place 2nd at Bearcat Invitational
CINCINNATI – The Arkansas men's golf team, led by bogey-free rounds by William Buhl and Mason Overstreet Tuesday, shot under par in all three rounds and placed second in a 13-team field at the Bearcat Invitational, played at Coldstream Country Club (par 71, 7,111 yards).
The Razorbacks had four golfers finish among the top 16. Buhl shot par or better all three rounds – and in eight of his nine rounds this fall – including a final-round 68 to place sixth-tied with a 4-under total of 209 (71-70-68). Overstreet carded five birdies and 13 pars en route to a final-round 66 to climb 21 spots into a tie for 11th (211). Also recording top 20 finishes were Julian Perico (T13 / 212) and William McDonald (T16 / 213).
The Razorbacks had rounds of 281 (-1), 278 (-8) and 282 (-2) for a score of 841 (-11). The 841 total ties for the 10th-best, 54-hole score in school history. This was the second time Arkansas has played in the Bearcat Invitational and the second time the team finished runner-up. In the fall of 2017, Arkansas posted a school-record, 54-hole score of 826 (-26).
While the team has scored well in both trips to the Bearcat Invitational, Arkansas and champion Louisville were the only two teams to finish under par this week. The Cardinals had four players finish among the top eight to win the event with a score of 815 (-37). Louisville's John Murphy won the individual title with a score of 196 (-17) and his teammate Matthias Schmid was second at 199 (-14). Kentucky finished third, 13 strokes behind Arkansas, with a total of 854 (+2). Penn State (855 and host Cincinnati (859) rounded out the top five.
Buhl entered the event ranked 28th nationally in the Golfweek power rankings. The senior has now finished among the top 11 in all three of his events this fall. He was tied for 13th after 36 holes but climbed seven spots to finish sixth-tied after his 3-under-par round of 68 Tuesday. Buhl reeled off 15 pars and posted birdies on holes 4, 9 and 15.
Overstreet posted a 66 for the second time this season and has now shot 66 or better eight times in his career. The senior opened with a birdie on the par-4, 1st hole and never looked back. He added birdies on holes 9, 10, 15 and 18 for his bogey-free round of 66. Overstreet was tied for 32nd after his second-round 73 but jumped 21 spots to finish tied for 11th after his 5-under-par loop Tuesday.
Ironically, the last time Arkansas played in the Bearcat, it was Overstreet that tied for sixth and Buhl tied for 1th.
Perico, who has fired four rounds in the 60's so far this fall, tied for 13th with a 1-under-par total of 212 (69-70-73). The sophomore has played in 15 career events and finished among the top 20 nine times. McDonald, who was making his first appearance in the starting five, opened with rounds of 69-69 before turning a 75 Tuesday. The freshman still recorded a top 20 finish, tying for 16th with an even-par total of 213.
Luis Garza played as an individual and tallied his best finish of the season. The senior tied for 21st with a 3-over total of 216 (75-67-74). Tyson Reeder tied for 39th with a score of 220 (76-69-75).
Arkansas will play the fourth of it five fall events Oct. 7-8 at the Jerry Pate Invitational. Julian Perico was medalist at last year's Jerry Pate Invitational.
NOTES:
Arkansas was second in the field in par-3 scoring (3.13 average).
Arkansas was second in the field in par-4 scoring (4.05 average).
Arkansas was second in the field with 48 birdies.
Arkansas was third in the field with 175 pars. (Miami and Wisconsin tied for the lead with 177.)
Arkansas tied for the lead with two eagles – one by Tyson Reeder and one by Julian Perico.
Mason Overstreet led the field with 41 pars.
William Buhl and William McDonald each had 12 birdies – five off the tournament lead.
For more information on Arkansas Men's Golf, follow @RazorbackMGolf on Twitter.